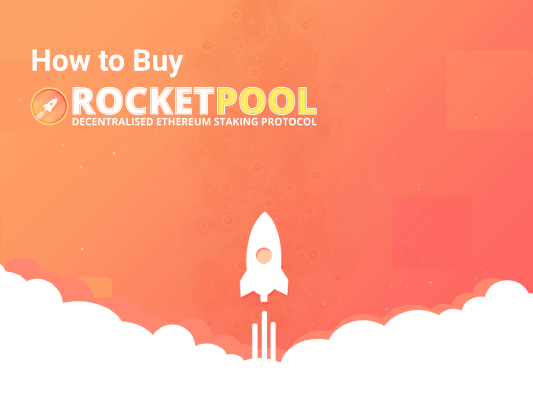 How to Buy Rocket Pool on CoinStats
<! -- End of the Reviewed by section -->
The release of Ethereum 2.0 has intrigued every crypto enthusiast to stake their digital assets to make profits. However, staking Ether is not as straightforward as depositing coins and sitting back to watch your profits grow, at least not without third-party solutions.
Rocket Pool, a next-generation decentralized Ethereum Proof-of-Stake network and pool, built to be compatible with Ethereum 2.0 and the Beacon Chain, allows everyone to support the new Ethereum network without having to set up and maintain a node. This helps not only with onboarding new users to Ethereum 2.0 but also allows non-tech savvy users to participate in staking.
Staking isn't for everyone, especially considering that Ethereum's slashing mechanism makes it simple to lose money for acting maliciously, even if it's unintentional. As a result, staking pools are the only feasible choice, and it appears that Rocket Pool is the best platform.
Read on to learn more about Rocket Pool, the decentralized Ethereum staking protocol, and how to buy Rocket Pool on CoinStats in a few simple steps.
Let's get started!
What Is Rocket Pool
Rocket Pool is a network of decentralized nodes that provide validation services for the Ethereum 2.0 blockchain. Its objective is to give users who do not have the required minimum of ETH tokens to stake and those who lack the technical expertise needed to maintain node access to the network.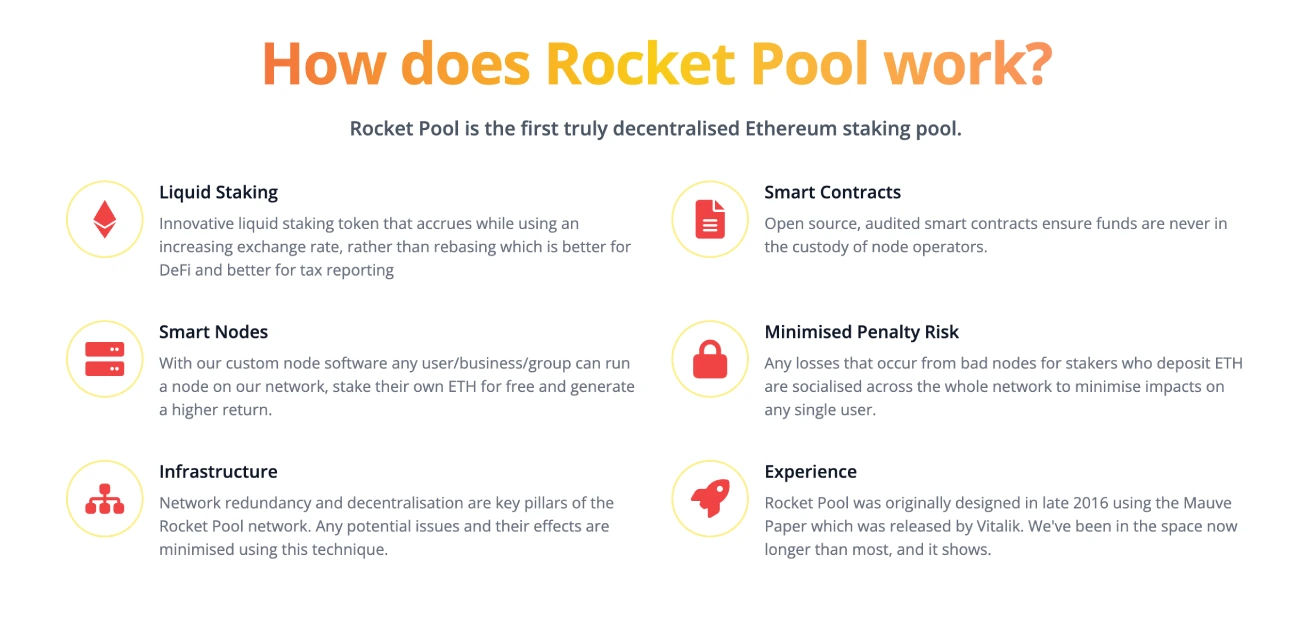 Rather than depositing the required minimum of 32 ETH, investors can stake with as little as 16 ETH. Furthermore, Rocket Pool automates the entire process, and the platform manages all validators without requiring any user interaction.
However, Ethereum investors who want to stake are still left with the long-term commitment of locking up tokens, even if they use Rocket Pool. Once staked, all assets are locked until Ethereum's Proof-of-Stake implementation reaches Phase 2.
Although Rocket Pool cannot override this lockup, it does a decent job of balancing the risk through tokenized staking.
When a user stakes 16 or 32 ETH, they are rewarded with the rETH token, representing your stake and your yield. While the assets are locked up, stakers can utilize rETH just like any other ERC-20 token, such as selling it, using it on DeFi platforms, or storing it in cold storage.
RPL Token and Tokenomics
RPL is an ERC-20 token that serves as the protocol's primary token. Users who want to strengthen the project's security can stake it on Rocket Pool nodes. It is not, however, required to run a node.
Users of Rocket Pool who stake RPL in conjunction with, at least, one minipool validator earn an additional commission dependent on the size of their security deposit. However, if the user fails to perform his node tasks and ends up with less than 32 ETH as a result of slashing, his RPL deposit will be burnt in proportion to the suffered ETH losses.
RPL has a fixed quantity of 18 million tokens, 16 million of which are already in circulation. According to CoinStats, the asset's market cap is $496.8 million at a price of $31.08 per token at the time of writing.
The coin has speculative value as well, as investors bet on the project's future success as a prominent ETH2 staking platform. RPL has risen from $0.4 to $2.81 by 2020. Its value skyrocketed in 2021, reaching an all-time high of $58.40.
How to Buy Rocket Pool On CoinStats
Users can swap crypto tokens on the CoinStats app using the built-in swap tool. CoinStats provides the best exchange rate by combining its decentralized exchange aggregators (1inch, 0x, etc.).
Let's take a look at How to Buy Rocket Pool or how to swap RocketPool for ETH on CoinStats.
Step #1: Connect Your Wallet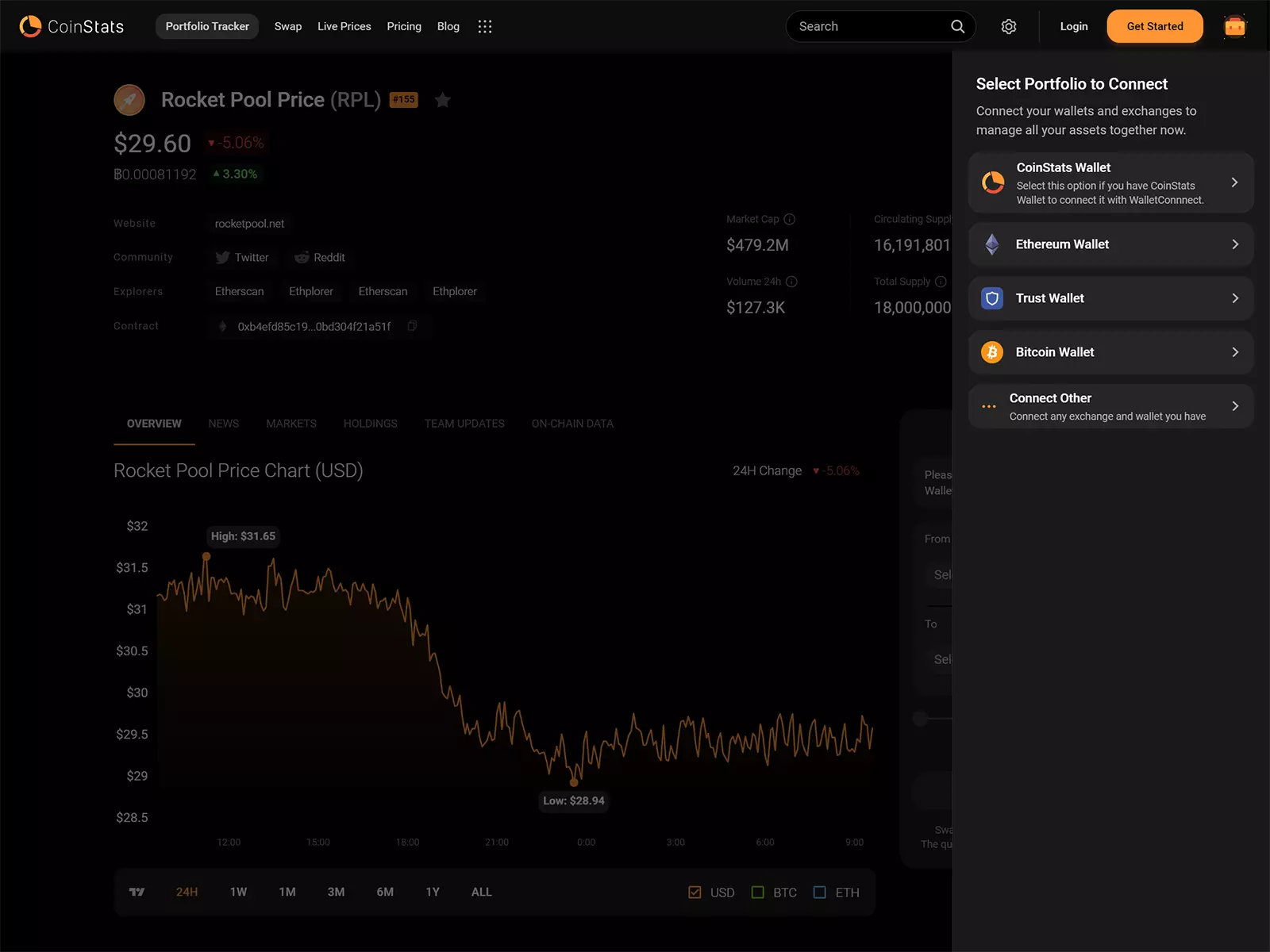 Go to coinstats.app and search for the RPL Price in the search bar. Scroll down to the "swap" features and connect the wallet in which you have the ETH.
Once you click on the "Connect" button, you will be able to see various wallet choices offered by CoinStats. Search for your wallet, and connect it.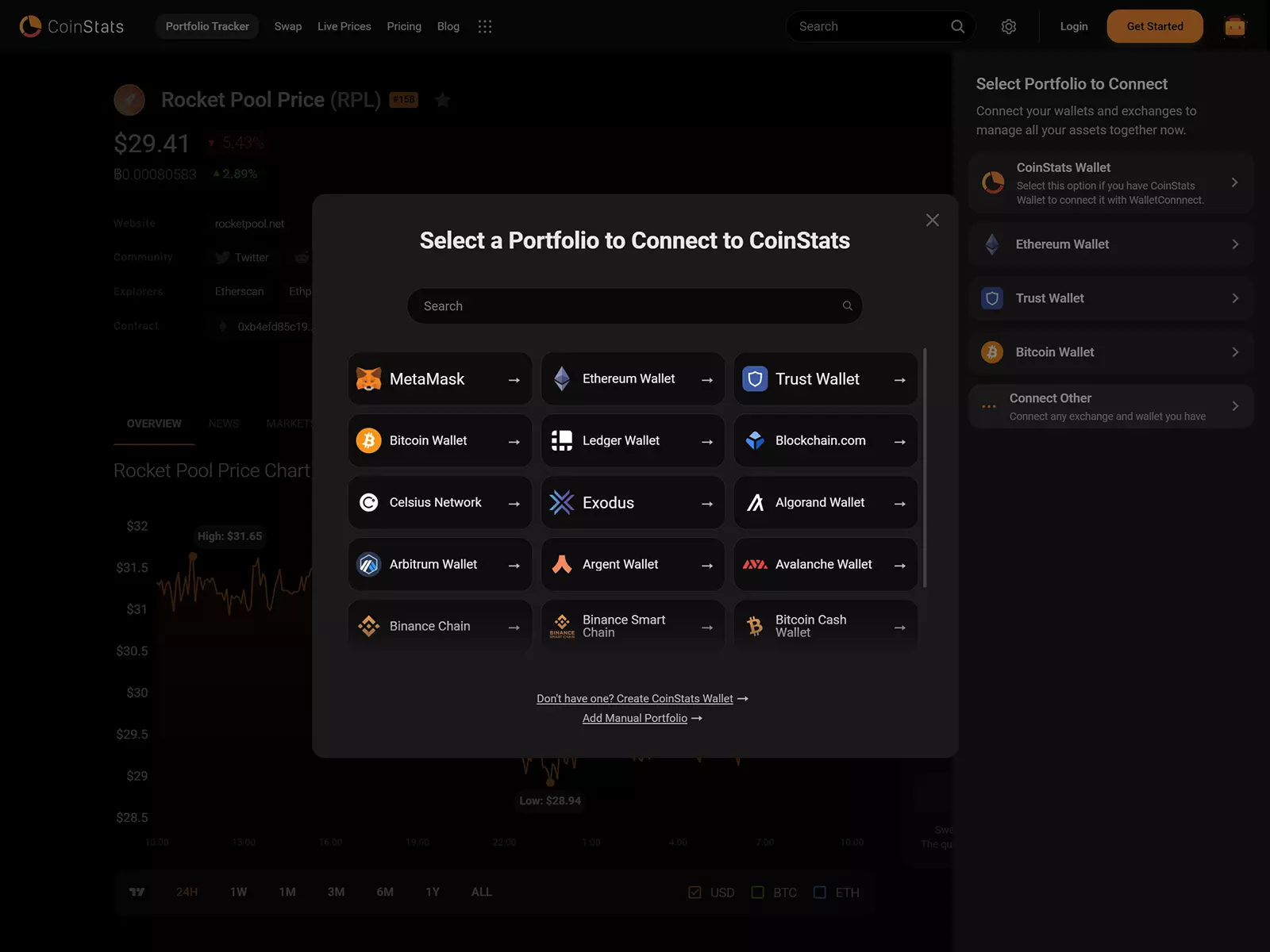 You can connect it by either scanning the QR Code via WalletConnect or manually adding the Blockchain/Crypto and Wallet address in your web or mobile application.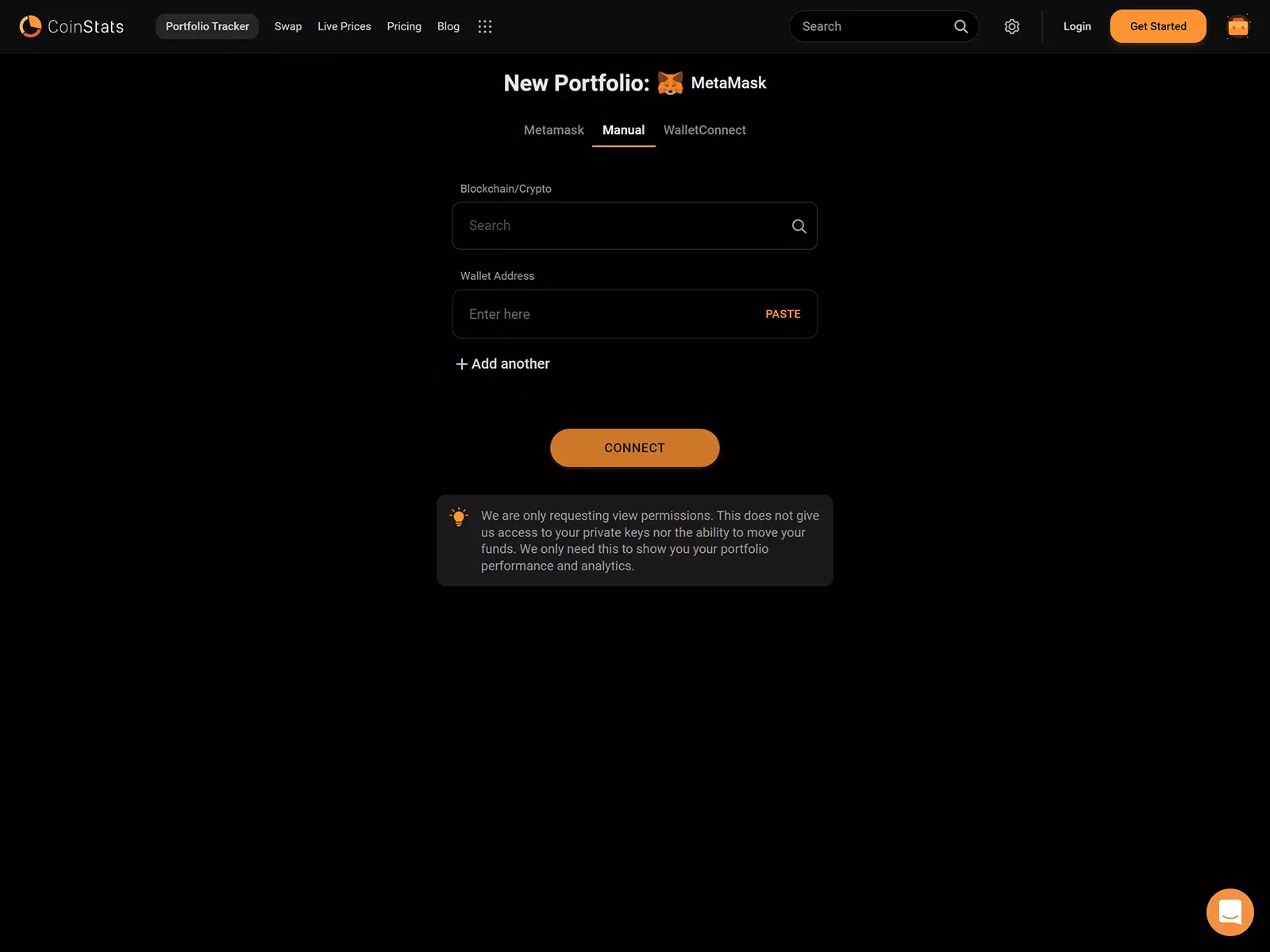 Step #2: Select Token
After successfully linking your wallet, choose the token to swap by providing the data in either cryptocurrencies or USD/EUR.
For example, we are swapping ETH for RPL.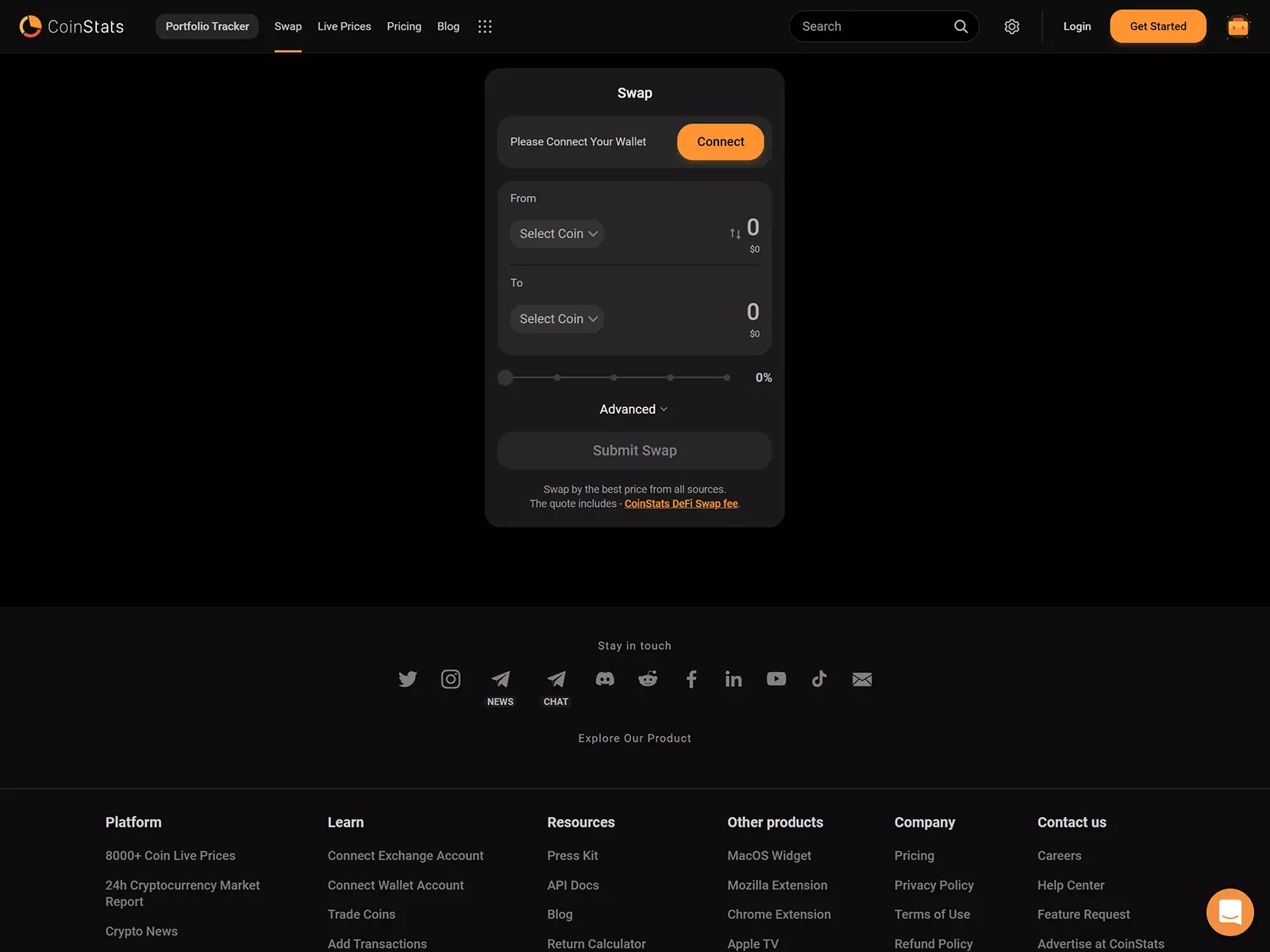 In the "From" field select the ETH token from your wallet, and in the "To" field, select "RPL".
Step #3: Click Swap
Click on Advanced Options to change the slippage. When you're finished with customizing, scroll down to the bottom of your screen and tap the "Submit Swap" button.

After you've submitted your swap request, you'll be prompted to confirm it. Pay attention to what you're about to accept. To begin the swap, follow the instructions on the screen, review the information, and click the "Confirm" button.

You can also do the same steps if you want to sell RPL and buy ETH. Check out how in the video down below.
NOTE: You will be charged Network Transaction fees also known as gas fees. This refers to the charge necessary to complete a transaction on Blockchain. In essence, gas fees are paid in the native currency of the network, i.e. Ethereum for the Ethereum network. CoinStats also charges a small swap fee in addition to the gas fees.
Closing Thoughts
Ethereum is seeing a resurgence as institutions have turned their focus from Bitcoin to the blockchain industry's greatest smart contract ecosystem. While Grayscale and other firms may be buying ETH in bulk for speculative purposes, we are confident that some investors will choose to diversify their portfolios via staking.
Staking pools are the only viable option for those lacking technical knowledge of computers and blockchain technology. Fortunately, platforms like Rocket Pool make it simple to support the Ethereum 2.0 network by depositing assets and giving control to a node operator. What's the best part? You don't even need 32 ETH to join a mini-pool; 16 ETH is plenty!
Rocket Pool has filled the critical void for ETH2 stakers in terms of both minimum requirements and faster rewards. You can now stake your own token without worrying about infrastructure, incentives, and commissions.
Remember, to buy Rocket Pool; you'll need to first purchase Ethereum (ETH) and then use ETH to buy Rocket Pool.You can also visit our CoinStats blog to learn more about wallets, cryptocurrency exchanges, portfolio trackers, tokens, etc., and explore our in-depth buying guides on buying various cryptocurrencies, such as How to Buy NEXO, What Is DeFi, How to Buy cryptocurrency, etc.
Investment Advice Disclaimer: The information contained on this website is provided to you solely for informational purposes and does not constitute a recommendation by CoinStats to buy, sell, or hold any securities, financial product, or instrument mentioned in the content, nor does it constitute investment advice, financial advice, trading advice, or any other type of advice. Our information is based on independent research and may differ from what you see from a financial institution or service provider.
Investments are subject to market risk, including the possible loss of principal. Cryptocurrency is a highly volatile market and sensitive to secondary activity, do your independent research, obtain your own advice, and be sure never to invest more money than you can afford to lose. There are significant risks involved in trading CFDs, stocks, and cryptocurrencies. Between 74-89% of retail investor accounts lose money when trading CFDs. You should consider your circumstances and obtain your advice before making any investment. You should also verify the nature of any product or service (including its legal status and relevant regulatory requirements) and consult the relevant regulators' websites before making any decision.