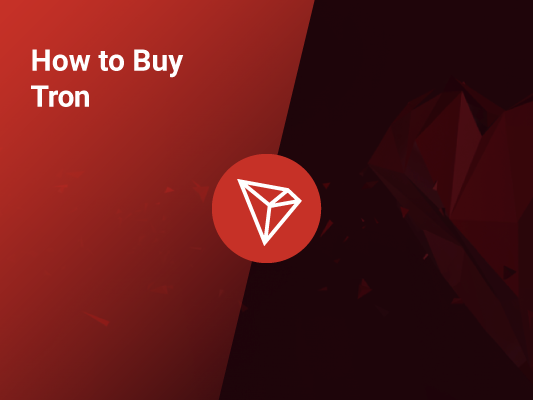 How to Buy Tron | Where, How and Why
<! -- End of the Reviewed by section -->
In this article you will learn everything about the revolutionary TRON platform and our step-by-step instructions on how to buy TRON (TRX token).

Companies like Google, Facebook, Amazon, etc., own and control the data we all generate. Tron aims to solve this problem by eliminating the middleman and allowing content creators to sell their work directly to consumers. In so doing, it uses the features of blockchain technology and peer-to-peer (P2P) networks.
Unlike these big tech companies, the Tron cryptocurrency ecosystem compensates content creators for the data and content they create. In addition, Tron's decentralized distributed storage technology enables creators to upload content directly into the Tron network without the concern of being censored by these companies.
What Is TRON
Tron is a decentralized blockchain aiming to create a free digital content entertainment platform for easy and cost-effective sharing of digital content. Initially marketed primarily in Asia, Tron blockchain has gone global, with more than 50 million accounts.
Tron has its smart contracts, dApps, and a wallet. Software developers use the Solidity programming language to create apps that are hosted on the Tron platform.
TRON blockchain has its own cryptocurrency, Tronix or TRX.
Users of the Tron ecosystem use Tron tokens to directly pay the content creators to access their applications. Content creators do not pay a transaction fee to Tron. (TRX transactions also are free on the platform.) Moreover, they receive digital assets in the form of TRX tokens as rewards. This systematic decentralization of the media distribution ensures that creators earn as much as possible while consumers find content more affordable.
Users can store their crypto-assets in a desktop, mobile, or hardware wallet.
Tron plans to create sophisticated services like its own trading platform and a decentralized gaming network.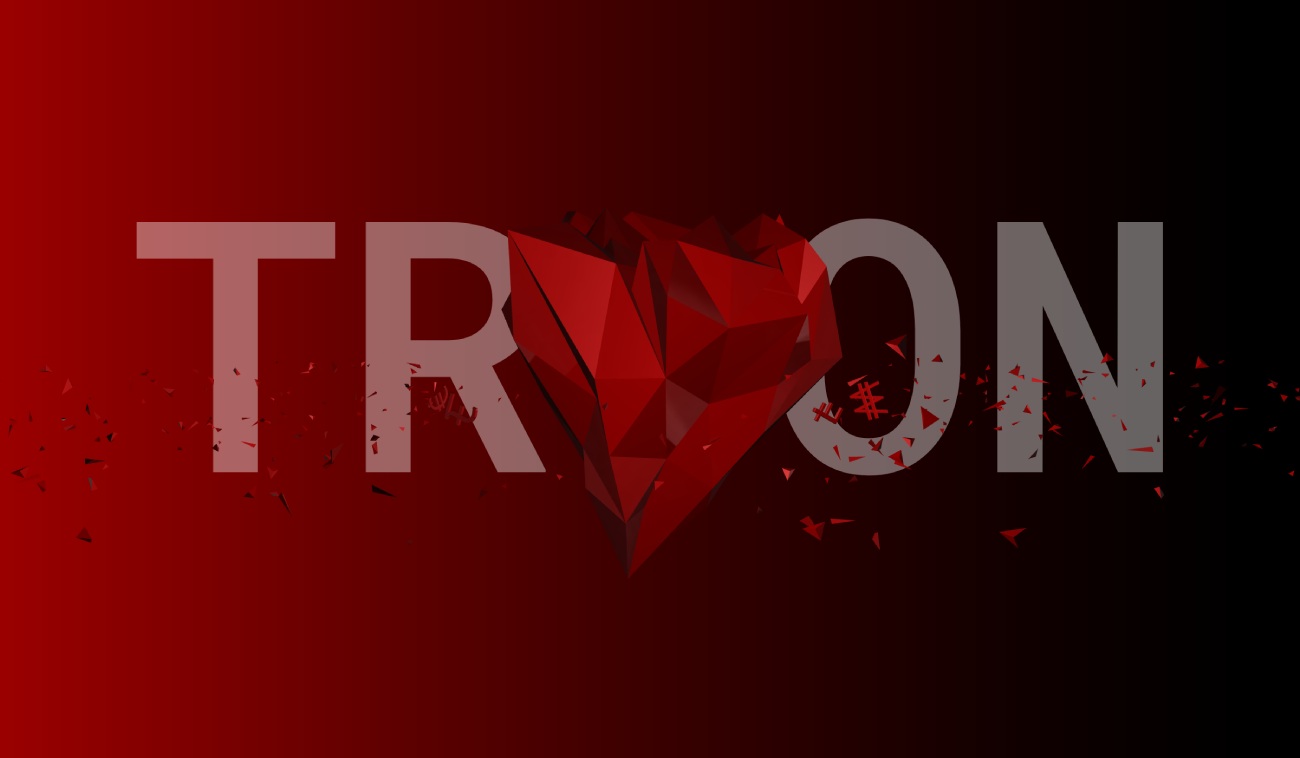 History of TRON
Headquartered in San Francisco, California, TRON was founded by entrepreneur Sun Yuchen (better-known as Justin Sun) in 2017. Around $70 million were raised in its ICO (Initial Coin Offering).
The following year, more products were launched, including the Web Wallet, Blockchain Explorer, TVM (TRON Virtual Machine), and testnet.
The next major update was an alteration of its protocol from an ERC-20 Ethereum-based token to a P2P network.
Sun was twice mentioned as one of Forbes' "30-Under-30" in Asia.
Before creating Tron, Sun had founded the audio content application Peiwo. He acted as a representative for Ripple in 2015.
Sun's business background attracted early investor interest, including Clash of Kings founder Tang Binsen and CEO of bike-sharing startup OFO Dai Wei.
Since 2018, TRON has run and owned the popular torrent client BitTorrent. In addition, it boasts partnerships with Opera, Samsung, and Swisscom Blockchain.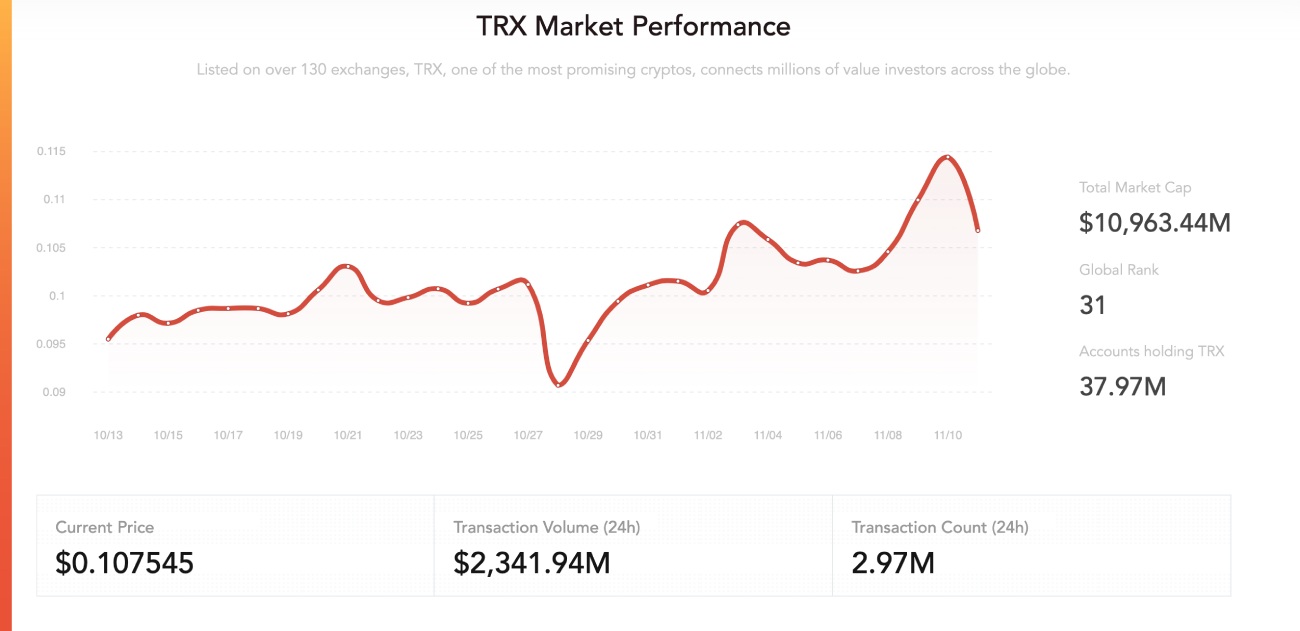 How Does TRON Work
While Tron is now a separate coin, it was once an ERC-20 token.
The Tronix network is decentralized – all data on the blockchain is free and not controlled by any central authority. Content creators can gain the TRX coins as a reward for posting their content. They can also create their own tokens on the Tron network. These tokens can then be used within users' own decentralized applications (dApps) on the network. These newly-created tokens are underpinned by the main TRX token.
Tron uses a consensus protocol known as delegated proof of stake or DPOS. In this system, people vote for others to become nodes, or in Tron's case, "super representatives."
There are 27 super representatives on the Tron network. They validate transactions, create new blocks, and compete for rewards for good behavior on the network. The voting system to elect super representatives is ongoing, meaning if they misbehave, they can be replaced.
Tron's TRX token acts as the ledger that keeps track of the exchanges on the network and is a store of value that content creators can use.
How to Buy TRON
To choose the best crypto exchange for yourself, you need to consider the essential features that all top crypto exchanges should have: top-tier security features, the variety of coins available on the exchange, supported fiat currencies, fees, and deposit methods. The digital market is still growing, so to buy Tron (TRX), you first need to buy Bitcoin, Litecoin, Ethereum, or other leading cryptocurrencies and transfer the tokens to an exchange platform that supports TRX.
After choosing a cryptocurrency exchange that suits your needs best, all you have to do for your Tron purchase is follow these easy steps:
Step #1: Open an online account: The first step is to sign up with a platform or an online cryptocurrency broker. A good example of one is Kraken. The registration procedure is concise, and you will be required to provide personal information, such as your email address, your full name, etc.
Remember also to set a strong password.
Step #2: Account Verification: Depending on the platform you're registering with, you will need to provide a valid means of identification.
The exchange might need personal information like email address, phone number, name, address, and a copy of your government ID or passport. A confirmation email with a verification link will be sent to your email for email verification. Clicking on the link will take you to the next stage of the account verification process. To add an additional layer of security to your trading account, you can set up 2FA (two-factor authentication).
Some exchanges require KYC verification, which is usually automated and takes roughly 15 minutes to complete.
Step #3: Acquire an eWallet: You'll need a crypto wallet to store your cryptocurrency.
There are different types of crypto wallets:
Hot wallets
These wallets are used on devices that connect to the Internet and offer the least amount of security. As an example, Tron software wallets are free to download and use.
Hosted wallets
A hosted wallet lets you hold your digital currency on the crypto broker's or exchange's server. Here, the host retains control of your private key to your cryptocurrencies. Such wallets can have security issues due to the threat of hacking.
Cold wallets
A cold wallet holds your cryptocurrencies offline. This type of wallet offers the highest level of security since your coins are stored on a device not connected to the Internet.
Decentralized wallets
These wallets let you send or receive cryptocurrency in your wallet anywhere in the world. They eliminate 3rd party risk associated with hosted wallets.
Step #4: Deposit funds. If you already have other cryptocurrencies, then you can use them for trading Tron. Best exchanges allow you to fund your wallet with fiat currency, using a credit or debit card or a bank transfer. If you decide to use your bank account to deposit, you will need to submit identity documents.
Step #5: Buy TRX tokens: Purchasing TRX is easy once you've funded your account and have obtained a compatible wallet. You also need access to a trading platform that allows transactions with your newly opened account. You have to select the cryptocurrency you want to buy and copy the relevant wallet address or scan the QR code provided. Use this address when initiating a transfer from your external crypto wallet. Buy TRX.
How to Buy TRON on CoinStats
CoinStats is one of the best crypto platforms around. It allows cryptocurrency investors to check current market prices, along with in-depth information on several of the biggest and fastest-growing cryptocurrencies. With CoinStats, you can easily view real-time prices of TRON and other coins, the market cap, trading volume, and price timelines all in one place.
CoinStats is also cryptocurrency research and portfolio tracker app that provides valuable information and investment advice to help investors make better decisions.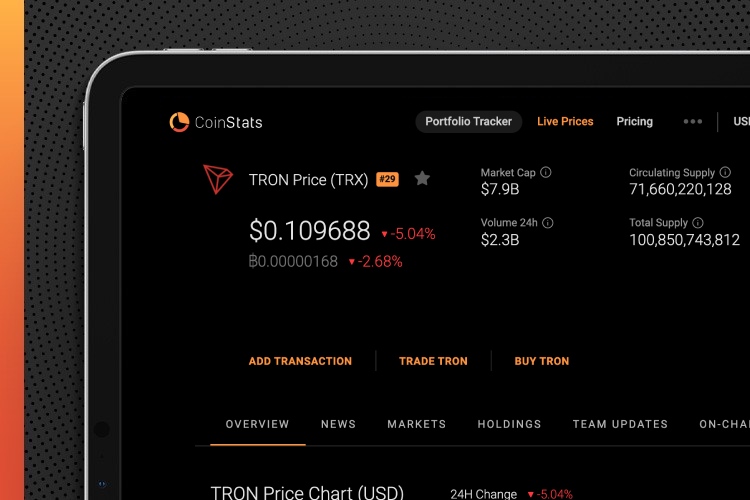 To trade Tron on CoinStats, all you have to do is register an account on the platform. Then, navigate to the top right corner of the screen and search for TRON. Click on it, and begin trading!
Credit/debit card deposits are only allowed to users from the U.S. The feature will be rolled out to other users soon.
Besides buying TRX, you can follow our blog posts on TRON coin price and other promising cryptocurrency tokens.

What Is the Best TRON Wallet
There are many viable alternatives when choosing a TRON wallet. Consider carrying out your own research on the strengths and weaknesses of these wallets and the risks involved before settling for any of these options. Remember that your Tron TRX coins are only as secure as the wallet storing them. Ideally, you'll want your wallet to support the Tron network. You will need to keep control of your private keys and have security features like a multi-signature or 2-factor authentication system and PIN code. The wallet software should also have an intuitive and easy-to-use interface and provide customer support if you have a problem using it.
Recommended hardware wallets to store TRX tokens include Trezor Model T, Exodus, Ledger Nano S, Trust Wallet, etc.
How To Choose the Best Exchange for TRON
When choosing an exchange, remember to check the offered trading pairs for Tron. You can buy Tron (TRX) at the following cryptocurrency exchanges:
Conclusion
Tron is a unique cryptocurrency project, which allows artists and content creators worldwide to fully own the content they create. Its blockchain network and ecosystem are built towards a decentralized Web.
TRX is its centerpiece, and the coin's value is likely to grow as more developers build dApps on Tron. People can now hold TRX as an investment or stake it to earn profits on the Tron ecosystem.
The Tron network offers a solution to content creators to overcome censorship or solve other problems of centralized content platforms. Also, its zero-transaction fee system makes it an exciting choice for companies and consumers alike.