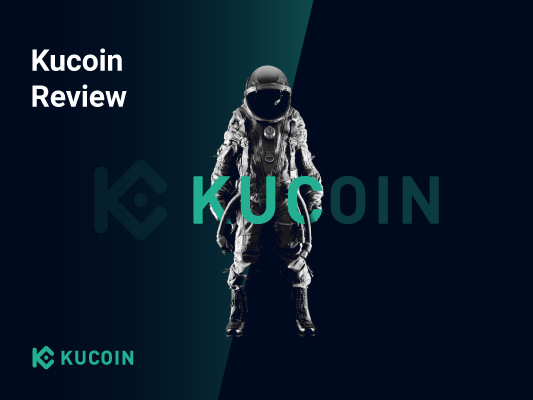 The Ultimate KuCoin Review
<! -- End of the Reviewed by section -->
Pros
Low Fees

Strong User Base

Wide Range of Coins

Earning Interest

Advanced Features

Excellent Customer Service

Buy Crypto with Fiat Currencies

Bank-level Security
Cons
Server Issues

Not Licensed in The US

Funding Method Limitations

Low Trading Volume

Inconvenient Platform for Newbies
KuCoin is one of the largest and most popular cryptocurrency exchanges in the crypto market. Launched in August 2017, the exchange has over 200 cryptocurrencies and more than 400 markets.
KuCoin exchange offers bank-level asset security, slick interface, beginner-friendly UX, and a wide range of crypto services: margin and futures trading, a built-in P2P exchange, ability to buy crypto using fiat currency, such as a credit or debit card, instant-exchange services, ability to earn interest on digital assets by crypto lending or staking via its Pool-X, IEO launchpad for crypto crowdfunding, non-custodial trading, and much more. Moreover, KuCoin offers some of the lowest trading fees among crypto exchanges. KuCoin fees are easy to understand. Institutional investor program participants can get significant trading fee discounts. KuCoin spot trading fees are subject to the fixed 0.1% fee. The costs tend to decrease based on your 30-day trading volume or KuCoin Shares holdings, which entitle you to the additional trading fee discount. Besides, you can use KCS tokens to cover some of your trading fees with KCS Pay low, gain special offers, trading discounts, exchange profits, and much more.
The objective of the KuCoin team was to create a safe and straightforward platform for trading a range of crypto assets. KuCoin has grown into a leading cryptocurrency exchange that can boast of serving every one out of four crypto holders worldwide.
Our KuCoin review is designed to teach you everything you need to know about the KuCoin exchange and how you can start your trading journey on KuCoin.
Let's dive in!
Summary
Feature
Details
KuCoin Operation Platforms
Desktop
KuCoin App (iOS and Android)
Spot, Margin, Futures
Available
KuCoin Bot
built-in KuCoin trading bot
Token
KCS Discount token
Customer Services Support
24/7
Minimum Deposit
No
Deposit Fee
No
Spot Trading Fees
Maker Fee – 0.1% to -0.005%
Taker Fee – 0.1% to 0.025%
Futures Trading Fees
Maker Fee – 0.02% to -0.015%
Taker Fee – 0.06% to 0.03%
Withdrawal Fees
Depending on the currency
Information About the Platform
| | |
| --- | --- |
| Number of KuCoin users | 8 million |
| Number of cryptocurrencies | 370+ cryptocurrencies (BTC, ETH, MXR, DAG, BCH EOS, LTC, etc) |
| Prevalence | 400+ markets |
| Countries | 200+ countries |
| Supported fiat currencies (to buy coins) | 50 Currencies (AUD, CAD, CHF, CNY, CZK, DKK, EUR, GBP, HUF, IDR, ILS, JPY, KRW, NOK, NZD, PLN, RUB, SEK, TRY, USD, VND, ZAR, etc) |
| Supported languages | English, French, German, Russian, Dutch, Portuguese, Chinese (traditional, simplified), South Korean, Vietnamese, Spanish, Italian, Indonesian, Hindi, Thai, Turkish, Malay. |
Introduction
KuCoin is a popular cryptocurrency exchange launched in September 2017. It's a user-friendly and secure platform that provides several trading options to its six million users worldwide. The platform is currently ranked number 41 in the list of largest crypto exchanges by CoinMarketCap, with an adjusted 24-hour trading volume of almost $200 million. It's on the Forbes list of best crypto exchanges in August 2021.
Experienced cryptocurrency traders can get the most out of KuCoin's wide range of coins, low fees, advanced features, such as a trading bot, margin trading, futures trading, and various order types, such as lending, limit, post-only, stop, market, and iceberg orders. However, KuCoin is not licensed to operate in the U.S.
KuCoin has a reputation for being an early adopter of new digital coins. Traders looking to experiment with altcoins are likely to find this platform beneficial, as KuCoin often adds coins before they even appear on competing platforms.
KuCoin has its decentralized cryptocurrency called KuCoin Shares (KCS), based on the Ethereum blockchain (ERC20 tokens). It also works with all Ethereum wallets.
If you acquire its native KuCoin Shares (KCS) tokens, you will get a significant trading fee discount and earn more crypto. Since August 21, 2020, the token has experienced an increase of about 700% in its price. With a circulating supply of 80,118,638 KCS, the exchange rewards KCS holders with daily bonuses. KCS holders enjoy several benefits such as commission income, reduced trading commissions, and access to other special services. Besides, participants of the KuCoin institutional investor program get significant trading fee discounts.
The platform has issued a plan for buyback disposal, which aims to keep a constant 100 million tokens on the market. According to KuCoin, the company will use 10% of each quarter's net profit to buy back and destroy KCS.
KuCoin supports non-custodial trading directly from your private wallet, which is facilitated by Arwen security technology. Arwen uses the blockchain itself as an escrow agent and doesn't entrust a third-party authority.
KuCoin wallet includes industry-level multilayer encryption, dynamic multi-factor authentication, offline storage in a bank safe, funds escrow, and regular auditing by the bank.
Who Should Choose KuCoin
KuCoin is a user-friendly exchange with an excellent design and robust trading platform. Every step from making a deposit to completing a trade is pretty straightforward. Experienced users seeking more advanced features for analyzing pricing trends such as candlestick bars, etc., will also find KuCoin suitable for trading. Users will also benefit from its low fees and wide range of coins.
However, you should consider that KuCoin is not licensed to operate in the U.S.
KuCoin Products & Services
KuCoin offers a rich suite of products and features from trading crypto-assets and derivatives to lending crypto tokens, including:
Spot Trading
Margin Trading
Futures Contracts
Pool-X
Crypto Loans
Soft Staking
KuCoin also offers the following services:
KuCoin P2P
KuCoin Trading Bot
Special benefits for API users
Spot Trading
Spot trading (instant trading) allows users to buy or sell cryptocurrencies immediately at a spot exchange rate. KuCoin spot trading fees have a fixed level of 0.1% for makers or takers. Compared to crypto exchanges like Binance, Coinbase, EOS, it is pretty low. The trade volume of thirty days together with KuCoin Shares holdings is the probable reason for the low trading fees (0.1% only).
How to Spot Trade Using KuCoin
Follow our step-by-step guide to spot trading:
Choose the "Spot Trading" option from the "Trade" tab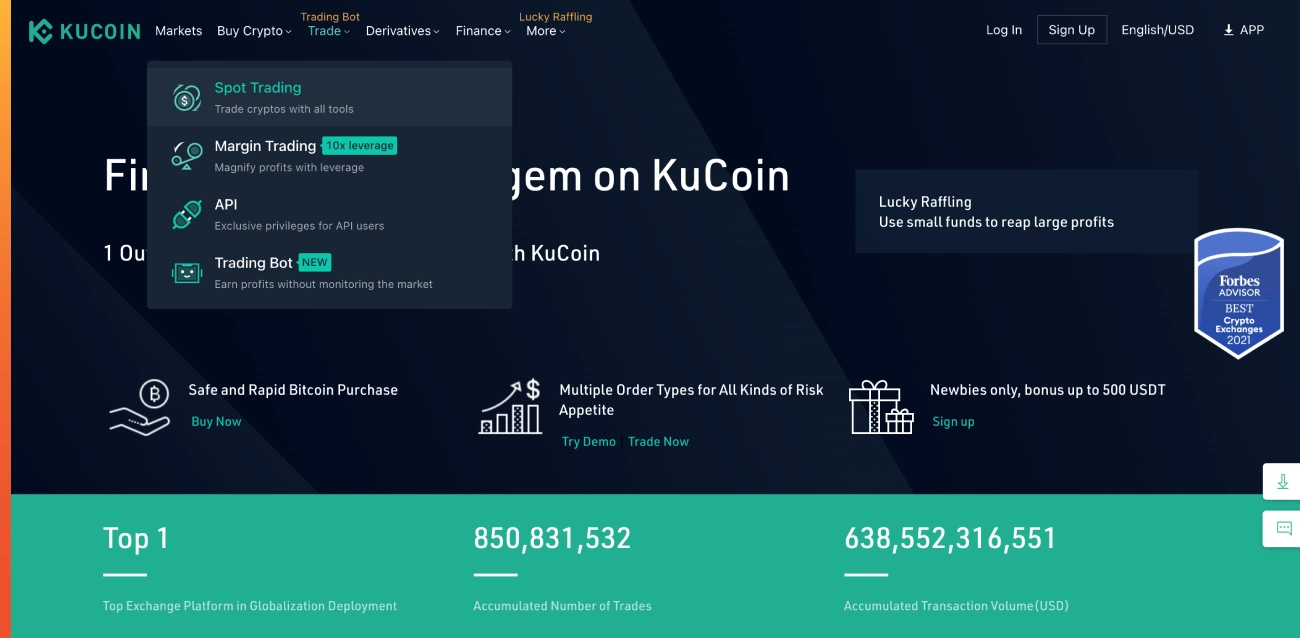 The trading market offers USDT, BTS, ALTS, KuCoin Shares (KCS), etc. You can also find different trading pairs in the other markets with varying prices.
KuCoin exchange offers the following 4 order types:
Limit Order, Market Order, Stop Limit Order and Stop Market Order or Market Stop-Loss Order.

Depending on your preferences, you can select one of the orders. The percentages buttons show the share of the amount.
Margin Trading
KuCoin offers up to 10x leverage on Margin trading. In 2019, KuCoin announced that it would add KCS as its newest margin asset, supporting KCS/USDT trading pair with up to 10x leverage.

a few tokens to make a long (buy) or short (sell) operation to leverage a large number of funds using a smaller amount to earn more profits. Traders can use this function to acquire a higher capital amount for leverage positions. Other users do crypto lending to those who set to margin trading. For this type of trading, investors commonly use KCS (KuCoin Shares), BTC, ETH, etc.
KuCoin Leveraged Tokens
Select 'Leveraged Tokens' under the 'Derivatives' tab.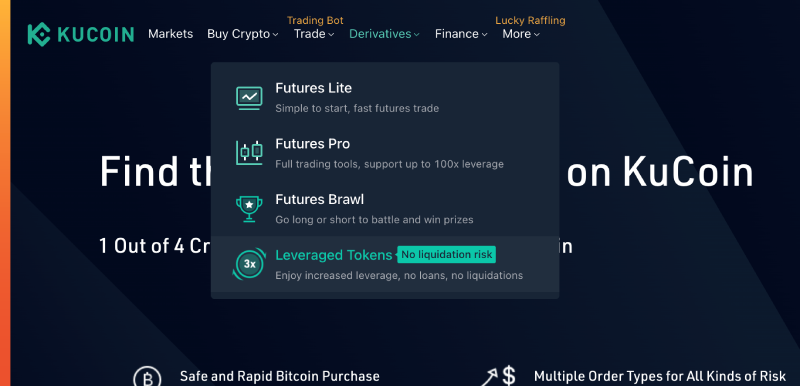 In March 2021, KuCoin officially launched its leveraged tokens and invited users to trade them in the KuCoin Sandbox. The first batch of leveraged tokens introduced was BTC3L, BTC3S, ETH3L, and ETH3S.
Leveraged tokens are a new type of crypto derivative without any due date. Its trading experience is user-friendly and similar to trading in the Spot market. Compared to perpetual contracts on KuCoin Futures, traders of leveraged tokens can also amplify their investment returns with leverage. The most significant advantage of leveraged tokens is that they will never be liquidated.
KuCoin Futures Trading
KuCoin futures (contract) trading allows users to buy or sell the assets' future standard contracts. A futures contract is the obligation to sell or purchase crypto at a later date at an agreed-upon price. The buyer places the order mentioning a specific price and time (future), and the seller must deliver the asset at the agreed-upon conditions.
Since the initial launch, the platform has become one of the top 10 global Futures trading platforms on the market today. KuCoin supports futures trading with up to 100x leverage. The notable advantage of this high leverage is that it enables users to trade contracts worth more than the trading funds in their KuCoin account.
Pool-X
Pool-X is a staking platform that pioneered the free market, solving the problem of cryptocurrency liquidity. Traders participate in staking and receive both staking rewards and POL Credits (Pool-X's own token). In the liquidity trading market, traders can trade staking assets and enjoy a higher level of liquidity. Cryptocurrencies like TOMO, ATOM, KCS, among others, can be used for mining cryptos in the pool.
Soft Staking
Soft Staking is part of KuCoin's Pool-X. Rewards earned for holding crypto coins are the essence of Soft Staking. Investors can get up to 15% annual earnings for holding tokens.
However, in Soft Staking, you could use your coins whenever you want. This way, you are keeping your coins in a wallet that earns you passive income. As there is no locking or unlocking period, it's a great addition to staking, considering the volatile nature of crypto.
Crypto Lending or Crypto Loans
Crypto loans (lending) are among the specific features of the KuCoin platform. It allows crypto investors to loan their cryptocurrency tokens for a particular rate.
KuCoin helps users lend cryptocurrency to other users and receive interest in USDT, BTC, ETH, etc. Lenders only need to specify the Loan Amount, the Daily Interest Rate (interest rate range from 0 to 0.2%), and the loan term -7 days, 14 days, and 28 days. By default, the period is 28 days. Cryptocurrencies available for this service include USDT, ETC, ZEC, LTC, ADA, TRX, and more.
KuCoin P2P
KuCoin peer-to-peer enables traders to exchange cryptocurrencies with other users from their accounts directly, without the need for an intermediary. Other advantages of P2P Fiat Trade are that there are no transaction fees, settlement is speedy, transactions are secure, merchants are reliable and professional; moreover, multiple local payment methods are on hand.
KuCoin Trading Bot
A trading bot is a free trading tool that helps investors earn passive income by decreasing losses and improving the winning rates. KuCoin mobile app offers Spot Grid, Futures Grid, Smart Rebalance, and DCA bots.
Automated trading robots are very beneficial. They are meant to reduce repetitive work; for example, if you plan to check your portfolio every 5 hours, you can use the Smart Rebalance bot, which will automatically rebalance your investment portfolio. Bots also reduce trading risks and quickly seize trading opportunities.
The Advantages and Benefits of Having KuCoin Account
As a competitive cryptocurrency exchange, KuCoin offers a wide range of crypto services and trading tools, including:
Low Fees
KuCoin offers low trading fees as compared to other exchanges. When making a trade, you will only pay 0.1% of the amount you are buying. You don't pay any monthly account fees, and KuCoin withdrawal fees match up with Binance's, which is KuCoin's biggest competitor and is known to be the lowest fee exchange. Depositing crypto is free, but you will pay to deposit fiat (traditional) money like U.S. dollars. The fee depends on how you transfer cash and what third-party app you use. You can find all the information on KuCoin trading fees on the KuCoin official site.
Strong User Base
According to the KuCoin Platform, 25% of Crypto holders use its service. The company serves more than 6 million user communities from 200 countries with more than 400 markets and 200 cryptocurrencies. The advantage to such a strong user base is that it adds liquidity to the market. It also means there is an active community of traders who speak your language. KuCoin is often known as "The People Exchange" and is ranked among the top 10 crypto exchange markets globally. The exchange platform has its own native KuCoin Shares (KCS) tokens.
Wide Range of Coins
KuCoin has a broader selection of crypto assets than you'll get at many of the best crypto exchanges or brokerages. KuCoin supports more than 370 cryptocurrencies, 30 distinct supported fiat currencies, and 750 trading pairs. It also has a Spotlight section that promotes new coins.
Earning Interest
To earn interest, you can stake coins through Pool-X or loan out your crypto.
The interest you'll earn by loaning out your crypto varies by coin and demand. You can earn 8% to 12% on average. This money finances KuCoin's margin trading, and lenders' funds are insured by the KuCoin margin insurance fund.
Check out KuCoin's crypto lending, Staking, soft Staking, and KuCoin Shares (KCS) bonus on how you can generate yield. KuCoin Lend allows investors to loan digital tokens to other users for margin trading.
Advanced Features
KuCoin has various extra features, such as, margin trading which allows experienced traders to leverage their position. It also allows you to use trading bots through the KuCoin app. Trading bots can automatically buy and sell your cryptocurrencies and rely on AI. The classic grid version is ideal for beginners. DCA bot or Dollar Cost Averaging is perfect for professional traders. KuCoin also offers Robot trading, allowing users to automate their trading and benefit from markets 24/7 and micro withdrawal wallets.
Excellent Customer Service
Clients can get customer support via several channels 24/7. KuCoin support is available in more than 17 languages
Buy Crypto with Fiat Currencies
KuCoin allows you to buy crypto with fiat currencies, including USD, EUR, CNY, GBP, CAD, AUD. Altogether KuCoin lets you buy cryptocurrencies with more than 50 fiat currencies in various ways that include debit and credit cards. On June 24, 2020, KuCoin announced that its P2P crypto marketplace supports buying and selling using PayPal, among other convenient fiat payment methods.
Bank-level Security
KuCoin has several security measures in place to keep accounts and assets secure from attacks and hackers. It protects the traders' personal information with 2-Factor Authentication and advanced SSL encryption.
KuCoin implemented many additional security features into its user interface.
The Inconveniences and Risks of Using Kucoin Exchange Platform
Now, let's have a look at some of the risks and inconveniences of Kucoin:
Server Issues
Some difficulties occur during high-traffic periods. Nevertheless, Kucoin has implemented an efficient operating engine for handling the myriad of transactions occurring per second, which mitigates the risks of glitches and delays.
Not Licensed in The US
KuCoin only provides services for countries listed on its Know Your Customer (KYC) page, which does not include the U.S.
The United States has strict regulations for cryptocurrency exchanges, and KuCoin is not licensed to operate in the states.
Funding Method Limitations
While you can buy crypto with fiat currency, you'll need to do it through a third-party app. You can pay by credit or debit card, Apple Pay, and Google Pay, but you can't deposit money from your bank account. And the fees can be steep.
Low Trading Volume
The Trading volume is low, and sometimes there are issues with liquidity on smaller coins.
Inconvenient Platform for Newbies
KuCoin's site is not easy to use for beginners.
To sum up: KuCoin is a simple browser and mobile app with advanced tools that make cryptocurrency trading an easy endeavor. The platform is expanding rapidly with hundreds of currencies, Kucoin IOS and KuCoin Android apps, cheap KuCoin fees, and a unique cryptocurrency/profit-sharing system.
Conclusion
KuCoin is an innovative platform in the crypto space. It has become a leading exchange in terms of security, reliability, service quality, and features. As such, KuCoin is best suited for both new and experienced traders interested in investing in popular and less-known small-cap crypto tokens and assets.