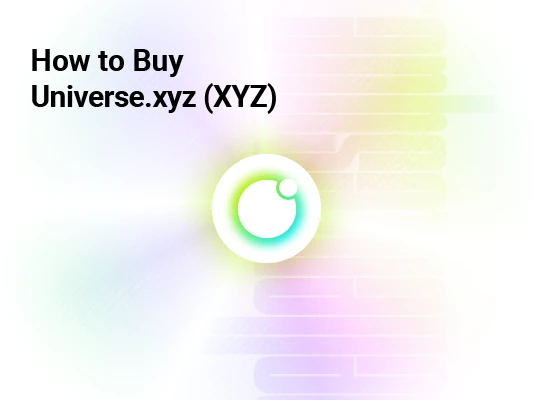 How to Buy Universe.xyz
<! -- End of the Reviewed by section -->
Universe.xyz was created by artists for artists, aiming to empower artists to mint a single NFT or an entire Collection and monetize those Collections. Read on to learn all the relevant information about the Universe.xyz to help you make an informed investment decision. Scroll down for our step-by-step guide on where and how to buy Universe.xyz (XYZ) tokens.
The Universe Protocol is a social media NFT marketplace that provides such services as minting, NFT tools, auctioning platforms, forums, and social media created to streamline community engagement of NFTs.
The completely decentralized xyzDAO powers the NFT marketplace.
XYZ is the native governance token of the Universe Protocol, used for staking and voting in the ecosystem.
1. Sign Up for a CoinStats Account
Sign up for a CoinStats account if you don't already have one, and verify your identity. Connect your digital wallet that supports Ethereum-based tokens, such as MetaMask or MyEtherWallet, to your CoinStats account.
2. Navigate to the CoinStats Swap
Navigate to the CoinStats Swap platform. After successfully linking your wallet, choose the token to swap by providing the data in either cryptocurrencies or USD/EUR.
3. Swap XYZ
For example, we are swapping ETH for XYZ. In the "From" field select the ETH token from your wallet, and in the "To" field, select "XYZ."
Click on Advanced Options to change the slippage. When you're finished customizing, scroll down to the bottom of your screen and tap the "Submit Swap" button.
Confirm
After you submit your swap request, you'll be prompted to confirm it. To begin the swap, follow the instructions on the screen, review the information, and click "Confirm."
NOTE: You will be charged Network Transaction fees also known as gas fees. This refers to the charge necessary to complete a transaction on the blockchain. In essence, gas fees are paid in the network's native currency, i.e. ETH for the Ethereum network. CoinStats charges a small swap fee in addition to the gas fees.
Once the transaction is completed, your XYZ will be credited to your digital wallet, and you can track your XYZ holdings in your CoinStats account.
If you don't have any crypto yet, don't fret! You can buy any large-cap cryptocurrency on CoinStats' buy crypto with bank card page, and swap that crypto for XYZ.
What Is Universe.XYZ?
Universe protocol is a social media NFT marketplace built on Ethereum that provides artists with such services as minting, auctions, social tools, forums, NFT galleries, and NFT tools to mint and monetize NFTs easily.
The xyzDAO powers the NFT marketplace, which is completely decentralized.
Universe protocol is creator-centred and user-friendly. According to Whitepaper, it charges no transaction fee on primary sales and only 1% on secondary sales. Universe.xyz allows creators to mint their NFTs or NFT collection without the need for a smart contract developer or mint a project on a smart contract that they already own.
Artists and collectors can develop a community on the same platform they own a part of by holding the XYZ token. Secondly, the community and buyers can engage and have all the information about a collection in one place.
The XYZ native governance token has the following use cases:
Voting on the xyzDAO proposals
Staking in the xyzDAO to earn XYZ rewards.
Universe.XYZ Products and Services
Universe and xyzDAO tools include the following:
NFT Minting – Individuals can use decentralized NFT minting and custom ERC-721 minting contracts.
NFT Auctions – Specialized and normal NFT auction house with various auction formats.
NFT Social Media – Decentralized NFT Social Media Platform for building an NFT community and sharing information on NFTs.
NFT Galleries – Galleries and slideshows for a curated presentation of NFTs and collections.
NFT Social Tools – Introducing social tools such as wiki bases and knowledge bases to the NFT community, along with likes and other features.
NFTs Drops and More – As the NFT space grows, xyzDAO generates innovative NFT drops to explore use cases, games, metaverses, and much more.
What Is XyzDAO?
Universe Protocol is community-owned and functions in a full-scale DAO, following the ideals of decentralization from smart contracts to data. In xyzDAO, XYZ holders are given voting rights to participate fully in the fees and the project's future, including voting on the launch of marketplace. The DAO also controls the creation of new Collections and the deactivation of the $XYZ token mint function.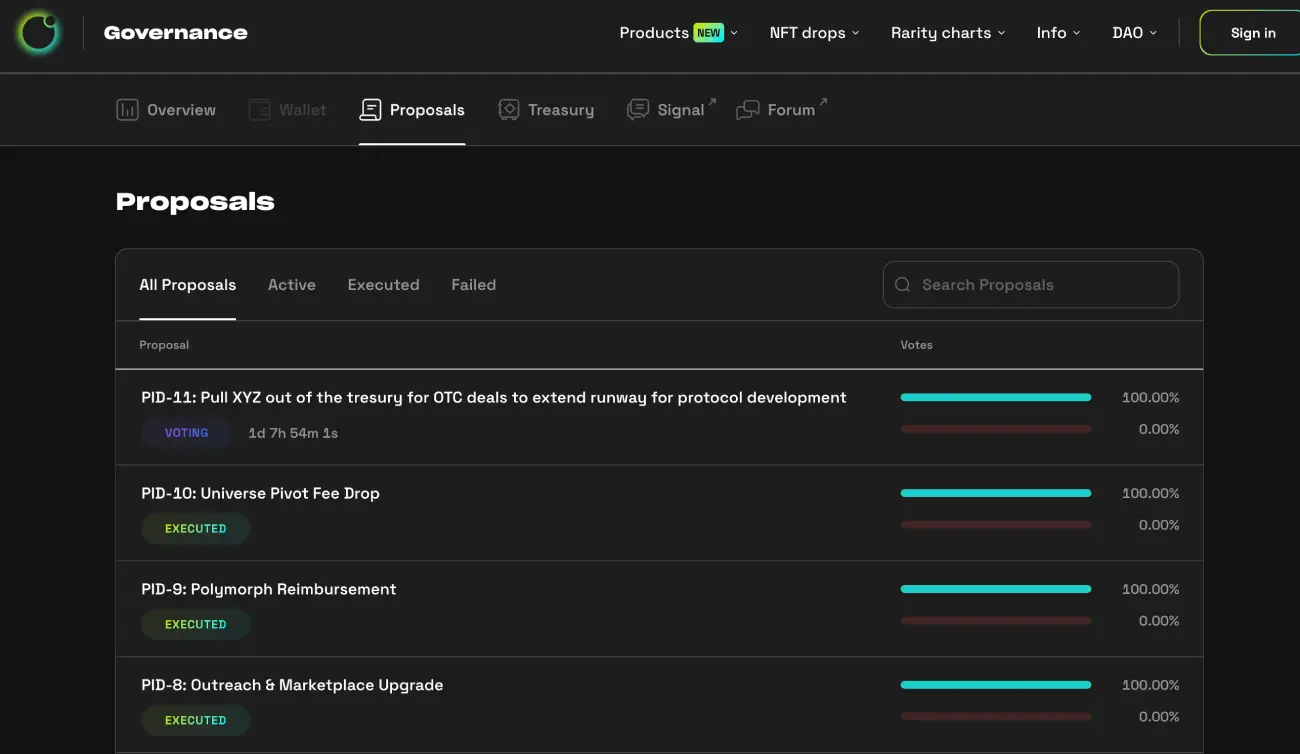 The xyzDAO is a fork of the BarnBridge DAO, which was audited by Quantstamp and Haechi.
XyzDAO Founders
Universe.xyz was cofounded by Tyler Ward, Tim Kang, Troy Murray, and Milad Mostavi. The team has extensive expertise in the DeFi/NFT space and works on projects like BarnBridge, LeagueDAO, EnterDAO, FiatDAO, and PleaserDAO.
Murray is the co-founder of BarnBridge, a fluctuations derivatives protocol for hedging yield sensitivity and market price changes. He is also the founder of RUDE labs, a crypto-centric artist company. Since 2012, when Murray got bit by the Bitcoin bug, he has been studying the various benefits blockchain can bring to media and artists. He has spent most of his time working on Ethereum-based initiatives in the crypto space. Previously, Murray worked on SingularDTV/Breaker and snglsDAO, both of which attempted to decentralize media and entertainment. In 2016, he built a Title III equity crowdfunding platform utilizing Ethereum tokens.
Tyler Ward is also a BarnBridge co-founder and the creator of Proof Systems, one of the top marketing and UI/UX firms focusing on digital assets. Ward has previously worked with ConsenSys, Earn.com (which was bought by Coinbase), FOAM, NEAR Protocol, Grid+, Centrality, SingularDTV, Dether, Sylo, DARMA Capital, and the snglsDAO. He began working in cryptocurrency in late 2016 and has purchased and sold numerous eCommerce companies.
Milad Mostavi is also the co-founder of BarnBridge and serves as the company's CTO. He is a seasoned software architect who has worked on a dozen different projects with ConsenSys over the last five years. Mostavi's contributions were critical in successfully launching Gnosis and creating SingularDTV's entertainment decentralised ecosystem.
Tim Kang founded Sevens Foundation and CUE Music as a solo engineer to assist and empower artists and creatives. As a technological and product visionary, he was an early investor in Ethereum, BarnBridge, and Chainlink and has been trying to build a more equitable future for people through decentralized systems. Kang is also known as the 'illestrater,' who had broken NFT sales records in early 2021, which helped bring NFTs into the public limelight.
Where Can I Buy Universe.xyz?
You can buy XYZ crypto tokens on several cryptocurrency exchanges such as Coinbase, Kraken, Binance, UniSwap, Gate.io, etc. If you need an alternative platform to purchase XYZ tokens with credit cards, you just need to visit Changelly, an automatic cryptocurrency exchange allowing you to swap crypto fast and use a credit card to buy crypto.
You must compare crypto exchanges to choose the one with the characteristics you need, such as affordable transaction fees, an intuitive platform, and round-the-clock customer service. Also, consider whether the crypto exchange is regulated by the Financial Industry Regulatory Authority (FINRA) and allows you to buy XYZ using your preferred payment method.
Most exchanges require you first to purchase a popular cryptocurrency and swap it for Universe.xyz on an exchange that supports it.
The process of buying XYZ or other cryptocurrencies is similar across most platforms. Our step-by-step guide below features how to buy Universe.xyz (XYZ) on Coinbase.
Coinbase is one of the most well-known cryptocurrency exchanges worldwide. It's simple to use and supports a wide range of crypto currencies, including Universe.xyz. Coinbase is a popular choice among customers due to its high security and ease of use.
Follow these simple steps to buy Universe.xyz (XYZ) on Coinbase.
Step #1: Create a Coinbase Account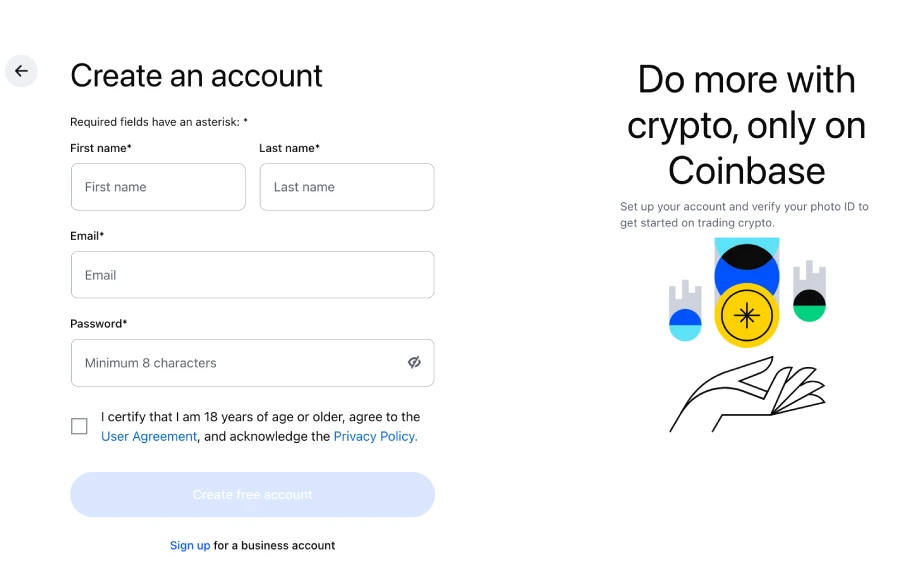 The first step is to sign up for a Coinbase account if you don't already have one. You must provide a valid email address to which a confirmation email will be sent. You must click the link to go through the account verification process.
You must also provide personal information and comply with the KYC verification process. Coinbase uses your mobile phone number to set up Two-factor authentication (2FA) on your account, making your account even more secure.
Step #2: Link a Payment Method
To deposit funds into your Coinbase account, you need to link a payment method such as your bank account or credit card. While Coinbase doesn't charge any transaction fees for bank transfers, you can't withdraw your funds for 5 days. There is a minor transaction fee on wire transfers, but there is no waiting period for withdrawals.
When you purchase using a credit card, you can start buying immediately. However, your weekly purchase limit on a credit card will be around $750 when you first open your account.
Step #3: Buy USDT
After transferring funds into your Coinbase account, select your fiat currency on the "Transact" screen under the "From" field and choose USDT on the "To" field. Double-check your transaction details and click "Confirm." You've now purchased USDT required for your XYZ purchase.
Step #4: Transfer USDT
Since Coinbase doesn't allow you to purchase XYZ directly, you must move your USDT to an altcoin exchange supporting XYZ.
You must create an account on the altcoin exchange and undergo the required verification process. After that, you must deposit USDT to your altcoin account using your wallet address.
Once your transfer has been confirmed, it should show in your exchange's account.
Step #5: Buy XYZ
Now, click "Withdraw" to enter the number of tokens you want to buy, and then click "Trade" to choose your market. Select your trading pair, for example, XYZ-USDT, enter the quantity of XYZ you want to buy, and then click "Buy." The order will be placed and completed within seconds, and the XYZ tokens will be reflected in your Coinbase Wallet.
The process described above referred to buying XYZ at the market price, i.e., the current price Universe.XYZ (XYZ) is trading at. However, if you think the price will drop or want to get it at a lower price, then you must place a limit order. Limit order says you wish to purchase a certain amount of Universe.XYZ (XYZ) at a specific price. So, your order will be processed only if the price of XYZ gets to the specified price or lower.
As you can see, trading XYZ on Coinbase is quite straightforward, and you can get your hands on Universe.xyz (XYZ) in a few easy steps.
Step #5 (Optional): Store XYZ
While your XYZ tokens can be stored in your brokerage exchange wallet, experts highly recommend storing your precious coins away from exchange wallets, as those might be susceptible to hacks and interference.
We highly recommend creating a private wallet with your own set of keys. Depending on your investing preferences, you might choose between software and hardware wallets:
Software Wallets
If you're looking to trade XYZ regularly, software or hot wallets provided by your selected crypto exchange will suit you. The strength of software wallets lies in their flexibility and ease of use. A software wallet is the most easy-to-set-up crypto wallet and lets you easily interact with several decentralized finance (DeFi) applications. However, these wallets are vulnerable to security leaks because they're hosted online. So, if you want to keep your private keys in a software wallet, conduct due diligence before choosing one to avoid security issues. We recommend a platform that offers 2-factor authentication as an extra layer of security.
Examples of software wallets include CoinStats Wallet, MetaMask, Coinbase Wallet, Trust Wallet, and Edge Wallet, amongst others.
Hardware Wallets
Hardware or cold wallets are usually considered the safest way to store your cryptocurrencies as they offer offline storage, thereby significantly reducing the risks of a hack. They are secured by a pin and will erase all information after many failed attempts, preventing physical theft. Hardware wallets also let you sign and confirm transactions on the blockchain, giving you an extra layer of protection against cyber attacks. These are more suitable for experienced users who own large amounts of tokens.
Ledger hardware wallets are arguably the most secure hardware wallets letting you securely manage your digital assets. The Nano X is designed for advanced users and offers more storage space and advanced features than Ledger Nano S, designed for crypto beginners.
A hardware wallet is more expensive than a hot wallet, with prices ranging between $50 – $200.
Examples of cold wallets are Trezor Model T, Ledger Nano X, CoolWallet Pro, KeepKey, Ellipal Titan, and SafePal S1, amongst others.
Step #6 (Bonus Step): Track XYZ Tokens
The crypto market is volatile, and managing your portfolio could get tricky if you hold multiple assets. Utilizing a portfolio tracker will help you keep track of your XYZ tokens and all your crypto investments from one platform at all times. CoinStats offers one of the best crypto portfolio trackers in the market.
You can also monitor the profit, loss, and liquidity of XYZ across several exchanges on CoinStats.
CoinStats supports over 300 cryptocurrency exchanges and over 20,000 cryptocurrencies. It offers charting tools, analytical data, advanced search features, and up-to-date news. Here you have the opportunity to connect an unlimited number of portfolios (wallets and exchanges), including
Binance
MetaMask
Trust Wallet
Coinbase
Kraken
Kucoin
Bitstamp, and 500 others.
To connect, go to the CoinStats Portfolio Tracker page and:
Click Add Portfolio and Connect Wallet.
Click the wallet you want to connect to (e.g., Ethereum Wallet).
Input the wallet address and press Submit.
Closing Thoughts
Universe.xyz is an attempt to build a completely decentralized independent ecosystem for NFTs. Its key features include decentralization ranging from smart contracts to data and a full-scale DAO.
XYZ has been down 72.60% over the last three months, and with its small market capitalization, such a price movement is likely to continue. However, three months is still considered early in the crypto world, and it's also expected that XYZ price will bounce back as it has delivered what it promised in its Whitepaper.
Universe.xyz (XYZ) seems to be an excellent investment in the long run.
You can also visit our CoinStats blog to learn more about wallets & exchanges, portfolio trackers, tokens, etc., and explore our in-depth buying guides on how to buy various cryptocurrencies, such as How to Buy Polygon, How to Buy BNB, What Is DeFi, How to Buy Cryptocurrency, etc.
Investment Advice Disclaimer: The information contained on this website is provided to you solely for informational purposes and does not constitute a recommendation by CoinStats to buy, sell, or hold any securities, financial product, or instrument mentioned in the content, nor does it constitute investment advice, financial advice, trading advice, or any other type of advice.
Cryptocurrency is a highly volatile market sensitive to secondary activity, do your independent research, obtain your own advice, and only invest what you can afford to lose. There are significant risks involved in trading CFDs, stocks, and cryptocurrencies. Between 74-89% of retail investor accounts lose money when trading CFDs. You should consider your own circumstances and obtain your own advice before making any investment. You should also verify the nature of any product or service (including its legal status and relevant regulatory requirements) and consult the relevant regulators' websites before making any decision.