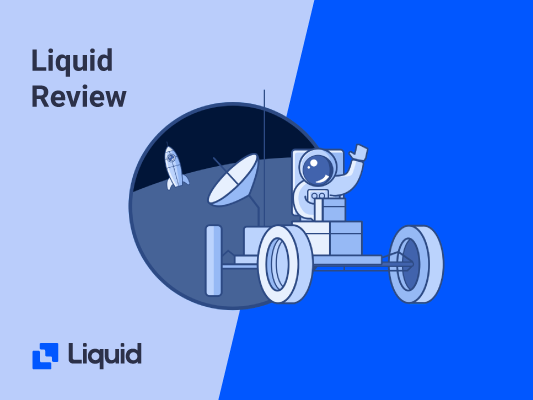 The Ultimate Liquid Review [For 2023]
<! -- End of the Reviewed by section -->
Liquid Pros
Wide variety of fiat and crypto-based trading pairs

Exchange for more than one hundred cryptocurrencies

Licensed and regulated by the Japanese Financial Services Agency

Quick withdrawals

User-friendly interface

Multiple payment methods

Easy and hassle-free verification process

Advanced trading
Liquid Cons
Higher trading fees compared to other exchanges

Not available for users from the US
Liquid is a modern cryptocurrency exchange ecosystem designed for traders to buy, sell, and leverage benefits from blockchain technology.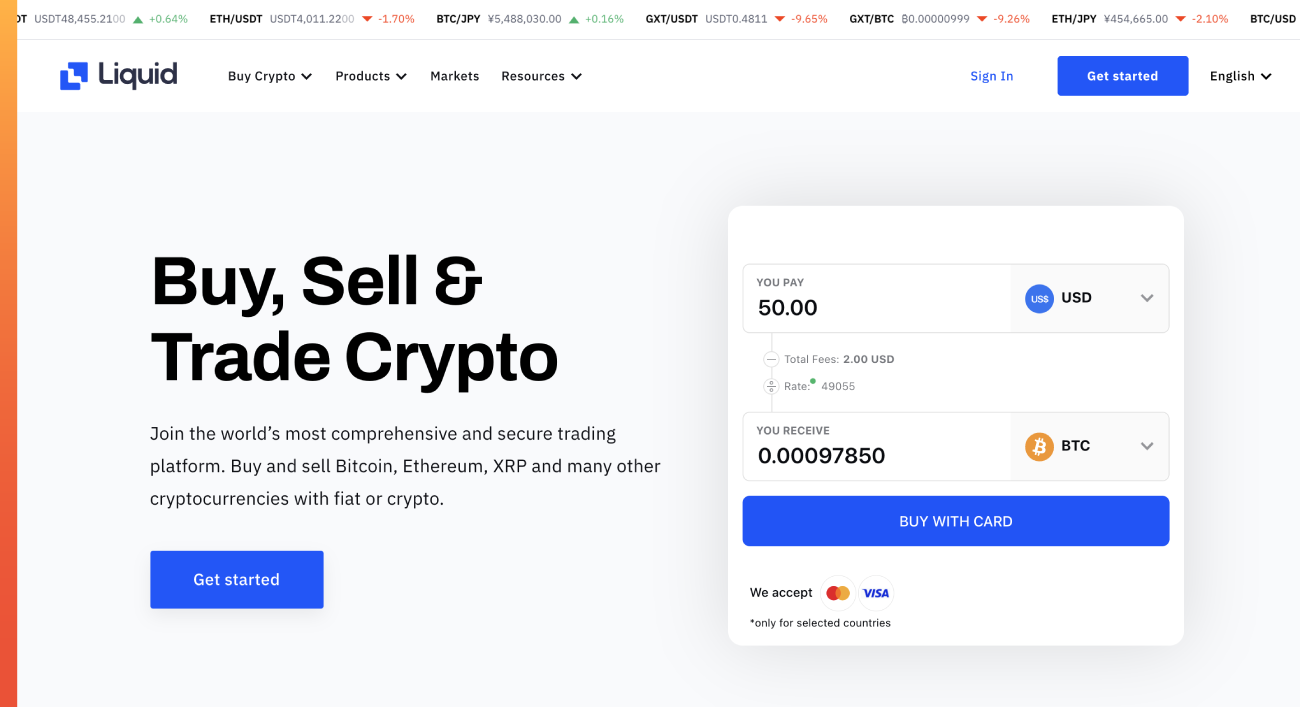 The parent company of Liquid, Quoine, was founded in 2014 in Tokyo, Japan. Ever since, the company has successfully turned into one of the leading cryptocurrency-fiat exchange platforms, serving millions of crypto enthusiasts worldwide. According to its bitcoin and Japanese yen trading volume, Liquid is also often on the top ten crypto exchanges list.
Our Liquid review is designed to teach everything you need to know about the Liquid crypto exchange, its features, and benefits to help you decide if it's suitable to your needs. Before diving into the details, let's see some high-level pros and cons of the platform on the top of this article.
Liquid Exchange Services
The main service that Liquid successfully provides to its users is allowing them to sell, buy, or exchange cryptocurrencies like Bitcoin and Ethereum with or without fiat money. The platform has a visually appealing user interface that's also simple and easy to use, and it's also famous for its informative and helpful trading charts.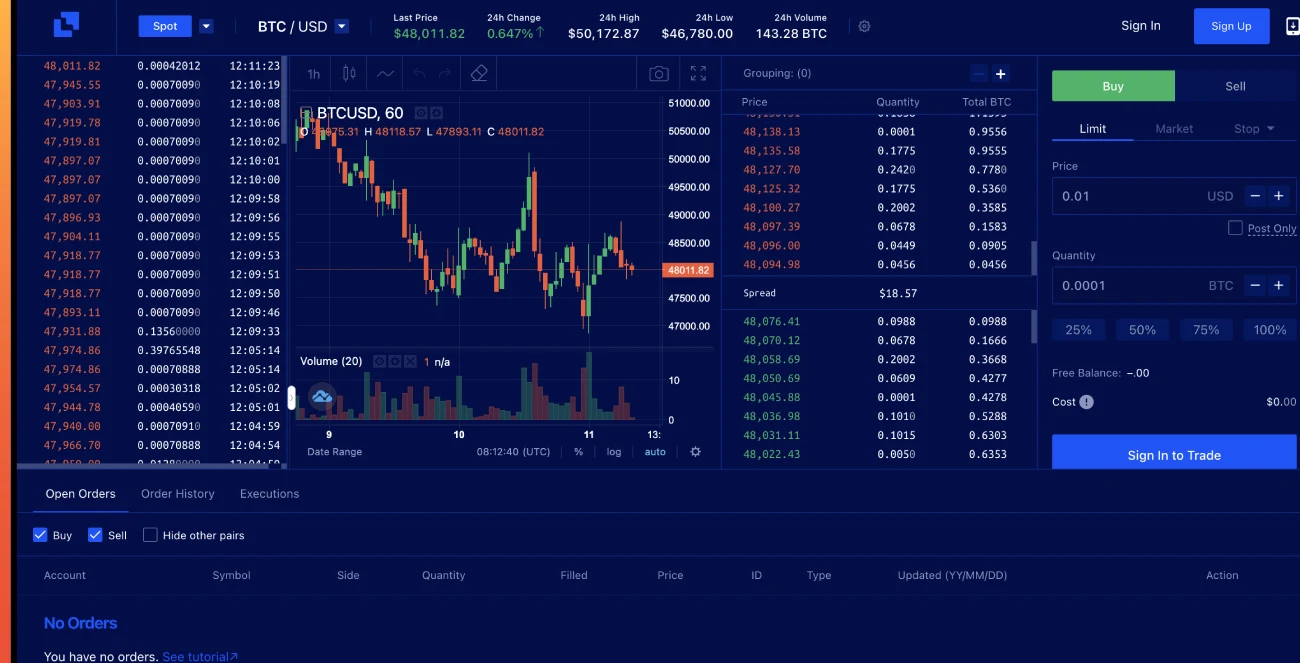 Liquid offers margin trading with up to 25x leverage. However, remember that this margin trading service doesn't apply when you trade crypto pairs. Liquid also provides the Liquid lending feature, allowing users to lend out assets to margin traders and earn money through predefined interest rates.
Liquid also supports spot trading and four advanced order types including, limit, market, stop, and trailing stop.
The platform offers Liquid Earn, a tool to earn incentives on your Liquid crypto balance. Select your preferred cryptocurrency and click "Earn" to begin collecting benefits.
Another tool you might find helpful is Quick Exchange, a Liquid feature that allows for the easy exchange of digital assets and fiat cash. Further, it helps new users trade without navigating to advanced trading dashboards.
Liquid also allows you to create FIO addresses to enhance the usability and efficiency of exchanges, crypto wallets, and payment processors.
Finally, Liquid offers a special "Infinity" feature specifically designed for people interested in betting on the value of certain cryptocurrencies instead of owning and using them. It allows you to trade Bitcoin CFDs with up to 100x leverage.
The exchange has a well-designed and user-friendly mobile application available for iOS and Android devices. The app covers all of the trading features provided on the web.
The Liquid Pro mobile application is free and available to download from App Store and Google Play Store worldwide.
Supported Countries
Liquid is taking guidance from the Financial Action Task Force intergovernmental organization and many others for managing its anti-money laundering (AML) and know your customer (KYC) policies.
With its high standards, Liquid is available worldwide, except for the following countries: Afghanistan, Albania, Barbados, Belarus, Botswana, Cambodia, Central African Republic, Congo, Democratic Republic, Cuba, Ghana, Guam, Iran, Jamaica, North Korea, Mauritius, Myanmar, Nicaragua, Pakistan, Panama, Puerto Rico, Samoa, Somalia, South Sudan, Sudan, Syria, Uganda, Virgin Islands (US), Yemen, and Zimbabwe.
Also, note that you cannot use Liquid Prns if you reside in China. The same refers to Japanese users; however, they can use an alternative application called Liquid Lite. As far as U.S.-based users are concerned, they aren't allowed to create an account.
Supported Currencies
The Liquid cryptocurrency exchange supports a wide range of crypto and fiat currencies.
You can trade with USD, JPY, SGD, HKD, AUD, and EUR.
The platform supports more than a hundred cryptocurrencies, among them: BTC, ETH, IOTA, CEL, LTC, XRP, BCH.
Several trading pairs are supported by the Liquid exchange, among them: REDI/USDT, BTC/JPY, ETH/JPY, GXT/BTC, USDT/SDG, BTC/USDT, RFOX/ETH, BTC/SGD, CEL/BTC, XSGD/SGD, etc.
Supported Payment Methods
Liquid lets you buy currencies with several payment methods such as bank deposits and SEPA for trading in EUR. You can also use VISA credit and debit cards as instant buying options, although you might be charged higher fees in most countries (learn more about fees in the next section).
Liquid Trading Fees
Liquid fee structure is based on lowering trading fees to reward high-volume traders on the platform. Trading fees on the platform can be as low as zero, which applies to payments made with QASH or for the following trading pairs: XSGDSGD, USDTZUSD, ZUSDUSD, USDCUSD, or GYENJPY.
The platform also has a referral program, letting users earn a 30% commission on trading fees when they refer to new people.
Find the detailed Liquid trading fees below:
| | | |
| --- | --- | --- |
| 30 days trading volume (USD) | Maker | Taker |
| ≧$0 | 0.0000% | 0.3000% |
| ≧$10,000 | 0.2000% | 0.2900% |
| ≧$20,000 | 0.1900% | 0.2800% |
| ≧$50,000 | 0.1800% | 0.2600% |
| ≧$100,000 | 0.1600% | 0.2000% |
| ≧$1 million | 0.0800% | 0.1600% |
| ≧$5 million | 0.0700% | 0.1200% |
| ≧$10 million | 0.0500% | 0.1000% |
| ≧$25 million | 0.0000% | 0.0900% |
| ≧$50 million | 0.0000% | 0.0800% |
| ≧$100 million | 0.0000% | 0.0700% |
| ≧$200 million | 0.0000% | 0.0600% |
| ≧$500 million | 0.0000% | 0.0400% |
| ≧$1 billion | 0.0000% | 0.0300% |
Liquid doesn't charge any fees for fiat deposits. Instead, it credits the amount received from banks and payment processors to users. Banks and processors for the platform are:
Currency
Type
Bank
Fee
AUD
SWIFT
FEIB
0
EUR
BLINC
BCB (BLINC)
[For users with BCB and BLINC accounts only]
0
EUR
SEPA
BCB
0
EUR
SWIFT
BCB
0
HKD
SWIFT
FEIB
0
JPY
SWIFT
FEIB
0
SGD
SWIFT
FEIB
0
USD
SEN
Silvergate (SEN)
[For users with Silvergate and SEN accounts only]
0
USD
SWIFT
Silvergate
0
Fiat withdrawal fees:
Currency
Liquid withdrawal fee
Bank processing fee
Minimum total withdrawal fee
Daily Processing Cut-off time (Monday-Friday)
AUD
0.10% of the withdrawal amount
(minimum fee of 15 AUD)
30 USDe
15 AUD + 30 USDe
3 PM JST
EUR via BLINC

[For users with BCB and BLINC accounts only]
No fee
No fee
No fee
NA (near real-time 24/7/365)
EUR (Non-SEPA)

50 EUR
0
50 EUR
6 PM JST
EUR SEPA
0
0
0
6 PM JST
HKD
0.10% of the withdrawal amount
(minimum fee of 100 HKD)
30 USDe
100 HKD + 3- USDe
3 PM JST
JPY via BLINC
[For users with BCB and BLINC accounts only]
No fee
No fee
No fee
NA (near real-time 24/7/365)
JPY via BCB
No fee
7000 JPY
7000 JPY
6 PM JST
JPY via FEIB
0.10% of the withdrawal amount
(minimum fee of 1500 JPY)
30 USDe
1500 JPY + 30 USDe
3 PM JST
SGD via FEIB
0.10% of the withdrawal amount
(minimum fee of 15 SGD)
30 USDe
15 SGD + 30 USDe
3 PM JST
SGD via StraitsX
0.55%
0
Minimum at 4 SGD and maximum at 30 SGD
NA (near real-time 24/7/365)
USD via SEN
[For users with Silvergate and SEN accounts only]
No fee
No fee
No fee
NA (near real-time 24/7/365)
USD
50 USD
0
50 USD
5 PM PST (9 AM JST)
Finally, there are no Liquid withdrawal fees for withdrawing cryptocurrencies from Liquid wallets.
Liquid Exchange Security
Liquid is overall a reliable cryptocurrency exchange platform licensed and regulated by the Japan Financial Services Agency. The company has a good record of being a compliant business, following laws and regulations. The platform helps its users protect their accounts with two-factor authentication.
However, Liquid was hit by a cyberattack that saw hackers make off with a reported $97 million worth of digital coins in August 2021.
Liquid Customer Support
Liquid is a user-friendly platform and provides lots of valuable resources such as blogs, articles, and FAQs that make its usage even more effortless. Additionally, the company has a customer support team available for communication through emails. Typically, the team replies to questions and requests within a few hours.
Final Thoughts
Liquid is a great crypto exchange if you are looking for a simple, easy, and user-friendly solution. It's a safe environment with fair fees, available in several countries worldwide, and a friendly and well-functioning mobile application.We hope our Liquid exchange review was helpful for you and that you won't forget your Liquid to CoinStats to start tracking all your crypto and DeFi from one place!