Metamask Pros
The easiest way to access the Ethereum blockchain

Large user base of a whopping 10 million over a million active monthly user downloads

Intuitive user interface, making it easy for beginners

Available on mobile and as a browser extension, enabling you to store keys for all the tokens across the supported browsers

Opportunity to purchase and exchange cryptocurrencies on most of the networks directly through the app

Allows users to back up their accounts and automatically recover lost account information

Can connect with the majority of blockchain apps
Metamask Cons
Constant risk of hacks and phishing attacks, as with all online wallets

This is not a full Ethereum node

MetaMask works with your browser, which tends to collect some of your information

A lot of first-hand crypto reviews complained of poor customer service
The MetaMask wallet has 10 million MAU (Monthly active users). MetaMask is a trusted and secure crypto wallet that comes as a mobile app and a browser extension. It's a digital wallet that can easily be integrated with different blockchain-based applications. Read on for our MetaMask review to learn about the key attributes of this cryptocurrency wallet and how it rapidly became the world-leading noncustodial wallet.
But before we go further with our ultimate review, let's briefly look into various cryptocurrency wallets that exist in the cryptoverse.
MetaMask Defined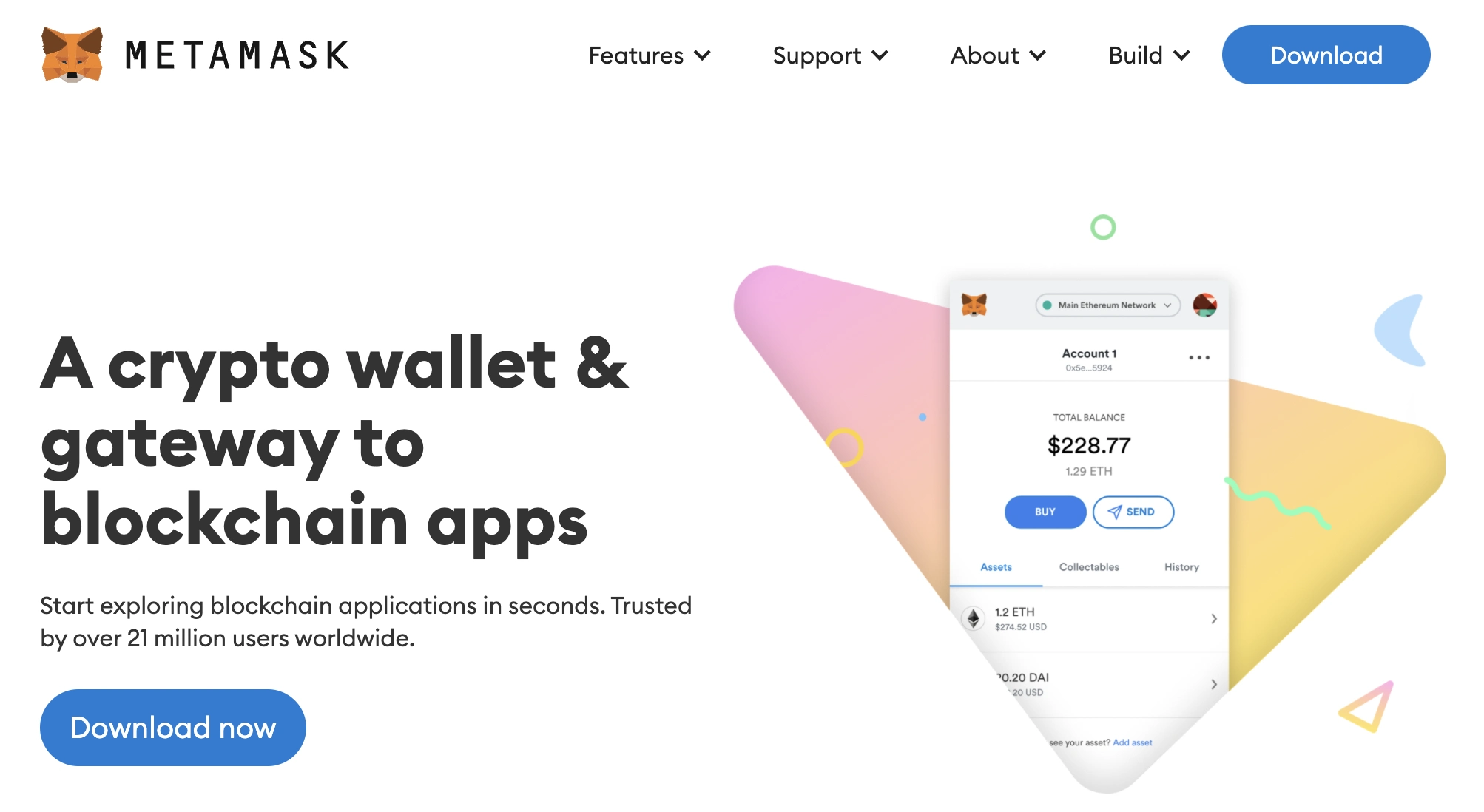 MetaMask wallet is one of the most widely used web-based Ethereum wallets. MetaMask serves as a bridge between your standard browser and the Ethereum blockchain. It was created by ConSenSys in 2016 and has raised over $250m, with a current valuation of $3.2bn.
MetaMask comes as a browser extension and mobile app that lets you access the Ethereum blockchain from the comfort of your web browser. It provides an essential utility for blockchain newcomers, token traders, crypto gamers, and developers. MetaMask equips you with everything you need to manage your digital assets, i.e., a key vault, secure login, token wallet, and token exchange.
MetaMask provides the simplest yet most secure way to connect to blockchain-based applications, enabling you to stay in control when interacting on the new decentralized web. It's an Ethereum digital wallet that simplifies access to decentralized applications (dApps), including crypto exchanges, gaming platforms, and staking opportunities.
MetaMask is supported by Google Chrome, Firefox, Edge, and Brave browsers. It allows you to manage ETH-based tokens like ERC-721 and ERC-20 and digital assets from Binance Smart Chain and other blockchains. MetaMask provides flexibility to switch between other networks and the convenience of connecting multiple wallets.
dApps
Decentralized applications (dApps) are digital applications or programs that exist and run on a blockchain or peer-to-peer (P2P) computer network instead of a single computer. Most common dApps run on the Ethereum blockchain. Decentralized apps run on an agreement between two people encrypted in a computer code known as a smart contract.
Unlike DeFi, which is mainly designed for financial activities, dApps are built for various purposes, i.e., gaming, education, gambling, etc.
MetaMask integrates with a variety of dApps built on the Ethereum blockchain. Examples of common dApps are:
Uniswap (Exchange)
Axie Infinity (Games)
Uniswap V3 (DeFi)
OpenSea (Marketplace)
ShibaSwap (DeFi)
DeFi
DeFi stands for decentralized finance and enables you to carry out regular financial activities on the blockchain without the centralization of banking institutions. MetaMask provides unrivaled access to DeFi without compromising security, operational efficiency, or compliance requirements. The most common DeFi apps built on the Ethereum blockchain are MetaMask Swap, Sushi, Hex, and AAVE.
MetaMask Swap
MetaMask Swap allows users to swap tokens directly from their wallets. Swap combines data from multiple decentralized exchange aggregators, professional market makers, and individual DEXs.
The MetaMask Swap feature enables any Web3 or DeFi user to easily access the tokens they need for the sites they use. By integrating data from the largest liquidity sources in the ecosystem — including Uniswap, AirSwap, 0x API, 1inch.exchange, Paraswap, Totle, and dex.ag — MetaMask Swap lets users access all decentralized liquidity sources from one place.
Sushi
Sushiswap is a decentralized exchange built on the Ethereum network. You can use Sushi Swap to trade one cryptocurrency for another directly — it can't be used to trade fiat for crypto or vice versa.
Hex
HEX is just a single smart contract ("App") on the Ethereum ecosystem. It's the first certificate of deposit on the blockchain and follows the ERC20 standard making it compatible with many wallets and exchanges. You have to pay a fee to the Ethereum network every time you send HEX.
AAVE
AAVE is a decentralized finance (DeFi) protocol built on the Ethereum network that lets people lend and borrow cryptocurrency without having to go through a centralized intermediary. When lending, they earn interest; when borrowing, they pay interest.
How to Setup MetaMask?
Setting up MetaMask is pretty straightforward and similar to downloading a Chrome extension. Follow the steps described below to install MetaMask.
Go to MetaMask's official website www.MetaMask.io
Click on the download button. MetaMask presents you with the four browsers it supports. Google Chrome, Firefox, Brave, and Edge. It also has an Ios and Android app.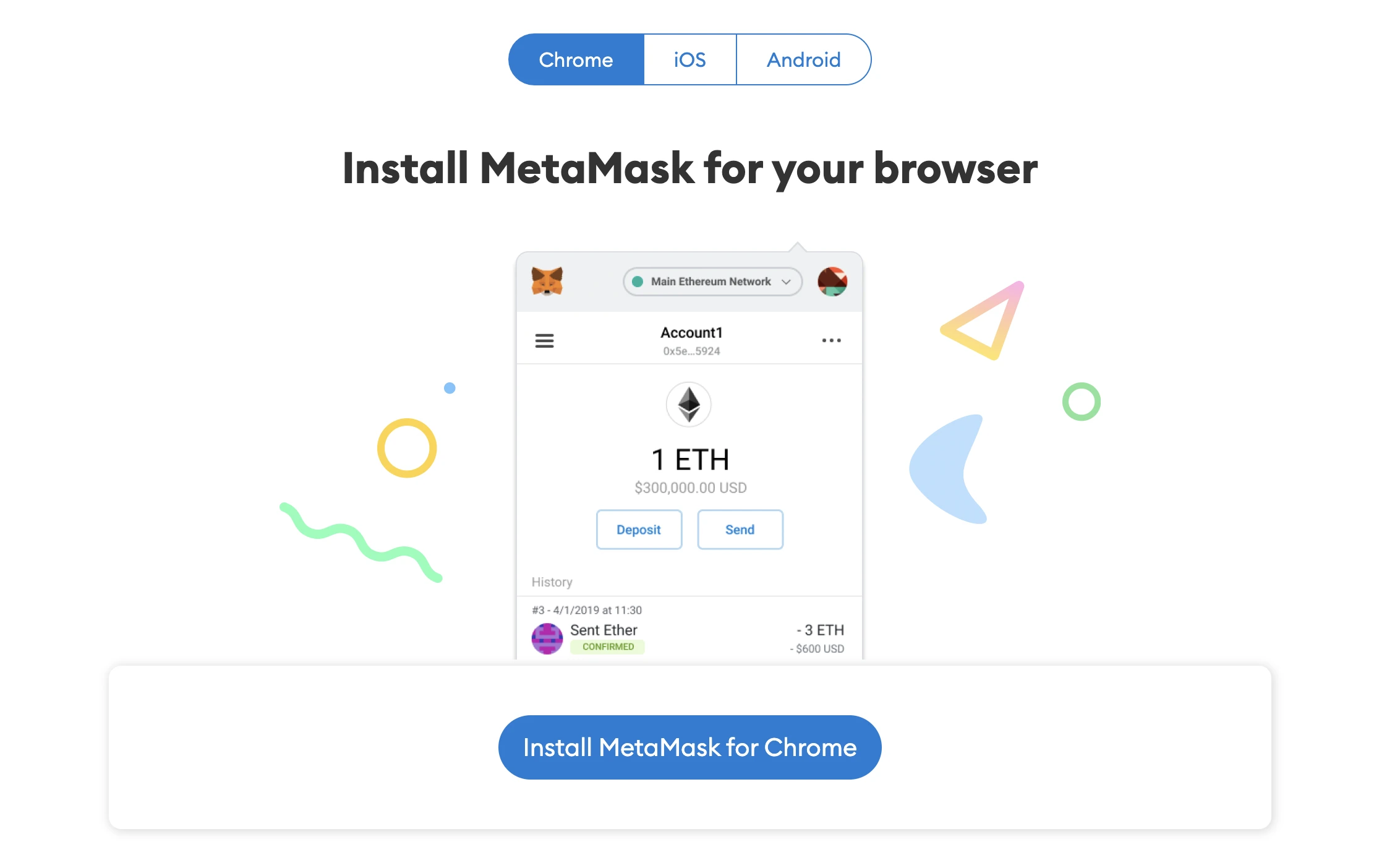 A MetaMask icon will appear on the browser. Install the MetaMask extension on your browser and proceed. Click on get started to move to the next step.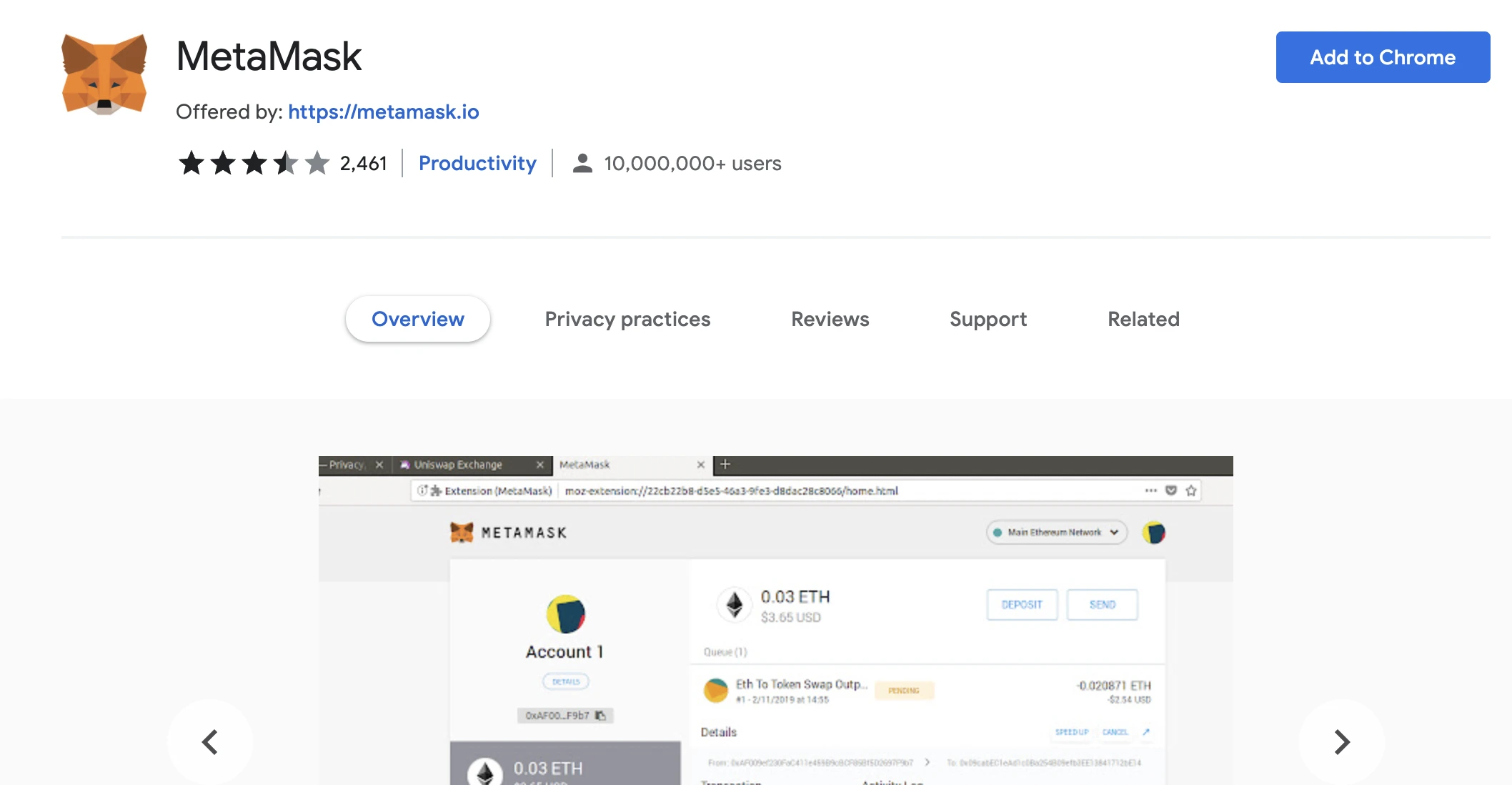 If you already have a MetaMask account, enter your seed phrase, and if you are a new user, click on create a wallet to move to the next stage. A seed phrase is a series of words generated by your cryptocurrency wallet that give you access to the crypto associated with that wallet.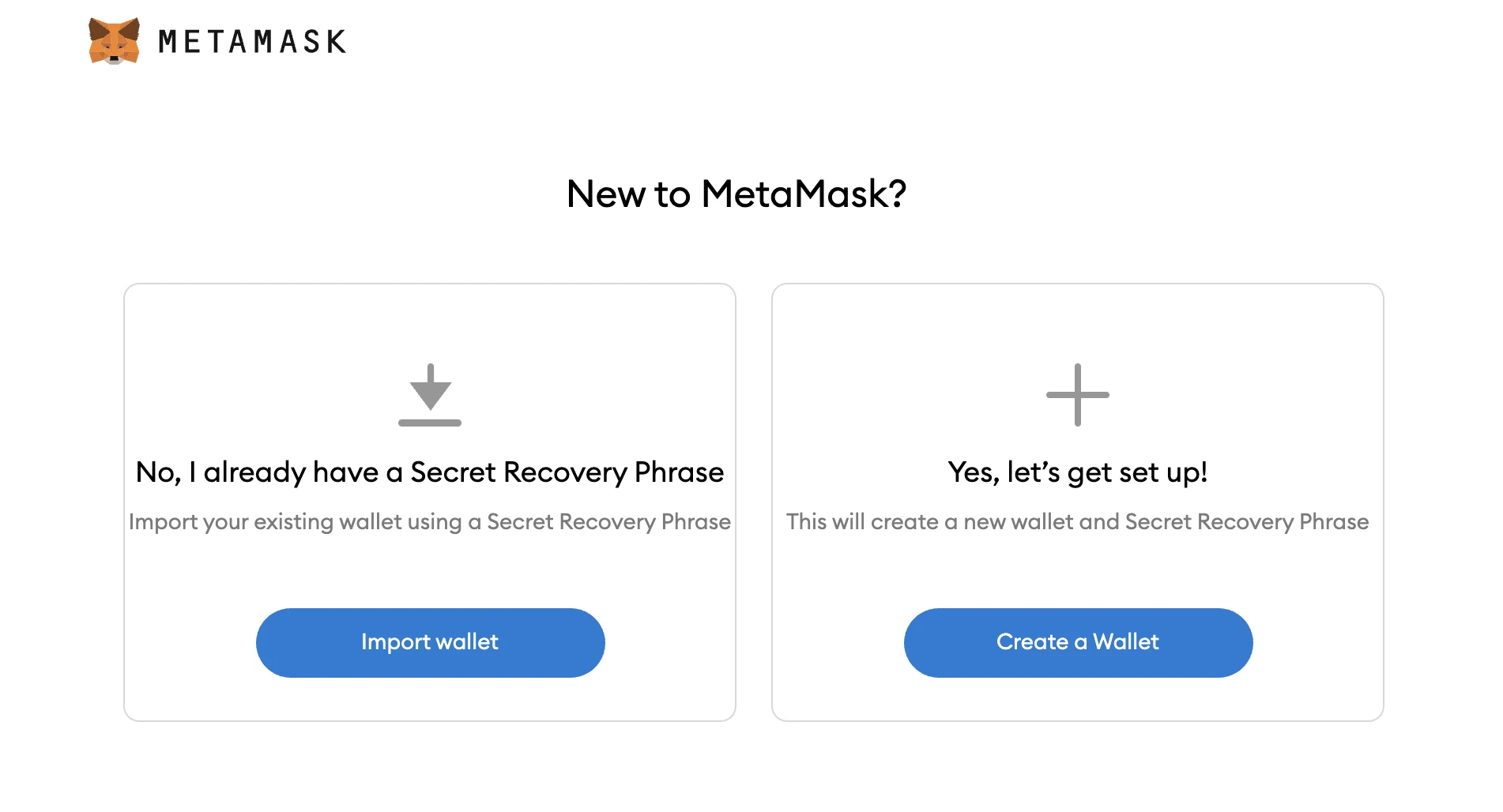 Create your secondary password for your MetaMask wallet.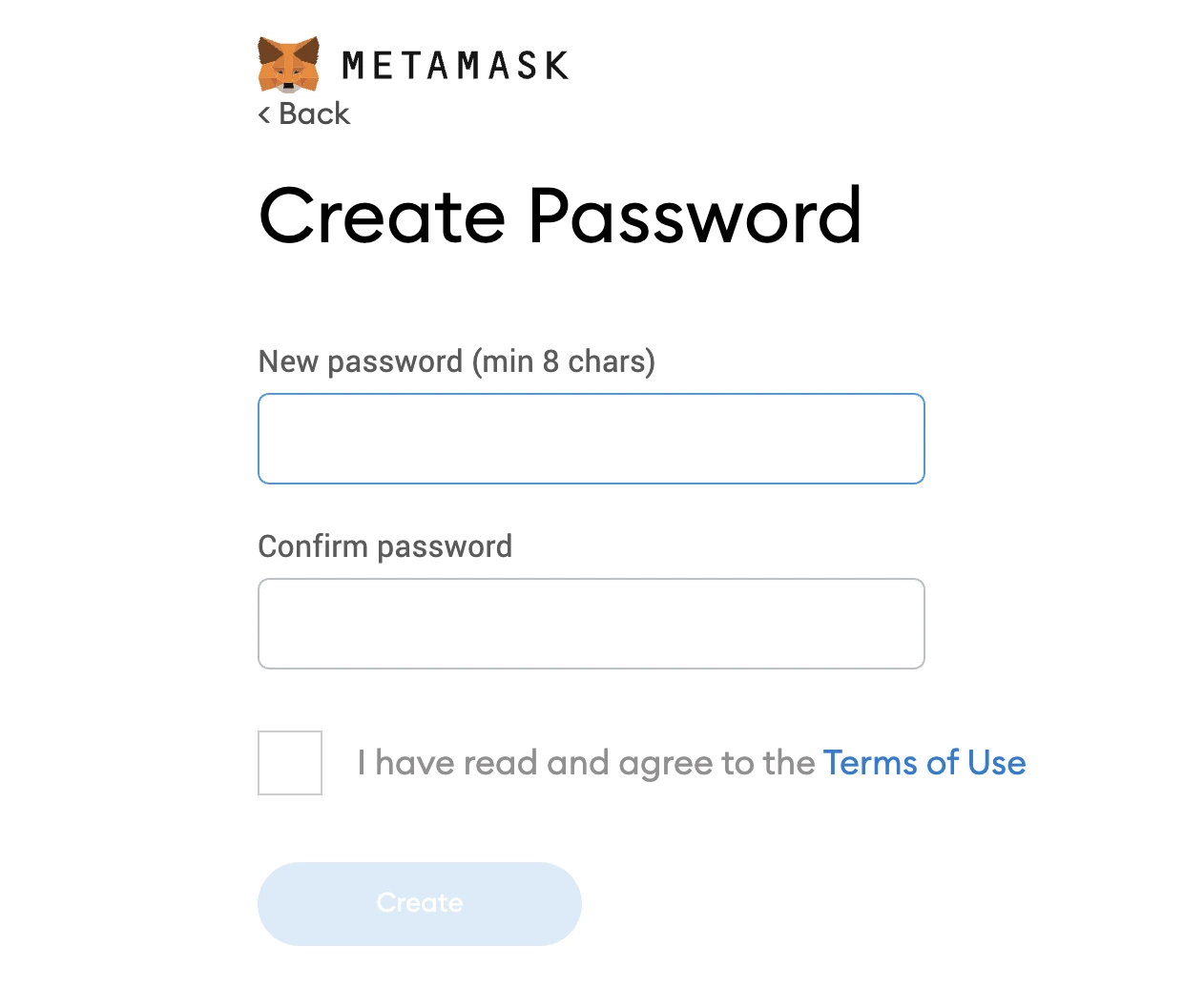 MetaMasks gives you some orientation on securing your Seed recovery phrase. It's essential to keep this secret and never share it with anyone. Write it down somewhere because you will need to re-enter it in the next step to confirm it.
After you confirm your seed phrase, you are all done. Congrats!
To customize your MetaMask wallet and view your public key, click the three dots on the left-hand side of your wallet and select account details.
How to Use MetaMask?
Now that you have installed and set up your MetaMask wallet let's explore what you can do with it. You can use MetaMask wallet to:
Buy and store your ETH and custom tokens (i.e., ERC tokens).
Send and receive transactions between standard Ethereum addresses, such as those owned by individuals and merchants.
Access dApps and pay for your transactions.
Store your collectibles and non-fungible tokens (NFTs).
Swap or exchange your ETH tokens on decentralized exchanges like Uniswap.
Buying Ethereum or ERC – 20 Tokens With MetaMask
The process of buying Ethereum is straightforward – all you need to do is click on the Buy button in your wallet. You have the option of buying Ethereum with " Wyre " and " Transak "or depositing Ether into your new wallet by direct deposit.
Sending Ethereum or ERC -20 Tokens With MetaMask
To send Ether and ERC-20 tokens, click "Send" enter the address where you want to send and the amount. Then confirm the transaction by clicking "Accept."
Swapping Ethereum or ERC – 20 Tokens With MetaMask
To Swap one Eth-based token for another in MetaMask, click " Swap, "then choose your token from the drop-down menu below. You can add a custom token if you don't find the one you're looking for.
Storing Your Collectibles and Non-Fungible Tokens (NFT)
You can buy and store any non-fungible token in your MetaMask wallet. Once you connect your MetaMask, all you need to do is purchase any NFT art or collectible, and it'll automatically move into your wallet under the "collectibles" tab.
MetaMask makes it extremely easy to swap your collection, show it to friends, or sell directly from the app on your phone.
You can easily access Open Sea, a Decentralized App built on the Ethereum blockchain, and the largest market for NFTs from your MetaMask wallet.
Connecting and Accessing dApps With MetaMask
One of the unique attributes of MetaMask is its ability to connect its users to a host of Decentralized Applications. MetaMask serves as a bridge between your web browser and dApps. Go to Settings and select Connections to link or connect a dApp to your MetaMask wallet. Choose an Existing dApp from the drop-down menu or add a new one in the Taskbar, and click Connect.
Components
To get the best out of your MetaMask wallet, combine it with a good hardware wallet.
MetaMask and Hardware Wallets
MetaMask is a hot wallet connected to the Internet, which means it's vulnerable to online attacks. The most trusted and secure means of storing crypto assets offline in hardware wallets. Some of the best hardware wallets include the Ledger Nano X, as well as the Trezor Model T. MetaMask supports some of the most widely used hardware wallets, so, for maximum protection, it's best to combine your MetaMask wallet with a hardware wallet.
How to Combine Your Meta Mask With Ledger Nano X?
To set up a Ledger Nano X hardware wallet, visit their official website and follow the instructions. Then, Install the Ledger Live Application.
Step #1: Connect Your Ledger to Your Computer
Your first step is to plug your Ledger device into your computer, ensure it powers on, and then input the pin you choose when setting up your Ledger device.
Step #2: Select the Ethereum Application
Ledger hardware wallet supports a host of cryptocurrencies. To connect your MetaMask wallet, you need to open the Ethereum application on your Ledger Nano.
Step #3: Make Sure Contract Data Is Turned On
Once the Ethereum application is open, press the right side button, locate the "Settings" option, and press down on both buttons to open the menu. Then select "Contract Data" and click on "Yes." Once you set up your Ledger device for the first time, you won't have to do it again each time you want to use it with MetaMask.
Your Ledger is now ready!
Step #4: Open MetaMask
Since you have already installed MetaMask, you need to open up your browser and click on the MetaMask icon to interact with the application.
Step #5: Connect MetaMask to Your Ledger
Click on "Connect Hardware Wallet," click on Ledger to select it, and click CONNECT. Next, you will be shown a list of ETH addresses. If this is the first time you set up a wallet, simply select the first address, then click CONNECT.
You have now connected your Ledger to MetaMask!
MetaMask Security
MetaMask is considerably safe among hot wallets, and there have been no major hacks on it. However, while it doesn't store your sensitive data, the web browser does, and most hacks occur through social engineering schemes and phishing.
Remember to NEVER give out your seed phrase to anybody; otherwise, you risk losing all your crypto holdings and beware of hackers posing as an authoritative body and asking for your seed phrase.
Also, remember to use only one tab at a time and keep the wallet locked when not using it.
MetaMask is relatively safe, but MetaMask is often merged with a hardware wallet like the Ledger Nano X and the Trezor Model T to ensure security.
MetaMask Fees 
MetaMask extension is free to download and install; however, default gas fees are applied for every transaction conducted on it. A gas fee refers to the transaction fee on the Ethereum blockchain that users pay to get their transactions validated or completed.
MetaMask recently released its swap function, enabling users to swap Ether for a range of ERC-20 tokens for a service fee between 0.3% and 0.875%.
MetaMask Alternatives 
MetaMask is the most widely used software wallet with over 21 million registered users. There are other alternatives to MetaMask which are equally popular amongst crypto traders, such as:
Conclusion 
Our ultimate MetaMask wallet review revealed why it's the most widely used software wallet out there. It's very easy for beginners to navigate and allows users to interact with smart contracts and in-demand Decentralized Apps, all from the comfort of your favorite web browser.
MetaMask is an Ethereum based wallet, and the Ethereum blockchain is an essential component of Web 3. With over 21 million active users monthly, it's the world's leading noncustodial crypto wallet and a big driver of the Web 3 future, a decentralized internet experience for everyone. MetaMask also gives you control over your holdings, eliminating the need for government and Big tech.
MetaMask is open-source software constantly updated by a global network of developers and its strong community.
Ninja is an accomplished content brain well-versed in memeology & magick. Her love for futuristic neo-dramatic funk really sets her apart from all the pedestrian web3 fans. Everything she touches turns into gold since 1999 (the year Stanley Kubrick died).