Trust Wallet Pros
Open-source and Secure

User-friendly

Multi-coin Support

Free Software

DApps Directory

Feature-Rich

Trust Wallet Token (TWT)

NFT Storage

Payment Methods
Trust Wallet Cons
No Desktop Support

No 2-Factor Authentication

Not as Secure as a Hardware Wallet
Cryptocurrency trading has brought a sweeping change in the financial world. Crypto coins are gaining traction as part of a well-balanced crypto portfolio, and there has been a massive increase in Decentralized finance (DeFi) applications, products, and financial services. All one needs to access DeFi services like efficient stablecoin trading, decentralized lending or Yield Farming, DEX (Decentralized exchanges), DeFi insurance, liquidity mining, prediction market, NFTs, etc., is an internet connection, and a DeFi wallet that securely stores all your digital assets.
While blockchain networks are notoriously difficult to hack, cybercriminals often find ways to exploit users to gain access to their funds. For example, over $1B worth of crypto was stolen in various hacks in 2021 alone. The safety and security of your digital assets are paramount because if your crypto assets are lost due to some error or stolen by some hacker, it's nearly impossible to track down and recover those funds. So, if you wish to keep your crypto safe, you should think about storing it in a DeFi wallet, the safest solution on the market. DeFi wallets provide access to DeFi financial products, thereby providing freedom, transparency, and ownership of users' assets.
With the fast pace of innovation in the crypto world and the decentralized finance ecosystem, the number of DeFi wallets continues to increase, making it more difficult for users to determine which one is best. While hardware wallets are preferable if you intend to store your digital assets for an extended period, as they give the maximum level of protection, you might also consider storing your relatively smaller funds in a software wallet due to its flexibility and ease of use. And if you're wondering: "Is the Trust Wallet a good choice" or "Is Trust Wallet Safe," then our review is all you need.
Read on for our Trust Wallet review to learn about the key attributes of this cryptocurrency wallet, including Trust Wallet fees, pros and cons, security, and more.
What Is Trust Wallet?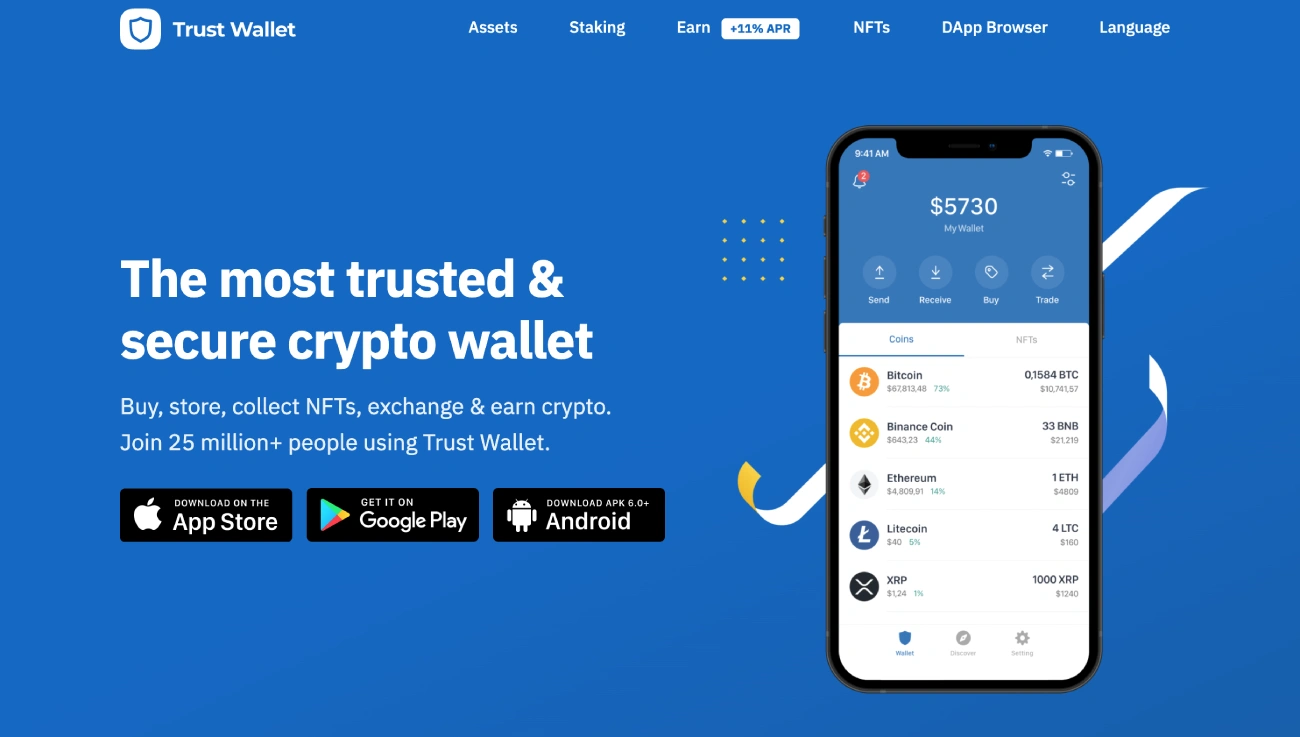 Trust Wallet is a decentralized mobile wallet that provides non-custodial crypto asset storage, granting users full control over their cryptocurrencies. It supports 53 blockchains and around a million digital assets and allows users to stake their coins to earn interest. It also offers a Web3 browser that gives users access to decentralized applications (DApps) built on around 16 networks.
At first, it only stored ERC20 and ERC223 tokens, but now it also stores tokens built on other blockchains, including Bitcoin. Additionally, users can purchase coins through the native decentralized exchange (DEX) built on Trust Wallet's partnership with the Kyber Network.
Overview
Trust Wallet is a popular software wallet that lets users purchase, sell, and swap different coins, blockchains, and other digital assets, delivering full cryptocurrency management functionalities. You can exchange various cryptocurrencies securely, trade coins between different blockchains, store NFTs, and earn crypto through staking. Moreover, Trust Wallet enables credit card exchange, letting users buy cryptocurrencies with their credit cards.
Another essential feature of Trust Wallet is its focus on user privacy and security. As a non-custodial wallet, it hardly stores any user data and, instead, ensures that you're the only person that can gain access to your sensitive financial assets. The app lets you store your private keys locally on your mobile devices rather than Trust Wallet's own servers. However, if you lose your private keys or recovery phrase, you will be unable to recover or gain access to your wallet. Additionally, Trust Wallet doesn't ask for any KYC when setting up a new account.
While there is no two-factor authentication feature on the app yet, users can secure the app by enabling a fingerprint or pattern lock.
How to Use Trust Wallet?
The Trust Wallet app is available from Google Play or the App Store. Once downloaded and installed, you'll be given the option to either import an existing wallet or create a new one. Let's look into depositing crypto to your wallet:
Log into your wallet.
Click on "Receive."
Scan the QR code or copy your wallet address.
Paste this address into your external wallet's receiver address section.
Go to the "Transactions" tab to view if your transactions have been completed.
Sending Crypto:
Log into your wallet.
Click on the "Send" button.
Copy and paste the recipient's wallet address in the blank field or scan the QR code.
Enter the amount you want to send and click "Next."
Check the transaction details and click "Send."
Trust Wallet 2023 Review: Features
Some of the most important features of Trust Wallet include:
An Easy-to-Use Interface: Just download and set up the Trust wallet app and you're ready to dwell in the world of cryptocurrencies. Trust Wallet makes it easy to buy and sell cryptos on the go thanks to its easily navigable interface, with attractive icons.
No Wallet Fees: Trust Wallet is completely free to use and has zero fees. The only fees incurred are gas fees for processing transactions: these are paid either to miners or to those proof-of-stake chains that charge them.
Secure: In the past, Trust Wallet has suffered no exploits, and there have been no reports of funds stolen by hackers from the Trust Wallet community. It allows users to secure their crypto holdings with PIN codes and fingerprint scanning. One can activate the security tool via the app's settings feature, but there is no option for 2FA. In addition, the Trust Wallet app provides you with a private access key, ensuring you have secure access to your financial assets.
Support for Multiple Crypto Assets: Trust Wallet supports the main blockchains within the Ethereum ecosystem and works with any ERC20, BEP2, and ERC721 tokens. It also provides coverage as a Bitcoin Wallet and has recently added support for Binance Smart Chain. The app allows you to buy, sell, and trade various currencies across multiple blockchains and provides full cryptocurrency management functionalities.
Earn Interest: Trust Wallet enables you to stake your coins with a flexible interest rate. In addition, the app provides you with a validated Proof of Stake (PoS) certification, which allows you to start collecting interest on your digital resources.
Credit Card: Several crypto exchanges make it difficult for users to buy coins. Trust Wallet attempts to solve the said problem by enabling you to buy crypto with your credit card and start trading right away.
Decentralized Applications (Dapps): Trust Wallet provides a DApps browser to help you find other businesses and vendors that accept cryptocurrency in exchange for their goods and services and use DAppd with a wide range of functions, including NFT marketplaces, gaming platforms, etc.
Efficient Backup System: Trust Wallet's 12-word recovery phrase lets users regain access to their account if something goes wrong. They will need to enter the phrase whenever they need to recover secure access to their wallet. Therefore, Trust wallets require users to write down this phrase and keep it safe offline.
Trust Wallet History
Trust Wallet was developed by Viktor Radchenko, a US-based Ukrainian software developer who first learned about cryptocurrencies by using Bitcoin on the dark web.
However, Radchenko's interest in cryptocurrencies began to grow through Ethereum. He honed his skills by creating an app to help truckers locate parking lots and other facilities.
Radchenko started developing Trust Wallet to store the growing number of ERC20 tokens he accumulated through ICOs. He started working on the project in 2017 and later made it the focal point of all his efforts.
Acquisition
Trust Wallet's compatibility with standard ERC20 tokens attracted thousands of users within a short period. The wallet's growing popularity caught the attention of Binance, the world's leading cryptocurrency exchange by trading volume. Binance acquired the project (and its parent company, Six Days LLC) for an undisclosed sum in 2018.
One of the key reasons for the wallet's mass adoption was its ease of use and accessibility, including Trust Wallet's feature of letting people buy cryptocurrency with a credit card or bank account.
Grow Your Crypto With CoinStats Premium
Explore CoinStats without limitations and you'll never want to go back.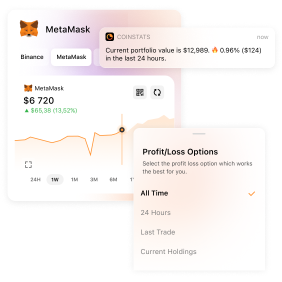 Trust Wallet Review 2023: Pros and Cons
The main pros and cons of using the Trust Wallet crypto app are based on online reviews from various users on Google Play Store, G2 Platform, etc.
To sum up: the absence of transaction fees, safe and secure transaction mode, cryptocurrency staking, etc., speak to the advantages of the Trust Wallet app.
However, some reviewers expressed disappointment that the app was only available for mobile users and demanded features to access their Trust Wallet from the desktop securely. Others complained about the lack of details on certain crypto assets listed in the Trust Wallet app, saying they had to rely on external sources to study the coins. Most users also noted that withdrawing coins should be more accessible than the current settings.
Despite criticisms, Trust Wallet seemed to be well received. Customers thought it was easy to use and safe. In addition, they liked how it supported a wide variety of currencies.
Trust Wallet Pros
Open-source and Secure: It's an open-source non-custodial software wallet that's safe, secure, and completely transparent. It securely stores their private keys locally and not on the cloud.
User-friendly: Both advanced users and novices appreciate its simplicity and user-friendliness. The application makes it easy for them to buy, sell, and trade various cryptocurrencies.
Multi-coin Support: Supports a wide range of coins and multiple different chains.
Free Software: The wallet is accessible and doesn't charge any transaction fees.
DApps Directory: The DApps directory helps users find other crypto merchants.
Feature-Rich: Trust wallet's rich suite of features, such as built-in DEX with Swap Option and Exchange Option, staking, monitoring multiple assets from a single location, etc., makes it attractive for users.
Trust Wallet Token (TWT): Trust Wallet's own utility token yields numerous incentives and benefits to users. TWT holders get discounts when executing in-app crypto purchases and conversions and can vote for Trust Wallet updates and proposals.
NFT Storage: Trust Wallet supports NFTs on Ethereum and Binance Smart Chain. Users are free to move their NFTs or purchase new ones from crypto marketplaces like OpenSea from the DApp web browser.
Payment Methods: Trust Wallet allows you to use your credit card or bank account to buy crypto.
Trust Wallet Cons
No Desktop Support: The wallet is only available for mobile devices.
No 2-Factor Authentication.
Not as Secure as a Hardware Wallet.
Pro Tips: How to Avoid Potential Hacks
To reduce your chances of getting hacked, follow these steps:
Ensure you don't store your cryptocurrency on a centralized exchange. You should use exchanges only to temporarily store cryptocurrency when you buy or sell it, although most cryptocurrency exchanges have made their security protocols robust.
Keep your recovery phrase in a safe place offline, and don't share it with anyone.
When possible, use two-factor authentication. Crypto service providers, exchanges, and wallets can use two-factor authentication to add an extra layer of security.
Storing large amounts of crypto in a cold wallet is a great idea. Cold wallets allow you to store your crypto offline, reducing the risk of hackers gaining access and stealing your assets.
Trust Wallet 2023 Review: Verdict
It's hard not to value Trust Wallet, as its advantages outweigh its minor flaws. Trust Wallet is easy to download and set up, and the user-friendly interface makes using it as straightforward as any crypto wallet should be. Another significant benefit is its wide range of supported assets.
Additionally, staking has become important to many cryptocurrency holders as more people become aware of its benefits. Trust Wallet has done an excellent job of anticipating this demand. Its staking feature gives it a good advantage over other wallets that don't yet provide this option to their users.
It's hard to compete with Trust Wallet's fee structure (or lack thereof). Likewise, the wallet's lack of KYC, non-custodial and open-source nature will tick the right boxes for those seeking privacy and transparency.
The DApp browser is another key feature of the Trust Wallet, letting users access Uniswap by connecting their wallets with Uniswap. It lets users:
Provide liquidity to a yield farming protocol
Swap tokens on a non-Ethereum DEX
Take crypto loans.
Finally, the partnership of Trust Wallet with Binance, the biggest name in the crypto space – and its deep pockets – is a vote of confidence that speaks volumes.
However, it would be great to see two-factor authentication applied as an extra layer of protection for secure transactions on the Trust Wallet app.
Trust Wallet 2023 Review: Conclusion
While Trust Wallet is a software wallet and as such is less secure than hardware wallets, the platform uses every security method such as regular audits, pin code or fingerprint scanning, etc., to guarantee the security of users' funds. Trust Wallet also solves the problem of backups by including a 12-word recovery seed phrase to be used to retrieve and recover access to the wallet if anything goes wrong.
The extensive blockchain coverage, a wide range of ever-growing coins, and their availability for staking, support for NFTs, and widespread DApps, combined with low fees and user-friendliness, are the reasons why Trust Wallet ranks as one of the most highly popular crypto wallets in the market.
A lot of cryptocurrency exchanges make it challenging to purchase cryptocurrency. Trust Wallet addresses this by allowing users to easily purchase crypto with fiat currencies directly through the wallet and exchange, trade, swap, or stake them on decentralized exchanges later.
It will be interesting to see what other features Trust Wallet will be introducing in the coming years. The future looks promising.