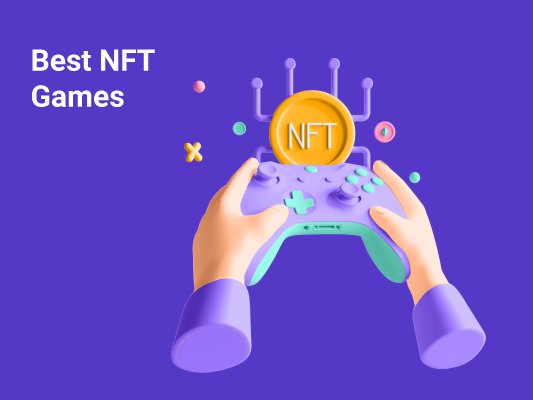 Best NFT Games in 2023
<! -- End of the Reviewed by section -->
NFT gaming comprises digital items inside video games, such as collectibles, weapons, characters, skins, treasure boxes, poison, cosmetics, etc., that are real-world assets in the form of non-fungible tokens (NFTs). Moreover, rewards given to players for completing specific challenges can also come in the form of NFTs.
NFTs are non-fungible tokens and digital assets you can only buy and sell on their own value, like art. Each NFT is unique and can't be duplicated. NFTs are stored on the blockchain, a public and decentralized ledger, which ensures the asset is one-of-a-kind and makes it difficult to alter or counterfeit.
What differentiates NFT games is that publishers can't make changes to the games, such as removing features from games, etc., in contrast to centralized publishers. The reason why Vitalik Buterin started Ethereum was that his warlock got nerfed. Here's what he wrote: "I happily played World of Warcraft during 2007-2010. But one day, Blizzard removed the damage component from my beloved warlock's Siphon Life spell. I cried myself to sleep, and on that day, I realized what horrors centralized services can bring. I soon decided to quit."
Another vital difference is that in-game NFT items can exist even after the game itself stops existing and retain their value. Users can take a rare item off NFT gaming platforms to sell elsewhere or convert them into cryptocurrencies like Ether.
Blockchain gaming has also introduced the "play-to-earn" model as part of GameFi, game finance, allowing you to earn money in the decentralized world by simply playing games.
The market for Non-fungible tokens, or NFTs, was worth $41 billion in 2021, an amount close to the total value of the entire global fine art market. People spend millions of dollars on NFT collectibles, from art and music to sports trading cards, digital houses, in-game items, sneakers, and toilet paper.
With the NFT frenzy still at its high, it's natural if you're eager to benefit from the NFT mania while relaxing and having fun.
This article will tell you all about play-to-earn Web3 games and the GameFi sector and introduce you to the most popular NFT games to play in 2022, enabling you to stake, lend, borrow, and trade native chain tokens and in-game assets in the form of NFTs.
So, without further ado, let's get right to it.
What Are NFT Games
NFT games are a unique form of crypto games allowing players to earn NFTs or cryptocurrency rewarded for achieving a certain level or completing specific challenges in the game. Using NFTs in their mechanism, rules, and player interactions, such as characters, avatars, and in-game items, allows game developers to create rare digital assets. Players can trade these in-game assets for cryptocurrency on a marketplace, and their value depends on their scarcity and significant role in the game.
NFT games bridge the real and virtual worlds. In addition to playing, they allow fans to follow esports stars and get closer to the people and teams behind the games. Gamers can also purchase a game's NFT to access exclusive in-game events, get the real rare caps as a wearable, etc.
NFT games are still a new trend; however, they have the potential to revolutionize the gaming world.
How Do NFT Games Work
Crypto games are just video games that run on the blockchain network and have a complete or partial distributed ledger architecture. This allows players to have verifiable ownership over the in-game items they either win while playing or buy with real money.
NFT game is a type of crypto game where the focus isn't simply on using the in-game currency tokens for transactions with other players, but the tokens are used either to create or collect NFTs. In an NFT game, players compete with each other or simply play to earn rewards. They have control over in-game assets such as the player's skin, armor, weapons, digital land, etc. These assets come in the form of NFTs, the ownership data of which is recorded over the blockchain providing owners and gamers with indistinguishable and tamper-proof ownership. NFTs also give the items in the games a sense of rarity and originality over time.
Game developers create NFT games through smart contracts that specify the rules for how the NFTs are used. NFTs can be used in a game's mechanics and interactions and can be auctioned before the game launch to grant some people early access or raise money to fund the game's development.
To play NFT games, you must connect your crypto wallet, buy in-game characters and start playing, participating in conquests, etc., using your characters. Most NFT games also have collectibles that can be won, bought, and sold to earn crypto.
NFT Games' Benefits
Here are some of the benefits NFT games bring to players:
Complete control over assets. NFT games give players complete control and ownership over their assets by allowing them to sell NFTs to earn cryptocurrencies and even earn a percentage from future resales. Physical ownership gives more incentives to play a blockchain-based game and can be a regular source of income. This makes crypto games different from the traditional gaming world, controlled by a centralized authority/ game developers. The shift of control from the game's publisher to the players resulted from introducing blockchain technology and decentralization into the gaming world.
Interoperability. Your NFT collectible, items bought and earned on an NFT blockchain, can be used across most games. The NFT is held on a blockchain, making its data and ownership trackable and the NFTs easily transferrable across games sharing the same blockchain. This makes NFT games different from classical ones, where the coins/money users won while playing these games had no value in real life. Instead, crypto gaming rewards its users with in-game currency, which can be used for making in-game purchases, trading, or simply converting them to fiat currencies and withdrawing them. This is the basic premise on which most crypto games function and is also one of the reasons why crypto gaming has risen to more than USD 12 billion in market cap.
Transparency. NFTs create fair and transparent rules, and blockchain keeps digital transactions transparent and demonstrates the rarity of NFTs, which increases their value. Gamers are excited about collecting game items and rare NFTs representing retro game art, music, etc.
What Are Play-To-Earn Games
Play-to-earn NFT games allow gamers to earn NFTs or cryptocurrencies depending on how long they play and whenever they complete in-game challenges and tasks. With the play-to-earn Web3 games, a new term was created, GameFi, a combination of the words "game" and "finance."
GameFi, i.e., a fusion of decentralized finance and gaming, was created due to the collaborative efforts of gamers and blockchain enthusiasts. It is characterized by play-to-earn models and includes various options previously limited to the financial sector. Play-to-earn NFT games offer monetary incentives to players. The incentives include NFTs, in-game tokens, and cryptocurrency players receive for playing games and advancing through their levels. These NFTs have measurable value outside the gaming ecosystem and can then be converted into popular currencies such as Ethereum or Bitcoin, which can then be swapped for fiat currency. They can also be used on DeFi platforms for yield farming, liquidity mining, staking, and as collaterals.
GameFi applications based on the play-to-earn model are powered by innovative technologies such as blockchain technology and smart contracts.
How to Earn Money Playing NFT Games
To earn money in a play-to-earn game, gamers should:
Create or breed new characters in the games.
Mint new items.
Stake tokens in staking pools.
Trade NFTs.
Participate in special events and tournaments to earn unique rewards.
Most NFT games with a play-to-earn model require a significant initial investment to start playing, such as investing in the game tokens or buying in-game NFTs like characters, land plots, spell books, etc. However, some NFT games are entirely free-to-play. Free NFT games include Gods Unchained, Chainmonsters, The SandBox, etc. Note that many games claiming to be free-to-play require players to spend a certain amount of money on leveling up their ranks.
Some popular NFT games provide various scholarship programs and profit-sharing plans to offer a more accessible start for play-to-earn projects. Most programs allow players with more resources and assets to distribute and rent them out to starters in return for profit sharing later when the player makes money through these play-to-earn crypto games.
Best NFT Games In 2023
Now that you know everything about NFT games and how blockchain games work let's proceed to our detailed list of the best NFT games in 2023 to help you get started and earn rewards. These games have successfully integrated NFTs with popular game themes, enabling gamers to play some of their favorite game genres and earn money while having fun.
Axie Infinity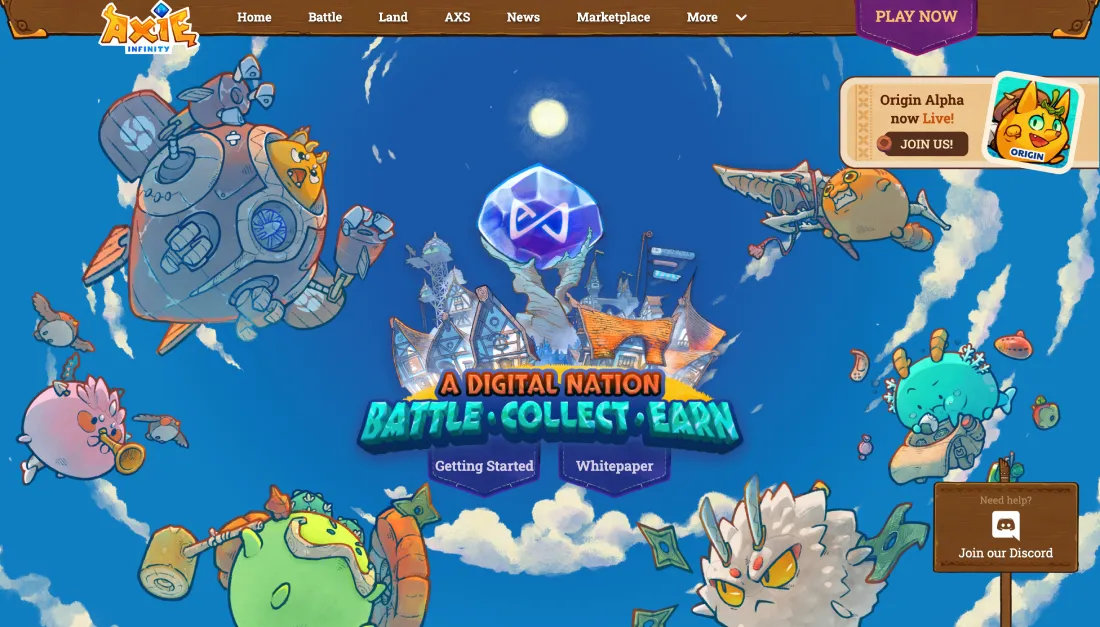 Axie Infinity is one of the top games to play on the Ethereum blockchain and the best NFT game for Pokemon fans. In Axie Infinity, players can breed and collect NFT-based digital pets (digital assets) called Axies and battle them against other players to earn crypto. Axies can be traded on any Ethereum-based NFT marketplace, with prices depending upon each Axie's strengths, different traits, and rarity in the game.
You must buy 3 Axies upfront and battle your Axies against other players to be rewarded Smooth Love Potion (SLP) tokens, the in-game currency, and an ERC-20 token. You can not only earn Smooth Love Potion tokens as in-game rewards but also buy them on almost all major cryptocurrency exchanges. Players can win SLP tokens and sell Axies to monetize their gaming efforts.
Axie Infinity has another governance token, Axie Infinity Shard (AXS), used in the game's staking services.
However, it's important to note that the SLP game token lost 99% of its highest value in 2022, making it a volatile period for investing in Axie.
Also See: How to Buy Axie Infinity (AXS)
The Sandbox Game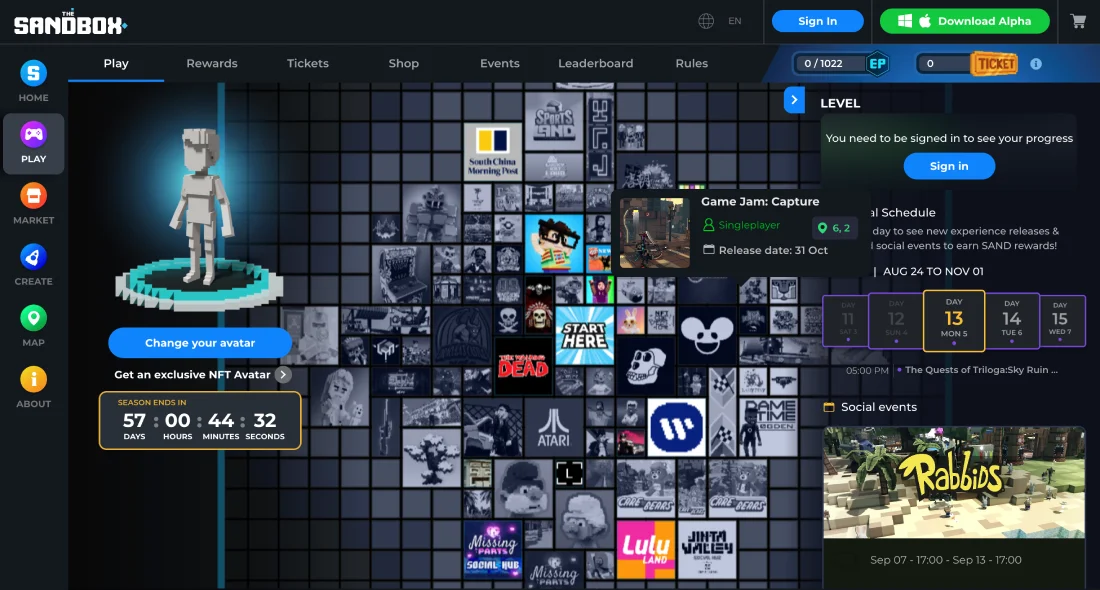 The Sandbox game was originally launched as a mobile game in 2012, but it was acquired by Animoca Brands in 2021 and relaunched as a metaverse NFT game. The gameplay of this play-to-earn NFT game is similar to Minecraft, with added play-to-earn features allowing players to create, distribute, trade, and monetize digital assets using NFT technology in the Sandbox. You can monetize items such as land as an NFT and trade it for the in-game currency SAND, an ERC-20 token, and the native token of the metaverse. Sandbox also has the ERC-20 token LAND, which is an NFT token.
Sandbox is a voxel-based gaming metaverse where users can create and monetize voxel assets and develop and play customized games. It's one of the most successful NFT games and a pioneer in the metaverse NFT gaming niche attracting big companies such as Atari and Square Enix. A plot of land in Sandbox was sold for as high as USD 4.3 million, as Sandbox became the go-to place for buying metaverse real estate for big companies and players. The game has its own marketplace where players can trade their digital assets for SAND and earn money.
Gods Unchained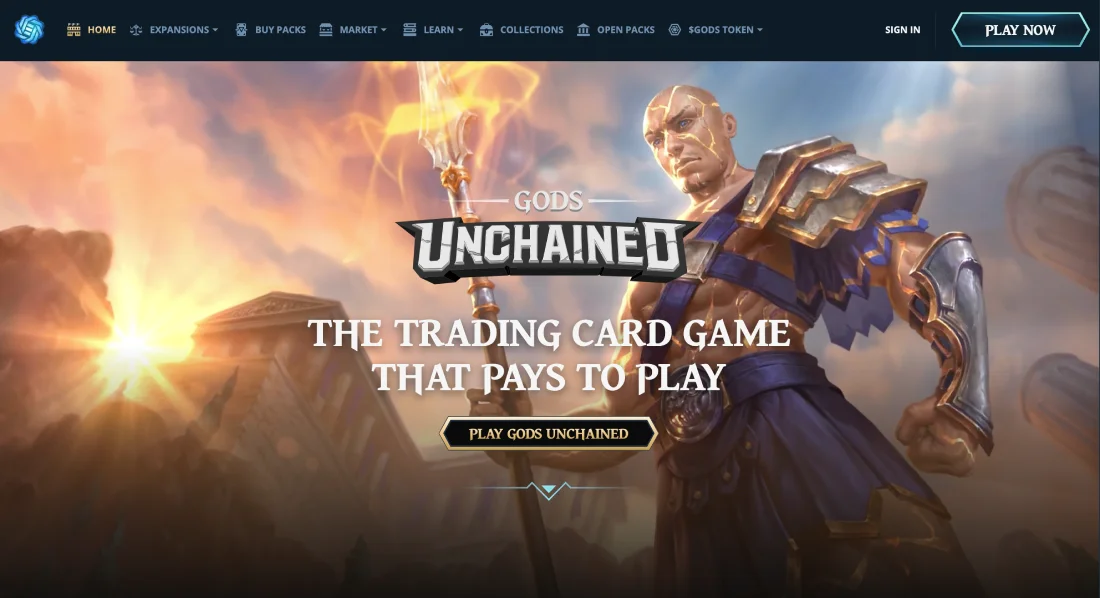 Gods Unchained is a free-to-play NFT game. It's a trading card game with NFTs where players can accumulate more cards by purchasing from other players or winning player-vs-player (PvP) matches. Gamers earn in-game items through the PVP gameplay and by battling with players. The winner in PvP battles is determined by the player's gaming skills, strategy, and strength of the cards. You can participate in various game modes and win rewards or experience points for defeating your opponent when their life drops to zero before yours. As the experience bar grows, your ratings also go up, and with an increase in rating and leveling up, new cards are added to your collection. With every wins, a player who collected Flux can create unique digital collectibles and NFT cards that can be traded on the marketplace. The cards in Gods Unchained are ERC-721 tokens, i.e., NFTs that can be traded in the game's marketplace or other marketplaces. Gods Unchained also has its native token GODS used as a payment method at the in-game marketplace.
If you're in the market for free play to earn games, look no further than Gods Unchained, the best free play to earn crypto.
Splinterlands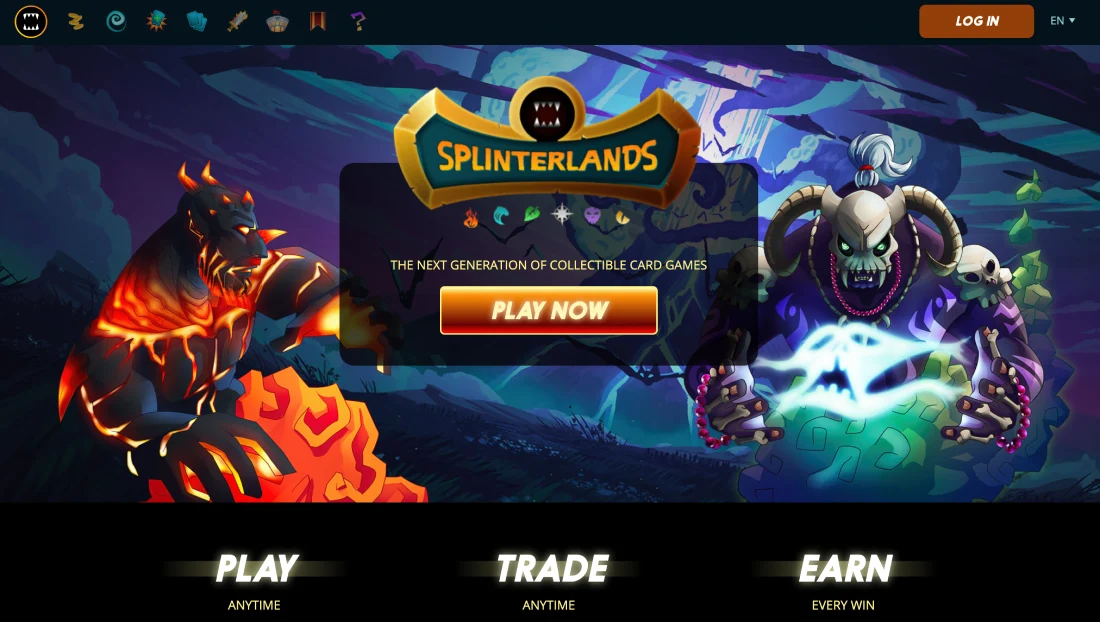 Splinterlands is one of the most popular free-to-play NFT games. It's a trading card game like Gods Unchained, allowing you to earn rewards for winning card matches against other players. To start playing Splinterlands, you must purchase a starter pack of cards, register a Steem account, and unveil the cards you've purchased on Splinterlands. Some players can also find rare cards in their first set.
Splinterlands cards are NFT cards that can be traded, used to battle with other players, or participate in quests. What separates Splinterlands from other trading card games is that the battles only last a few minutes, and the gameplay is a mixture of auto-battle and deck building. These attributes make Splinterlands a popular collectible card game with play-to-earn mechanics at its core. Splinterlands NFT game has its own in-game currency, Splintershards (SPS), listed on several exchanges. It uses the HIVE blockchain in contrast to many other games that use Ethereum.
Thetan Arena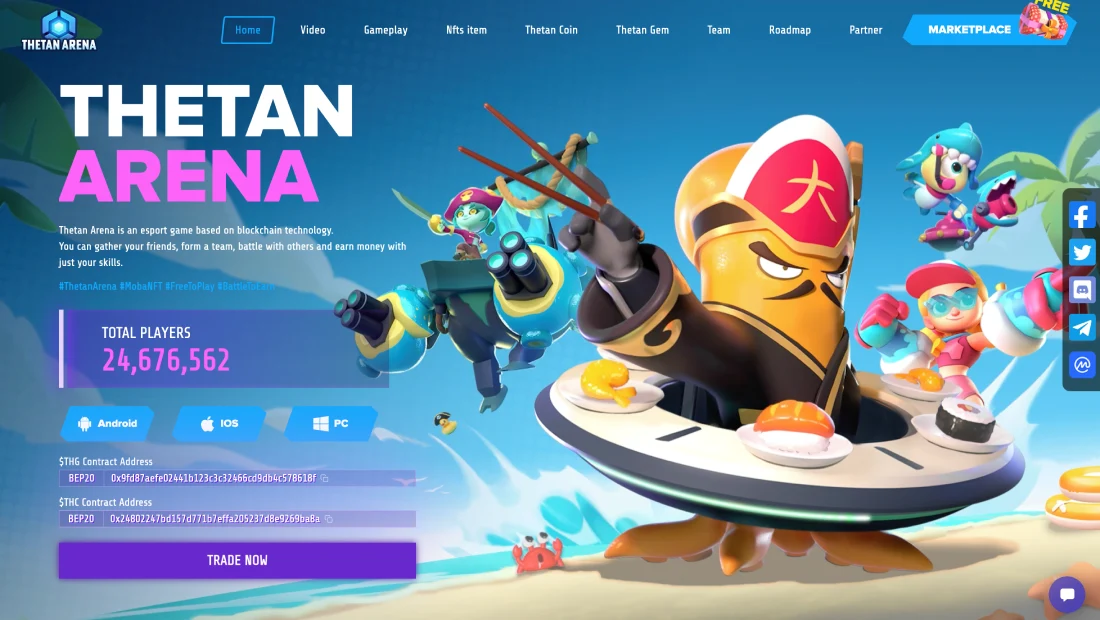 Thetan Arena is another popular and innovative blockchain game based on the well-known multiplayer online battle arena (MOBA) format. It has taken inspiration from popular games such as Dota 2, League of Legends, etc., and added play-to-earn game features. Players can team up and battle with other players to earn rewards for their skills. Thetan Arena aims to become one of the first mass play-to-earn games and has various game modes such as Battle Royale, Tower Seige, Superstar, etc. It offers staking, guilds, in-game pets, streaming, etc.
Upon completion of battles, players are rewarded with various NFTs depending on skills, results of the battles, and the skins of their characters. To play the Thetan Arena earn crypto game, you must make some initial purchases; however, the game is also available in a free-to-play mode. Thetan Arena has two tokens, Thetan Coins (THC) and Thetan Gem (THG). Players earn THC while playing the game, whereas THG tokens are the protocol's governance tokens used to upgrade the game's characters.
Sorare – Fantasy Football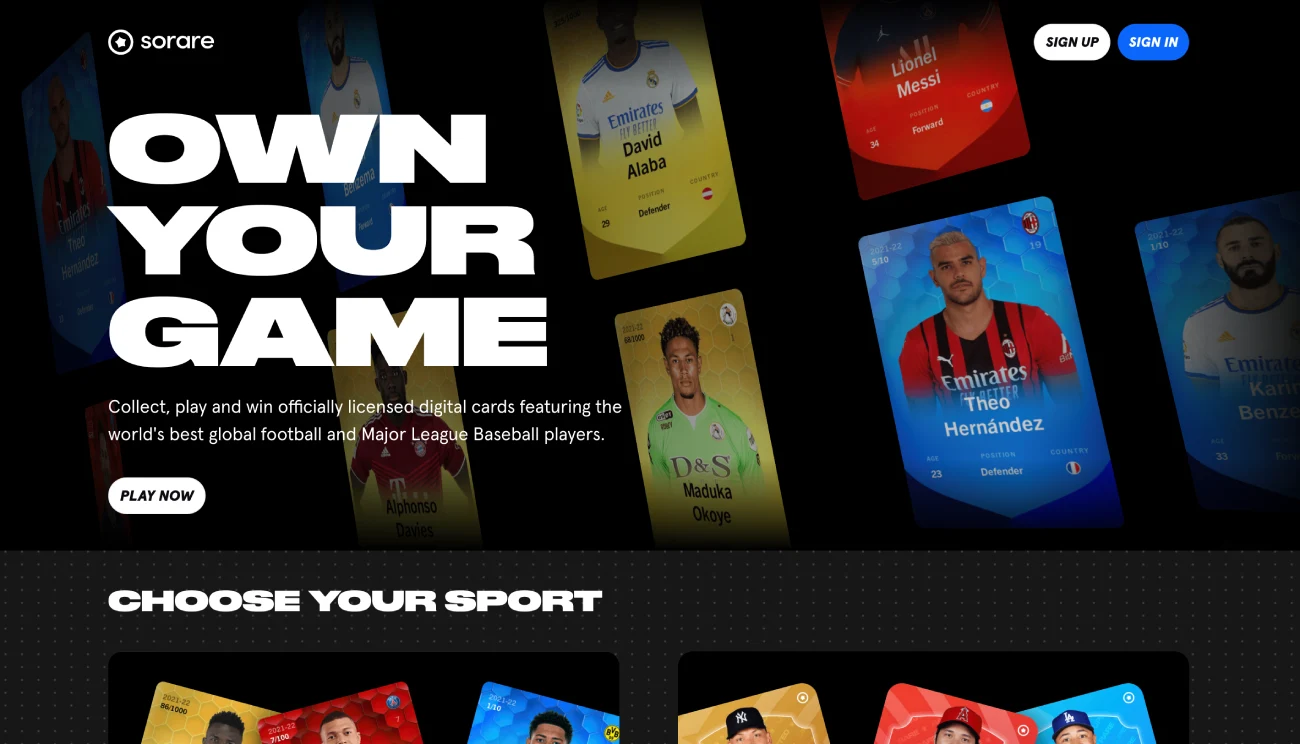 Sorare is a fantasy football NFT game developed in 2018 by Nicolas Julia and Adrien Montfort as a trading card game on the Ethereum blockchain. More than 230 football clubs from the world's best football leagues are officially licensed with the game, including Real Madrid, Liverpool, Paris Saint-Germain, Bayern Munich, etc.
In Sorare, the players are supposed to collect digital collectibles that are tradeable with other online soccer players or buy trading cards to compete in weekly competitions. By participating in these competitions, they stand a chance to unlock and win rare cards or win ETH. Sorare is a free-to-play NFT game that gives a new player a deck of random cards upon completing several onboarding tasks. However, to progress in the leagues and win prizes, a player must buy rare cards in the game's marketplace for some ETH. The Sorare cards are divided into four types – Commons, Rare, Super-Rare, and Unique.
The gameplay works like most fantasy football games wherein a player has to pick a 5-member team and a captain from their deck of cards and enter the team into weekly competitions. If the selected players perform well in real-life football matches, your team will get points accordingly. Players earn rewards based on the goals they score, the overall winning rate, and the completed quests. The cards in a player's deck are NFTs represented by a unique token on the Ethereum blockchain and can be traded on NFT marketplaces. Sorare brings one of the most popular online gaming, i.e., fantasy football, into the virtual world and makes it a play-to-earn game.
Alien Worlds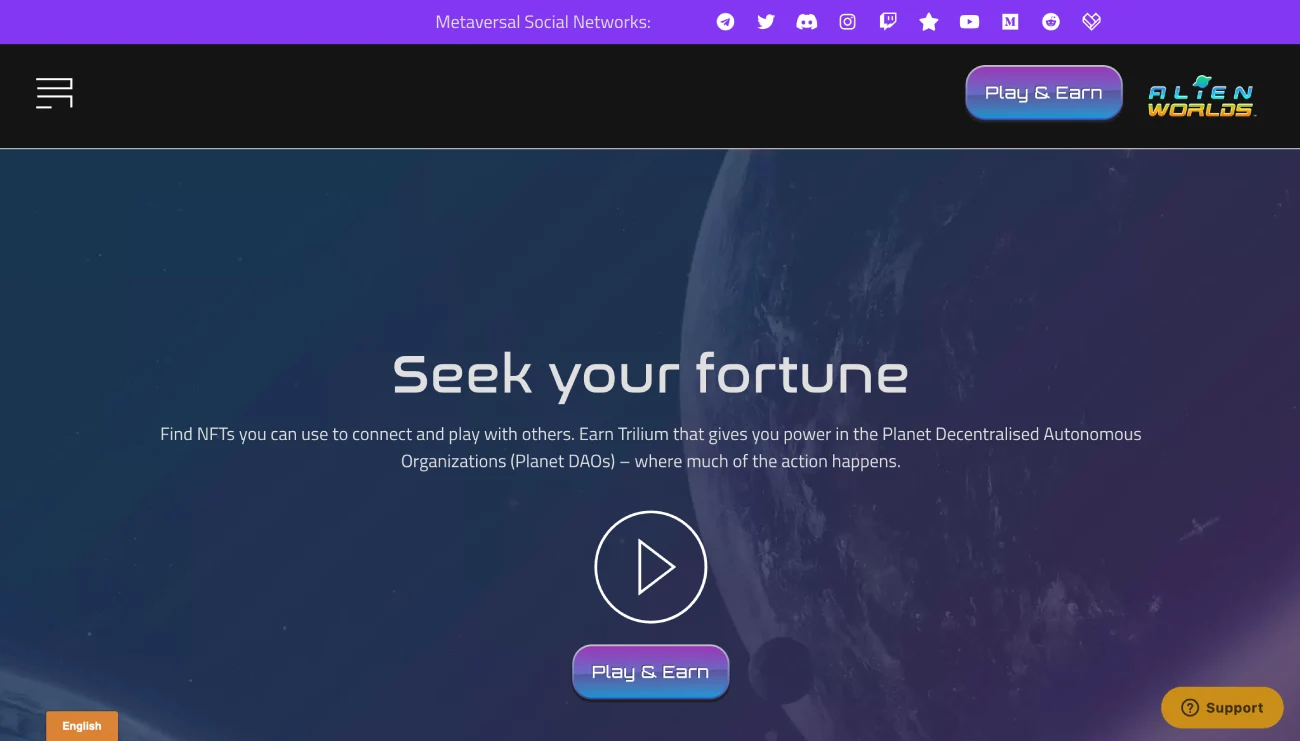 Alien Worlds is an NFT DeFi Metaverse designed to induce economic cooperation between players, enabling them to explore different planets. It does so by incentivizing players with the Trilium (TLM) token. Alien Worlds' players must buy mining tools in the form of NFTs to start their journey, as the game is about mining on different planets. Players can also engage in battles with other players or complete in-game tasks or quests to earn TLM. The in-game items purchased as NFTs can be exchanged for TLM tokens in its marketplace. The game consists of sic Planet DAOs, and players can participate in the governance of those DAOs by electing their councilors. TLM tokens are available across most cryptocurrency exchanges. Alien Worlds is one of the best NFT games available in the market.
Star Atlas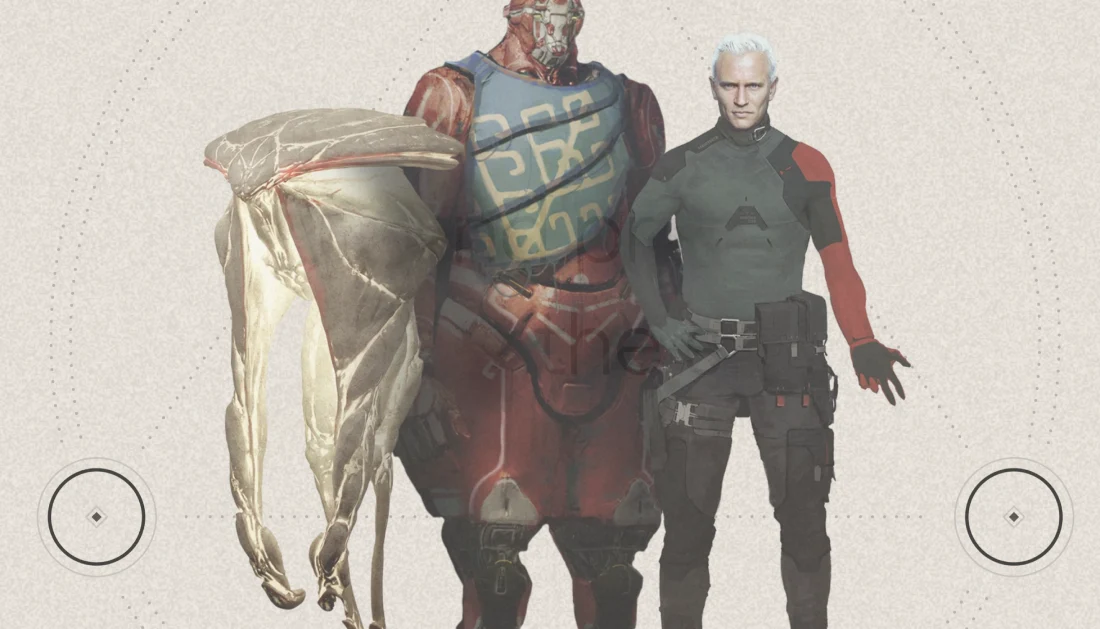 Star Atlas is one of the top NFT games in terms of innovation. It's built on the Solana blockchain and has ATLAS and POLIS native cryptocurrencies. The game is based in the galactic universe of 2620, and players have to explore the metaverse, build cities, participate in quests, adventures, own land, trade, etc. Players can also experience the game in virtual reality (VR), making it an immersive experience.
Since the game is built on the Solana blockchain, players must have a crypto wallet that supports Solana to start playing the game. Almost all in-game items are NFTs and can be sold in the game's marketplace or other marketplaces supporting Solana NFTs. The game was released only in October 2021 but made it to the best NFT play-to-earn games within a year.
Illuvium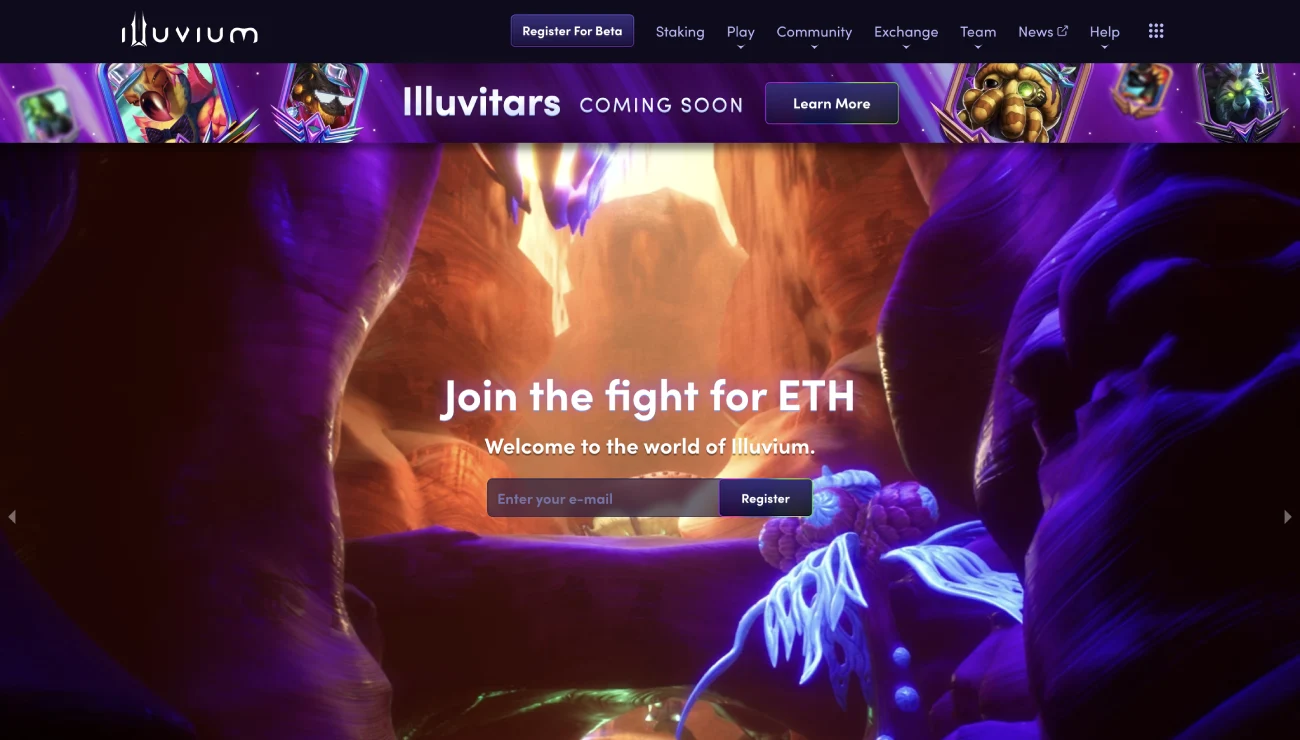 Illuvium is one of the best NFT games built on the Ethereum blockchain. It's an open-world role-playing adventure game similar to Pokemon. The idea is to have players collect rare monsters called Illuvials. They must capture and train these Illuvials to battle with the Illuvials of other players. Illuvium players must build a team of Illuvials powerful enough to beat the Illuvials of other players to earn rewards.
Illuvium combines the best of the two game modes, namely free-to-play and paid gaming. Players must buy in-game digital assets such as land and Illuvials in the form of NFTs that can be traded freely with Illuvium's Immutable X's L2 solution, providing zero-cost NFT transfers to users. The Illuvials are divided into four types with various strengths and weaknesses, including Fighter, Rogue, Psion, and Empath. Players can combine two or more kinds of Illuvials to create a much more powerful Illuvial. These features, combined with the expansive 3D gameplay, make Illuvium one of the top four play-to-earn games in terms of market capitalization, coming after Axie Infinity, The Sandbox, and My Neighbor Alice.
My Neighbor Alice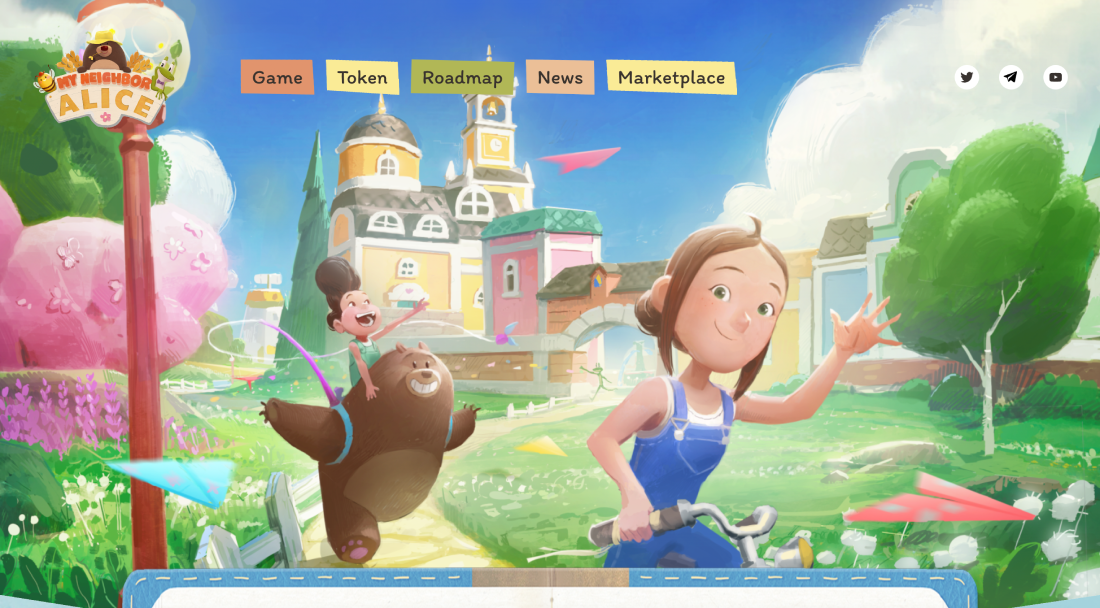 My Neighbor Alice is inspired by popular conventional games like Animal Crossing. The basic premise of this top NFT game is to buy land to set up your own farm. Players have their own virtual avatars and can add various in-game assets to their farms, such as animals, vegetation, etc., to enhance the value of their farms. The items are available as NFTs and have become very rare and famous in a short period.
Players must complete daily tasks for which they are rewarded with the game's native token, ALICE, used for making in-game purchases. They can also sell their own creations in the marketplace.
My Neighbor Alice's highly interactive and immersive gameplay and the effective incorporation of the play-to-earn model make it one of the top NFT games in the market.
Sidus Heroes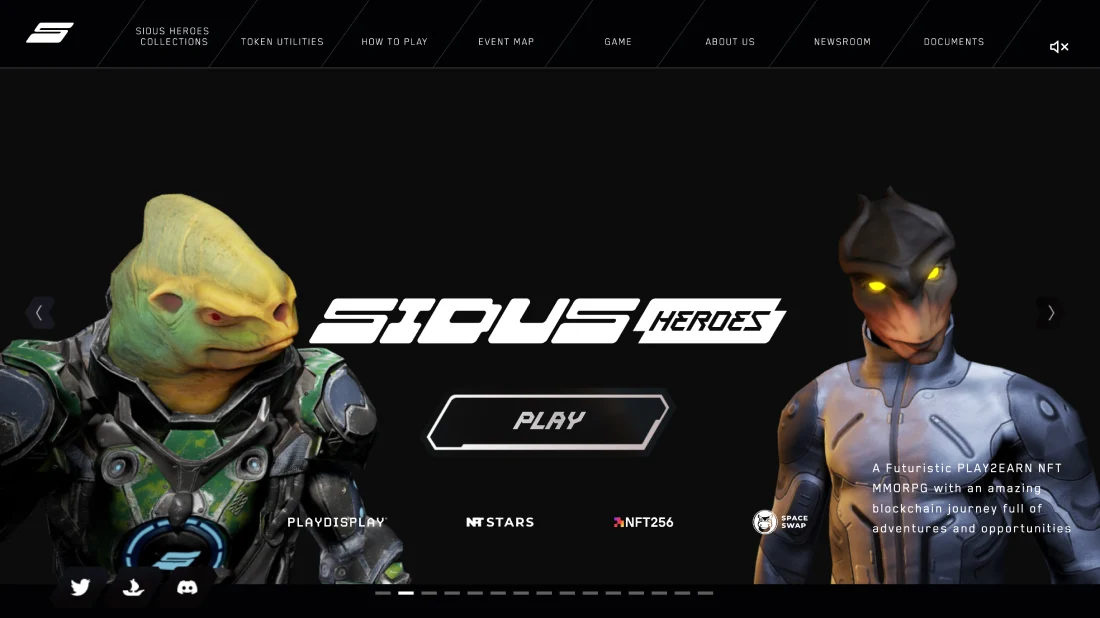 Sidus Heroes is a Massively Multiplayer Online Role-Playing Game (MMORPG) where players must navigate and conquer various planets in the SIDUS metaverse and battle with other players. They can discover colonized or uncolonized planets and own them as NFTs using the game's secondary token SENATE. The land can then be used to mine for resources, earn passive income, and for infrastructure development. The SIDUS token is the game's main token, used to reward players for completing tasks or winning battles.
The game also has other NFTs, such as the players' gear, materials, monsters, etc., which can be traded with other players in the marketplaces. The game is developed on the Ethereum blockchain and leverages L2 solutions to keep the transaction costs low. Sidus Heroes has two different game modes, Player vs. Environment and Player vs. Players, and offers a wide range of features typical for NFT games or play-to-earn games.
Battle Racers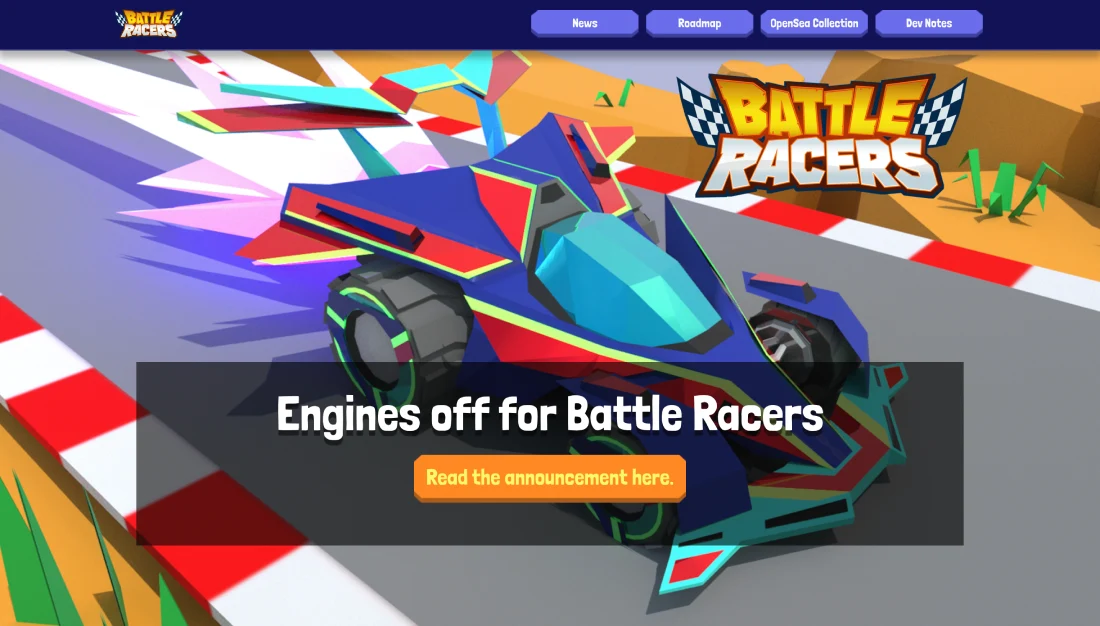 Battle Racers takes inspiration from the world's most popular racing games, Mario Kart and F-Zero. Players are free to design their own cars in whatever way they like and then race them on arcade-sized tracks with other players. The cars that have been created or those that win the races can be minted as NFTs and sold on OpenSea for real money.
The game is available on Decentraland, a blockchain-based metaverse.
The Walking Dead: Empires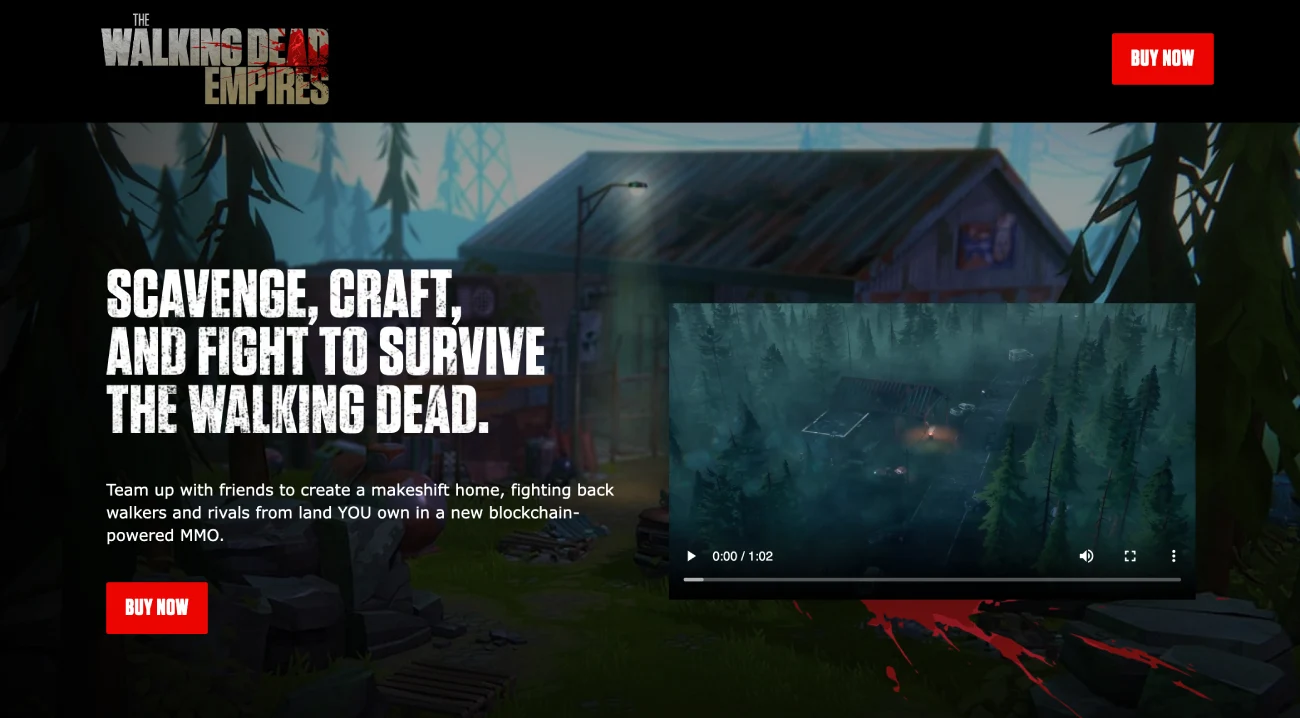 The makers of the hugely popular TV series "The Walking Dead" have taken the show's concept to create one of the best play-to-earn games in collaboration with Gala Games and Ember Entertainment.
The Walking Dead: Empires is a survival Massively Multiplayer Online game where players must make their way through the walking dead and gain control over resources, territory, etc., to survive. The gameplay has Player vs. Environment and Player vs. Player game modes where different players must cooperate to survive.
As part of the game's play-to-earn mechanics, the game enables players to win rewards for playing NFT games in different ways, including constructing their bases on NFT-based LAND under their ownership. LAND owners receive rewards when players sell, fight, or kill on their plots, etc.
Cosmic Champs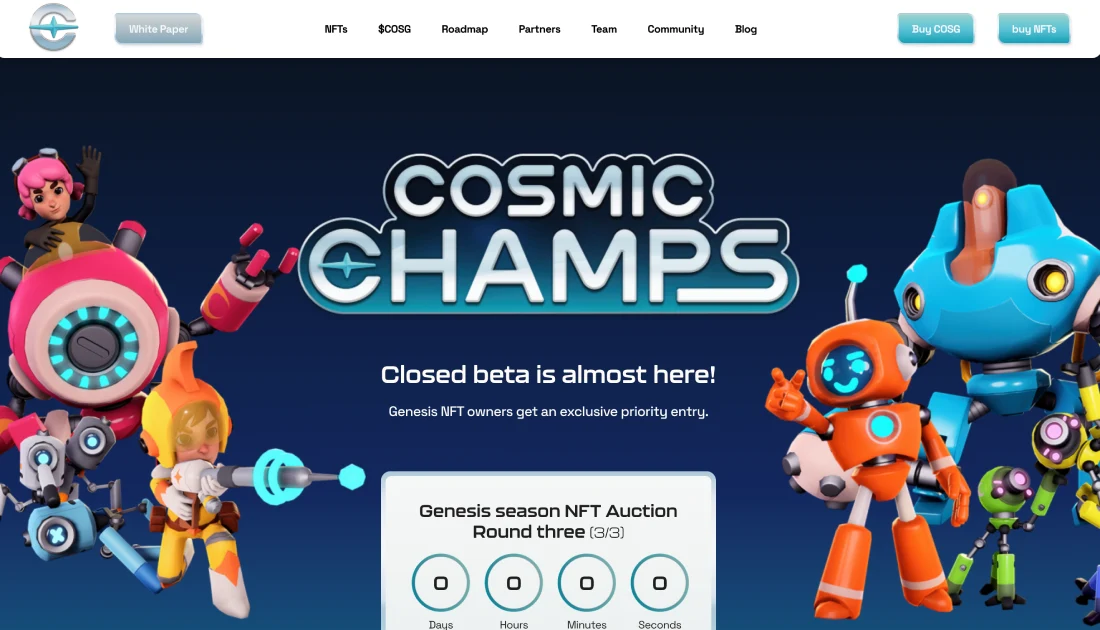 Cosmic Champs is the first play-to-earn game developed on the Algorand blockchain. It uses Algorand's speed and cost-effectiveness to develop one of the best NFT games.
Cosmic Champs players known as Champs must undertake space exploration, PvP and PvE battles, etc., to gain rewards for their in-game efforts. The game has four different types of NFTs, namely, Champs, Ships, Planets, and Treasure. The Champs NFTs participate in the game's battles, whereas the Ships are used for exploration. Planets are the assets used as PvP battlegrounds, and their owners get a share after each battle on their planet. Treasures are various NFT-based rewards and Cosmic Gold Tokens (COSG) that can be discovered all over the Cosmic World. COSG is the game's native token used for rewarding, staking, NFT trading, governance, etc.
Conclusion
NFT crypto games are gaining immense popularity, attracting both investors and gamers. Many NFT games are free to play, while others may have a low upfront cost, so if you like to play games, it seems reasonable to give a few NFT games a try. The NFT gaming market is still developing, so there is a massive opportunity to make money through most NFT games. Making money while doing what you love has never been so easy. NFT games allow you to earn rewards while enjoying the amazing gameplay.
However, remember that nothing in this article is a piece of financial advice, and there are inherent risks associated with the blockchain industry, cryptocurrencies, and NFT games.
You're welcome to visit our CoinStats blog to learn "How to Make an NFT," "How to Mint an NFT," or "How to Buy NFT." Since Ethereum is required to buy most NFTs, get started by checking the live "Ethereum Price." Additionally, check out our "Crypto Portfolio Trackers" to learn the secure way to manage your crypto portfolios.