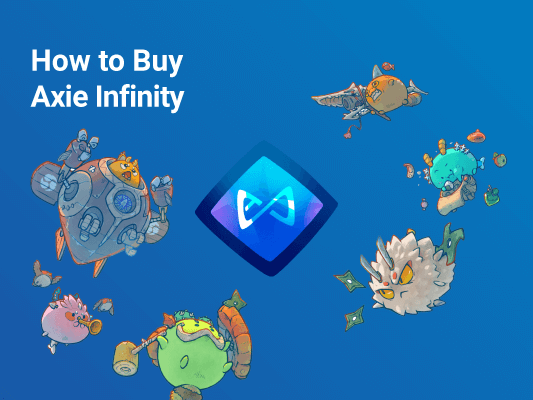 How to Buy Axie Infinity [Step-By-Step Guide]
<! -- End of the Reviewed by section -->
Axie Infinity is a "play-to-earn" pet training game and a virtual world built on the Ethereum blockchain. Axie's inspired by Nintendo's beloved Pokémon series. Players can collect, breed, trade, and pit adorable monsters called Axies against each other in cartoonish combat.
Axie has amassed credible popularity in international markets for its exclusive and engaging storyline. The gameplay offers players the ability to earn some cryptocurrency for simply playing the game by rewarding them with crypto tokens that can be exchanged for money.
Users can also buy in-house game NFTs using the Axie Infinity tokens to extend their gaming environment and experience one of the fascinating gameplays available on the internet today. Read on for our deep dive into the Axie Infinity project and learn why, where, and how to buy AXS tokens in a few simple steps.
Step #1: Select a Crypto Exchange
You can purchase Axie Infinity Shards (AXS) tokens on several cryptocurrency exchanges. Visit the market page on CoinStats to view the exchange platforms supporting AXS. Compare the exchanges' security, user experience, fee structure, supported coins, etc., to choose the one with the characteristics you need, such as affordable transaction fees, an intuitive platform, round-the-clock customer service, etc. Also, consider whether the cryptocurrency exchange is regulated by the Financial Industry Regulatory Authority (FINRA), etc., and allows you to buy AXS using your preferred payment method.
To trade cryptocurrencies, you must use a centralized or decentralized crypto exchange, so let's look into the details of each type below.
Centralized Exchange
A centralized crypto exchange or CEX, such as Coinbase, eToro, Binance, etc., functions as a middleman between buyers and sellers and charges specific fees for using their services. Most crypto transactions are conducted on centralized exchanges, allowing users to buy and sell cryptocurrencies for fiat currencies such as the US dollar or digital assets like BTC and ETH. Centralized exchanges require their users to follow KYC (know your customer) and AML (anti-money laundering) rules by providing some information and personal identification documents. However, the drawback of trading on a CEX is that it's highly vulnerable to hacking or cybersecurity threats.
Decentralized Exchange
On the other hand, a decentralized exchange (DEX), like Uniswap, SushiSwap, Shibaswap, etc., is a non-centralized alternative to a centralized exchange and isn't governed by any central authority. Instead, it operates over blockchain and charges no fee except for the gas fee applicable on a particular blockchain, i.e., on the Ethereum blockchain. Decentralized exchanges use smart contracts to let people trade crypto assets without needing regulatory authority. They deploy an automated market maker to remove any intermediaries and give users complete control over their funds. This method is safer since no security breach is possible. However, decentralized exchanges are less user-friendly in terms of interface and currency conversion. For instance, they don't always allow users to trade crypto with fiat currency; users have to either already own crypto or use a centralized exchange to get crypto. Another drawback of decentralized exchanges is that it has failed to achieve liquidity levels comparable to centralized exchanges. It also takes longer to find someone looking to trade with you as DEX engages in peer-to-peer trade, and if liquidity is low, you may have to accept concessions on price and quickly sell or buy low-volume crypto.
You can list anything on a DEX, which means you have access to new, in-demand assets while also taking on more risk.
Step #2: Create an Account
After you've chosen a cryptocurrency exchange that fulfills all your criteria, the following step is to register with the exchange using a valid email or mobile number. A link will be sent to your email, and you must click it to verify your email. Once the account is activated, you must create an elaborate password, and you're good to go.
Some exchanges have strict KYC and AML requirements, and in order to get verified, you must provide personal information such as:
Full name
Residential address
Date of Birth
ID Document.
In some cases, you might also need to upload a selfie or undergo video verification to finalize the verification process.
Once your identity verification is complete, it's recommended to activate two-factor authentication (2FA) for an extra layer of security.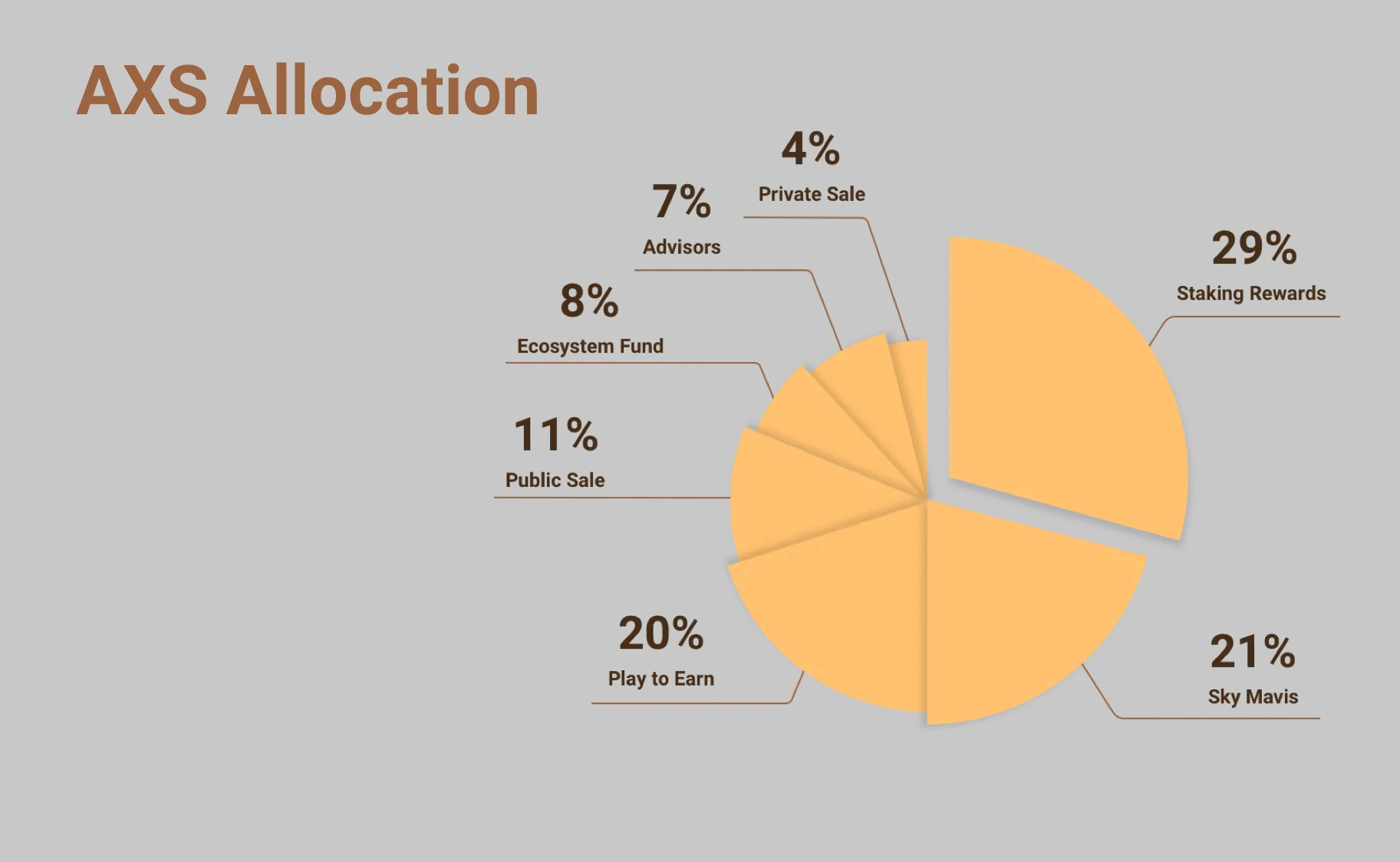 Step #3: Deposit Funds
The next step is to deposit funds into your account. Many crypto exchanges support fiat currency such as USD, EUR, etc. Simply select your preferred deposit method, such as a bank transfer, wire transfer, credit or debit cards, e-wallets, PayPal, etc., and the currency you wish to deposit. Tap on "Deposit Funds," enter the amount you want to deposit, and click "Deposit."
Some deposit methods are extremely fast, while others, depending on the amount, require confirmation from authorities. Remember to evaluate the fees of different deposit methods since some have larger fees than others.
Linking your debit card to your crypto account is advantageous as it lets you make instant or recurring purchases, but be aware that it attracts an additional fee.
It's usually free to make a bank transfer from your local bank accounts, but you should still double-check with your exchange.
AXS can be traded for another currency like Ethereum or a stablecoin like Binance USD (BUSD); the trading pairs vary between exchanges, and you must search for AXS on the spot market to select a pair from the list of available trading pairs.
Step #4: Buy AXS
Follow the steps below to place a market order to buy AXS instantly at the current market price:
Click the search bar, enter AXS, and select "Buy AXS" or the equivalent.
Choose the payment method, the currency you wish to use, and input the amount of AXS or the fiat amount to be spent. Most exchanges will automatically convert the amount to show you how many AXS tokens you'll get.
Double-check the transaction details and click "Confirm."
The AXS tokens will be displayed in your balance once the transaction is processed.
You can also place a limit order indicating that you want to buy AXS at or below a specific price point. Your broker will ask you the number of coins you wish to acquire and the maximum price you're ready to pay for each once you've placed an order. The coins will only appear in your wallet if your broker fulfills your order at or below your requested pricing. The broker may cancel your order at the end of the day or leave it open if the price increases over your limit.
If you're planning to keep your newly purchased coins for an extended period, we highly recommend securely storing them in a hardware wallet.
To trade AXS on spot markets, go to the Trade page and search for the AXS pairs (AXS/USD or AXS/USDT). Select the trading pair and check the price chart. Click "Buy AXS," select the "Market," enter your amount or choose what portion of your deposit you'd like to spend by clicking on the percentage buttons. Confirm and click "Buy AXS."
Congratulations on adding AXS tokens to your crypto portfolio!
How to Buy AXS on CoinStats?
Did you know that you can buy AXS directly on CoinStats with 0 additional fees? It's super quick and secure and allows you to buy crypto with your credit card right where you track and manage it. Here's how you can buy AXS on CoinStats on web and mobile in a few simple steps.
Head over to the CoinStats homepage
Navigate to the Cryptocurrencies tab in the menu bar above and pick your desired cryptocurrency.
Click Buy Crypto
Select a portfolio or add a wallet address where the funds will be deposited
Choose MoonPay as the provider
Add the credentials of your payment method
Complete the payment
Store AXS
While your AXS tokens can be stored in your brokerage exchange wallet, experts highly recommend storing your precious coins away from exchange wallets, as those might be susceptible to hacks and interference.
We highly recommend creating a private wallet with your own set of keys. Depending on your investing preferences, you might choose between software and hardware wallets:
Software Wallets
If you're looking to trade AXS regularly, software or hot wallets provided by your selected crypto exchange will suit you. The strength of software wallets lies in their flexibility and ease of use. A software wallet is the most easy-to-set-up crypto wallet and lets you easily interact with several decentralized finance (DeFi) applications. However, these wallets are vulnerable to security leaks because they're hosted online. So, if you want to keep your private keys in a software wallet, conduct due diligence before choosing one to avoid security issues. We recommend a platform that offers 2-factor authentication as an extra layer of security.
Examples of software wallets include CoinStats Wallet, MetaMask, Coinbase Wallet, Trust Wallet, and Edge Wallet, amongst others.
Hardware Wallets
Hardware or cold wallets are usually considered the safest way to store your cryptocurrencies as they offer offline storage, thereby significantly reducing the risks of a hack. They are secured by a pin and will erase all information after many failed attempts, preventing physical theft. Hardware wallets also let you sign and confirm transactions on the blockchain, giving you an extra layer of protection against cyber attacks. These are more suitable for experienced users who own large amounts of tokens.
Ledger hardware wallets are arguably the most secure hardware wallets letting you securely manage your digital assets. The Nano X is designed for advanced users and offers more storage space and advanced features than Ledger Nano S, designed for crypto beginners.
A hardware wallet is more expensive than a hot wallet, with prices ranging between $50 – $200.
Examples of cold wallets are Trezor Model T, Ledger Nano X, CoolWallet Pro, KeepKey, Ellipal Titan, and SafePal S1, amongst others.
Bonus Step: Track AXS Tokens
The crypto market is volatile, and managing your portfolio could get tricky if you hold multiple assets. Utilizing a portfolio tracker will help you keep track of your AXS tokens and all your crypto investments from one platform at all times. CoinStats offers one of the best crypto portfolio trackers in the market; you can find more information here.
You can also monitor the profit, loss, and liquidity of AXS across several exchanges on CoinStats.
CoinStats supports over 250 cryptocurrency exchanges and over 7,000 cryptocurrencies. It offers charting tools, analytical data, advanced search features, and up-to-date news. Here you have the opportunity to connect an unlimited number of portfolios (wallets and exchanges), including:
Binance
MetaMask
Trust Wallet
Coinbase
Kraken
Kucoin
Bitstamp and 500 others.
To connect, go to the CoinStats Portfolio Tracker page and:
Click Add Portfolio and Connect Wallet.
Click the wallet you want to connect to (e.g., Ethereum Wallet).
Input the wallet address and press Submit.
What Is Axie Infinity?
Axie Infinity is a leading blockchain game based on the Ethereum blockchain that minimizes transaction delays and fees with the help of a side chain called Ronin. Players called scholars can collect, raise, battle, trade, and breed Axies, token-based creatures within the Axie Infinity Universe.
Axie focuses primarily on turn-based battles, either against live opponents over the internet or against computer-controlled Axie teams. Each Axie is a unique NFT that can be bred to produce more Axies or traded through an in-game P2P Axie marketplace. Some Axie NFTs have been known to sell for as much as 300 ETH for a piece.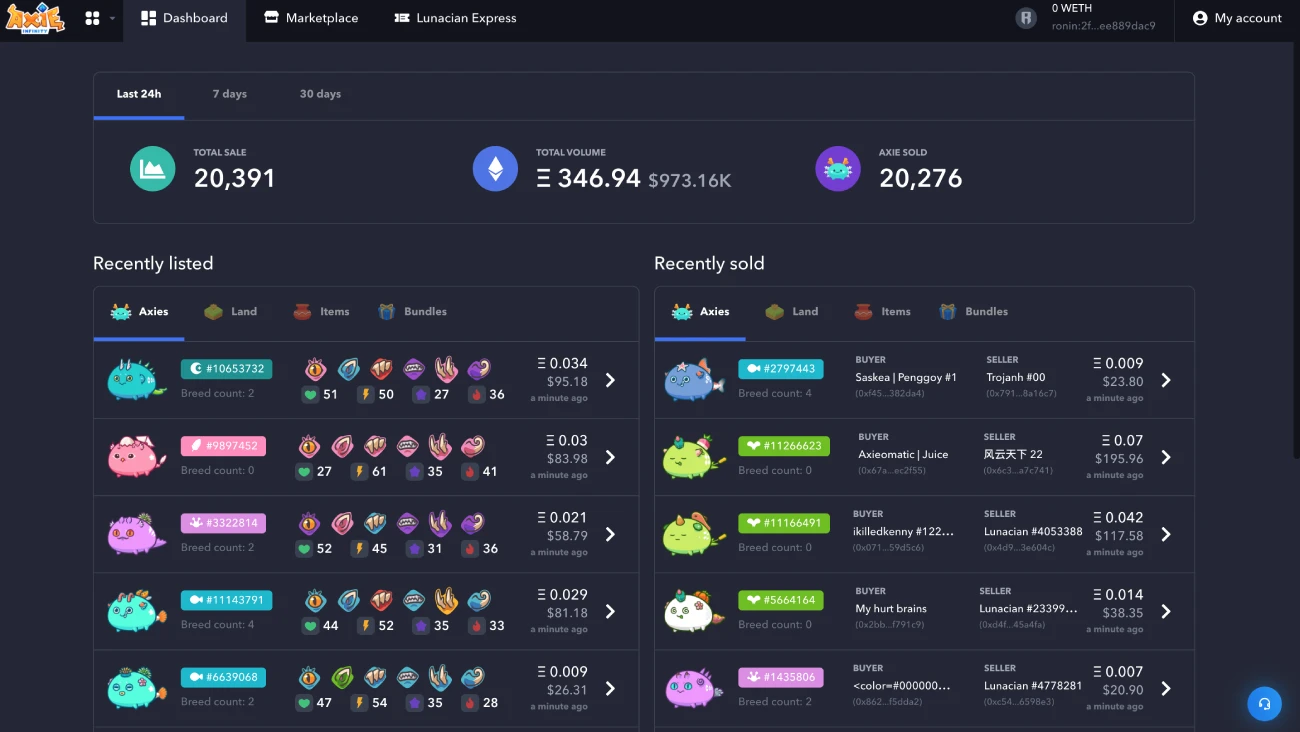 Players need three Axies to commence the game, and becoming an Axie Infinity scholar gets them Axies. They can also earn income in the form of two ERC-20 tokens, Axie Infinity Shards (AXS) and Smooth Love Potions (SLP). SLP is earned by playing Axie Infinity and can be used to breed new Axies, which can then be traded for AXS.
AXS is the native token of Axie Infinity and the game's governance token. Users can stake their tokens to claim rewards and participate in certain Axie team-organized sales and auctions.Investors who don't want to play Axie Infinity can still buy and sell both tokens on decentralized crypto exchanges, and community developers can have a say in how the Axie Infinity game develops further.
It's fun to play and learn how blockchain technology works through Axie, which became the top–traded NFT collection, according to the BGA Blockchain Game Report.
The Play-to-Earn Model
Axie is a play-to-earn cryptocurrency game, a relatively new form of gaming. The play-to-earn model goes well with blockchain games, where players are rewarded with in-game digital assets that can be anything ranging from cryptocurrency tokens to in-game resources tokenized on the blockchain. For example, in Axie Infinity, players earn Small Love Potions (SLP), which can be used to breed new Axies or sold to other players on the open marketplace.
The principal components of the play-to-earn model are giving gamers ownership over in-game assets and allowing them to increase their value by actively playing the game.
History of Axie Infinity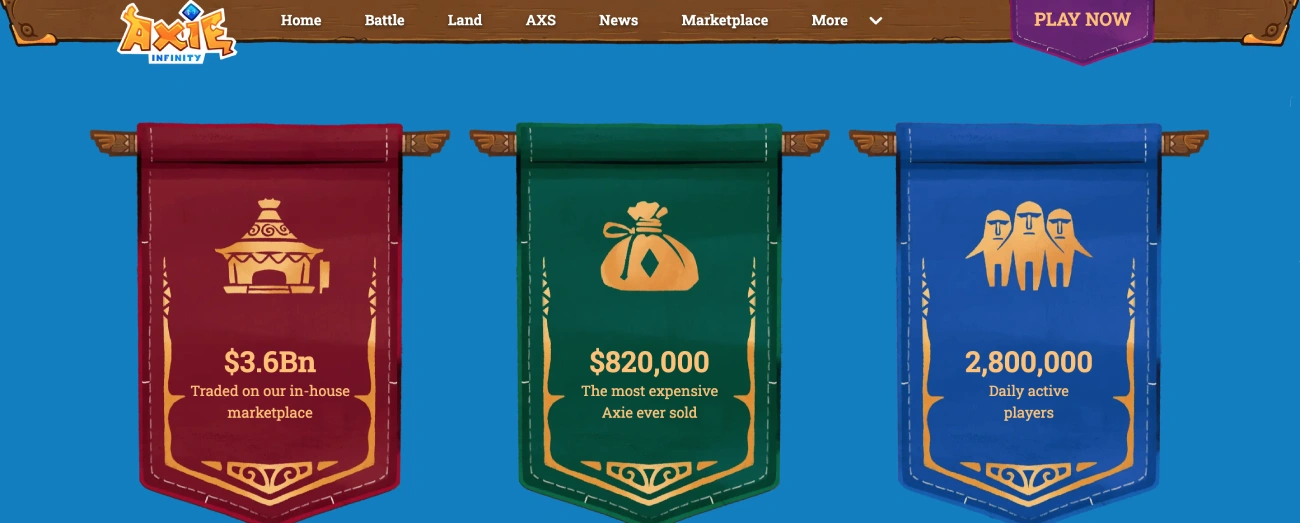 Axie Infinity was launched in 2018 by Vietnamese gaming studio Sky Mavis and was co-founded by Trung Thanh Nguyen and Aleksander Larsen. Sky Mavis was founded with fund manager Jeffrey Zirlin, art director Tu Doan, and full-stack engineer Viet Anh Ho in 2018. Among the investors of Sky Mavis are leading venture capital Andreessen Horowitz, owner of Dallas Mavericks Mark Cuban, crypto derivatives exchange FTX, and others.
The development of Axie Infinity began in late 2017, and the actual game was released in May 2018 with breeding Axis as its only feature. Since its inception, Axie has released idle battle modes, NFT plots of land, and player versus player battles which together create a lucrative and fun blockchain-based game model.
Axie intends to release staking for AXS, which will allow token holders to gain interest in their investments in the nearest future. It will also be launching gameplay integrated with the plots of land currently for sale, giving the otherwise worthless land some in-game utility.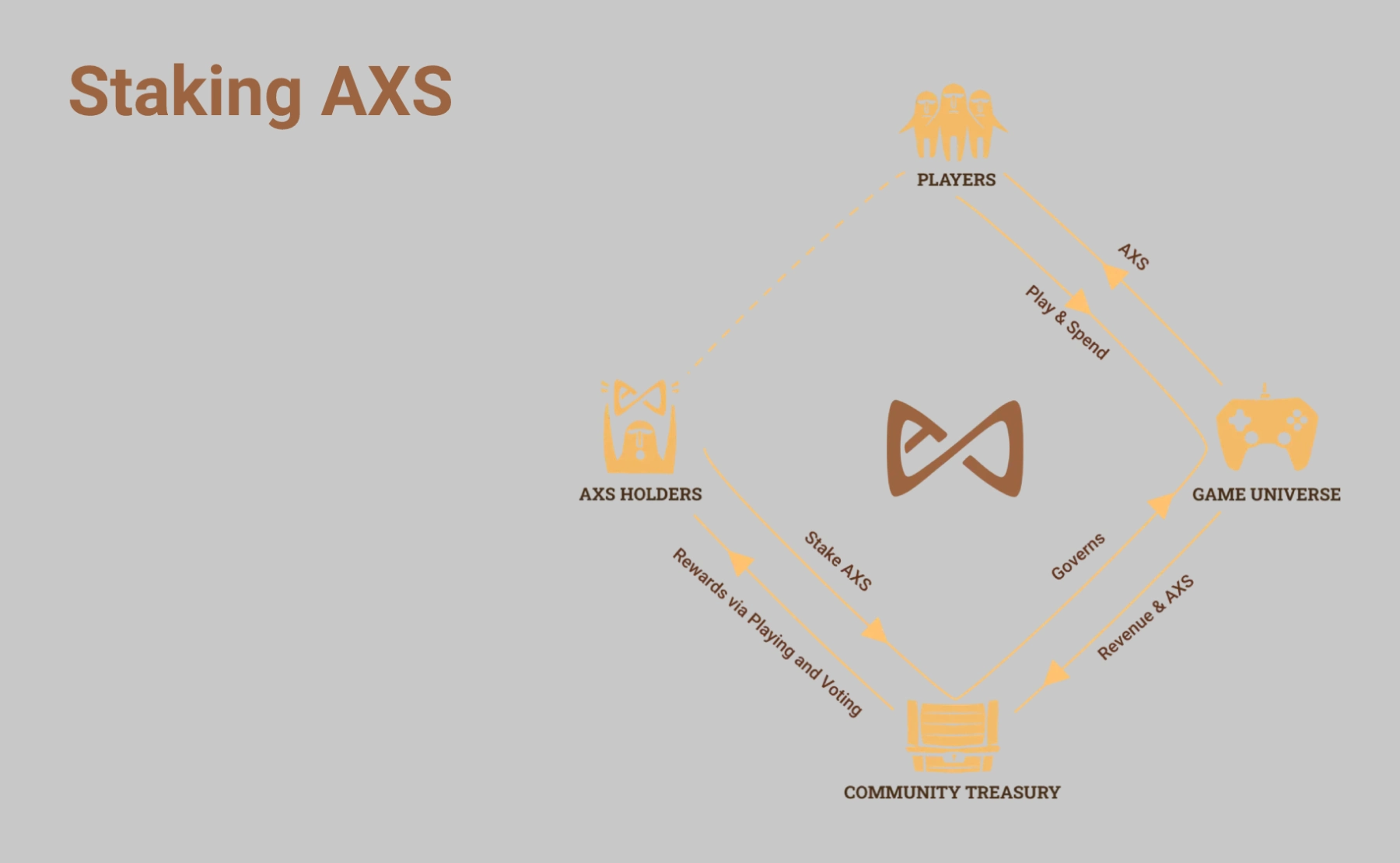 Axie Infinity Tokens
The Axie Infinity offers several coins, each serving a distinct function:
Axie Infinity Shards (AXS) – Governance Tokens
AXS or Axie Infinity Shards is an ERC-20 governance token and the native currency of the Axie universe. AXS holders can claim rewards if they play the game, stake their coins, and participate in key governance votes. You can also use AXS to pay for breeding fees. Although the AXS token doesn't currently generate any revenue, holders are granted governance rights to vote on the gaming platform's future. The AXS tokens are a deliberate move by Sky Mavis to decentralize the governance and ownership of Axie Infinity so that it aligns interests between the developers and the community of players.
As of February 2022, the relative to the U.S. dollar, AXS has increased by over 3,000%.
Smooth Love Potion (SLP) – Reward Tokens
A Smooth Love Potion (SLP) is a reward token within Axie Infinity that players can earn by playing the game in adventure or battle mode. Gamers can use SLP to breed in-game Axies and level up a creature. SLP is an ERC-20 utility token that carries a value like any other cryptocurrency and can be traded on a Decentralized exchange.
The value of an SLP relative to the U.S. dollar hasn't performed so well compared to AXS and has been down sharply over the past year. SLP has an uncapped number of tokens that could exist in the future, unlike AXS, which has a supply cap of 270 million tokens. The uncertainty around the future supply of SLP has greatly impacted its value, and concerns around its stability have caused many to question the future. Sky Mavis has adjusted the emission rate in recent months, and potential changes based on governance votes in the future will drastically impact the value of SLP.
Non-fungible Tokens (NFTS)
Axie Infinity is the recognized leader in NFT gaming. In-game digital assets such as the Axie creatures are represented by NFTs, which confer ownership. NFTs like Land, Axies (the in-game creatures), and other valuables can be sold and bought on Axie Infinity's marketplace for real money. Some users buy them to play the game, and others buy them as investments.
Lunacia, the Axie homeland, is tokenized plots of virtual land called Terra and will act as home bases of operation for players' Axies. While the gameplay is still being actively developed, the idea is that players will be able to purchase, rent, or develop them. Virtual landowners will be able to find AXS tokens on their plots of land. They can also find different types of resources that spawn in nodes across Lunacia and use them to upgrade Axies and land. While the concept is still in its early stages, the impact on the game's future is endless and lays out a path for continued popularity in the future.
Axie Infinity retains the record for the third-highest all-time sales in the realm of NFTs projects. As of March 2022, Axie Infinity generated $4.17 billion in all-time NFT sales below Openseas' $23 billion, and LooksRare's reported $18 billion.
Where to Buy Axie Infinity?
Users can cash their in-game AXS tokens to reap liquid benefits and use them to buy in-house game NFTs to expand their gaming ecosystem.
So let's look into some of the leading exchanges for buying Axie Infinity:
1. Coinbase
Coinbase is the largest cryptocurrency exchange in the United States, supporting approximately 100 cryptocurrencies. Coinbase is also user-friendly and offers the Coinbase wallet, letting you purchase AXS, altcoins, stablecoins, and other major virtual assets in a couple of minutes. Coinbase fees, on the other hand, might be perplexing and higher than some of its rivals. While Coinbase's security features are appealing, cryptocurrency trading is highly volatile, so always evaluate the risk. This exchange currently allows trading for residents of the United States, except Hawaii.
If you don't have a Coinbase account already, you need first to set up an account and verify your identity. Once your account is verified, the next step is to link a payment method to your account. Choose your favored fiat currency and payment method, from credit debit cards to bank or wire transfers, etc., depending on your country. There are no transaction fees on bank transfers; however, you won't be able to withdraw your funds for 5 days. You can now buy AXS in no time.
2. Gemini
Gemini is one of the most prominent cryptocurrency exchanges, supporting hundreds of cryptocurrencies. Gemini products are renowned for setting the bar in various areas, including investor protection, overall broker experience, compliance, and security. The gas fees on Gemini are quite low, especially for large-volume traders.
Fiat currencies and several trading pairs are supported on Gemini.
3. Crypto.com
Crypto.com is a cryptocurrency exchange that supports trading, investing, staking, an NFT marketplace, etc. The crypto.com exchange offers more than 250 different currencies, reasonable fees, wallets, and discounts for those who hold a significant stake in Crypto.com Coin (CRO).
4. Binance
Binance is among exchanges offering the lowest fees in the industry and high liquidity, allowing you to sell and buy digital assets rapidly to take advantage of market possibilities.
You need to create a retail investor account on the platform and verify your identity by uploading identity proof documents. Once the accounts are created and verified, Binance will let you buy AXS or any other crypto of your choice either through digital assets or fiat deposits using a credit or debit card and bank transfer.
Buying AXS: Pros and Cons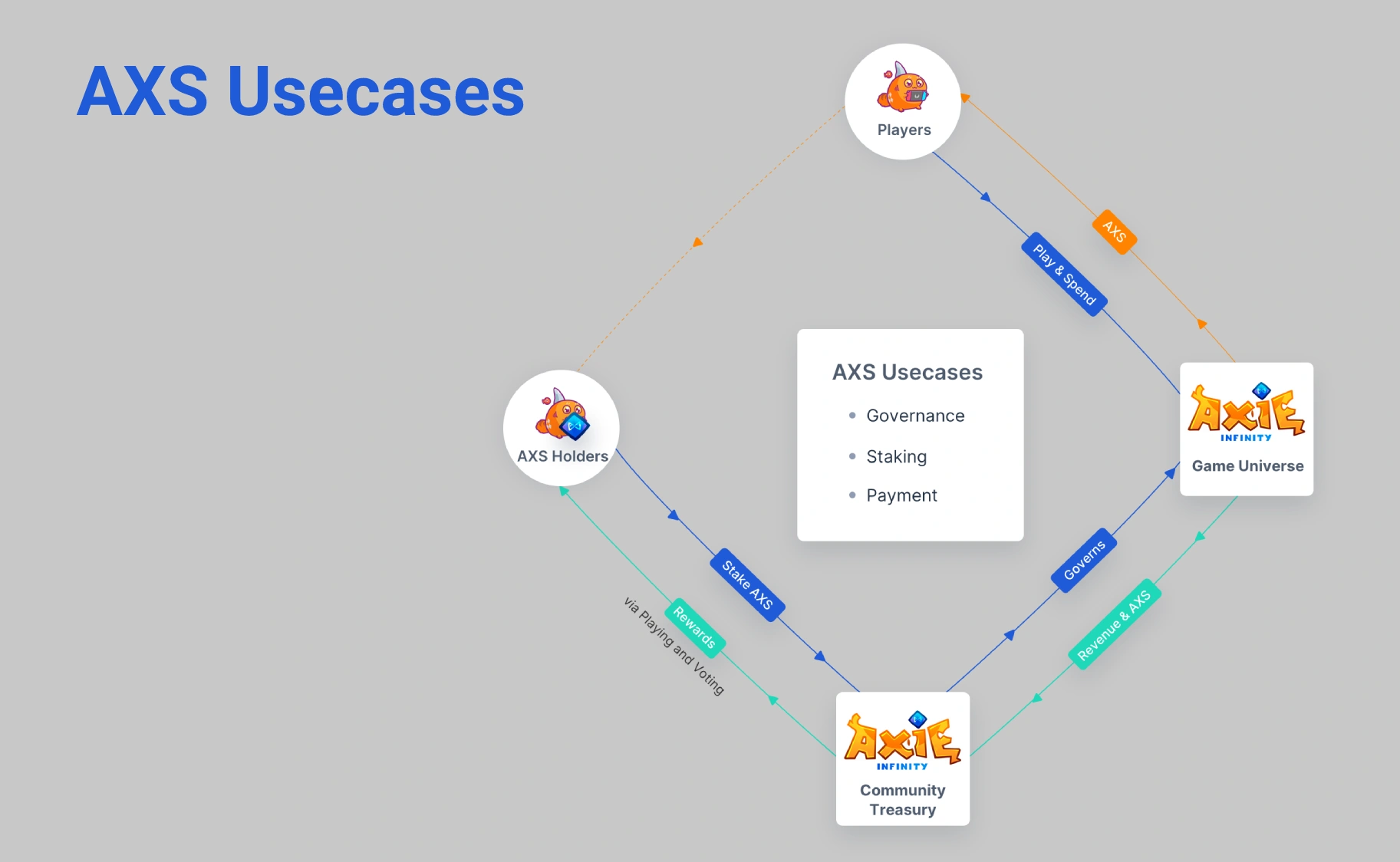 Now let's look into the advantages and disadvantages of buying Axie Infinity:
Pros
You can swap, trade, or buy AXS with other major currencies at low fees on prominent exchanges.
The Axie universe keeps evolving and could get bigger in the future.
AXS is backed by an expert team of developers experienced in crypto and gaming.
AXS is an interesting take on blockchain in NFTs and gaming; this makes them quite popular.
Cons
You may need a specific provider to trade these coins.
Not enough information about the token on relevant regulatory websites.
The future of Axie Infinity Shards is directly intertwined with the game, which can be an issue.
Why You Should Buy Axie Infinity?
The major reason why people are buying Axie Infinity is based on the futuristic and innovative essence of the Axie Infinity Universe. This battle-style game has managed to combine the futuristic aura of NFTs with the thrill of gaming. Partially owned by investors and the Sky Mavis company, the blockchain game promises to unlock the value of NFTs in the gaming world. When you look at Axies stats from the time the first Axie was sold, it's clear that the platform is growing. The native AXS coin will also grow along with the Axie Infinity Universe. Additionally, it'd feel nice to have a cryptocurrency backed by something real in your wallet, especially with the rise of several meme coins over the years.
How to Buy Axie Infinity NFT From Marketplace?
Purchasing an Axie NFT from a marketplace is quick and straightforward. Follow these few simple steps to buy an Axie NFT:
Register with the marketplace you wish to purchase Axie Infinity NFT from and log in to your account. You can also use the official Axie Infinity marketplace.
Browse through different Axies displayed. Each Axie has different attributes.
Select the Axie NFTs you wish to purchase.
You also can choose to bid on a certain Axie if they are in the auction category.
Pay for your chosen NFT by depositing funds in your wallet.
After completing the transaction, check if the Axie NFT you have bought is in your crypto wallet.
Final Thoughts
The convergence of online gaming with the cryptocurrency universe in Axie Infinity marks an interesting shift in the online gaming future and the growing importance of virtual ownership. Axie Infinity has been proven to have better returns than most cryptocurrencies, making it an attractive source of income and investment. The above statement is not to say that the Axie Infinity token will reach the heights of Ether or Bitcoin, but since a popular video game backs these coins, there seems to be a lot of value there. Additionally, the Axie Infinity universe is fast growing. When considering the presence of an NFT component into the Axie Infinity tokens, one must agree that they are much better than the average meme coins.
Despite these potential benefits, there are a few things to consider. First, the NFT space is still new, so much could happen in the long term. Secondly, Axie coins, just like other new coins, need some time to gain traction.
Investment Advice Disclaimer: The information contained on this website is provided to you solely for informational purposes and does not constitute a recommendation by CoinStats to buy, sell, or hold any securities, financial product, or instrument mentioned in the content, nor does it constitute investment advice, financial advice, trading advice, or any other type of advice.
Cryptocurrency is a highly volatile market and sensitive to secondary activity, do your independent research and only invest what you can afford to lose. Performance is unpredictable, and the past performance of Axie Infinity is no guarantee of its future performance.
There are significant risks involved in trading CFDs, stocks, and cryptocurrencies. Between 74-89% of retail investor accounts lose money when trading CFDs. You should consider your own circumstances and obtain your own advice before making any investment. You should also verify the nature of any product or service (including its legal status and relevant regulatory requirements) and consult the relevant regulators' websites before making any decision.