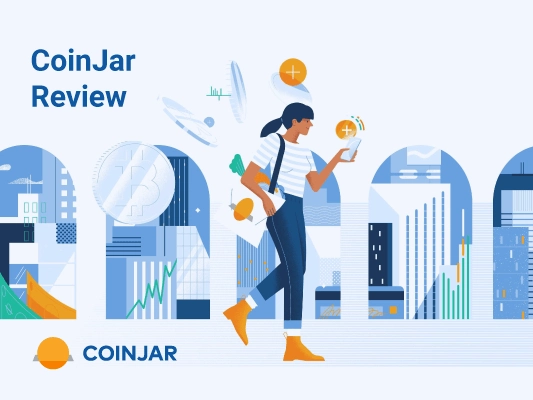 CoinJar Review [The Ultimate Guide 2023]
<! -- End of the Reviewed by section -->
CoinJar Pros
A valuable platform for beginner traders

Offers a crypto wallet, exchange, and swipe

Mobile App for trading on the go

Fully licensed crypto provider in Australia

Competitive fee structure

Reward points
CoinJar Cons
A limited range of cryptocurrencies

High trading fee for instant buy and sell orders

Customer service only works during working hours

Only Australian residents are allowed to withdraw and deposit fiat currencies
Cryptocurrencies have gained significant traction since entering the scene in 2009 with the launch of the Bitcoin network. The asset class is currently valued at a staggering $2 trillion thanks to the institutional and retail investors flooding into the space.
While there are several methods for crypto traders to get exposure to crypto assets with a wide range of custody options available, cryptocurrency exchanges are the most likely way to explore the nascent markets.
CoinJar is an Australian-based cryptocurrency exchange that was established in 2013. It's one of the oldest crypto exchanges that lets trading in digital assets through a beginner-friendly platform. Although initially targeting novices in crypto, the exchange now offers advanced trading features, such as charting software and different order types, to expert cryptocurrency traders. The exchange can be used to buy and sell digital currency on both desktop and mobile devices, and CoinJar users can top up accounts using a credit or debit card or bank transfer. CoinJar's simplicity, efficiency, competitive fees, military-grade security measures, etc., make it one of the best crypto exchanges for Aussie or UK beginners.
Read on to learn everything you need to know about the CoinJar exchange, deposit methods, fees, supported digital currencies, etc.
Let's jump right in!
What Is CoinJar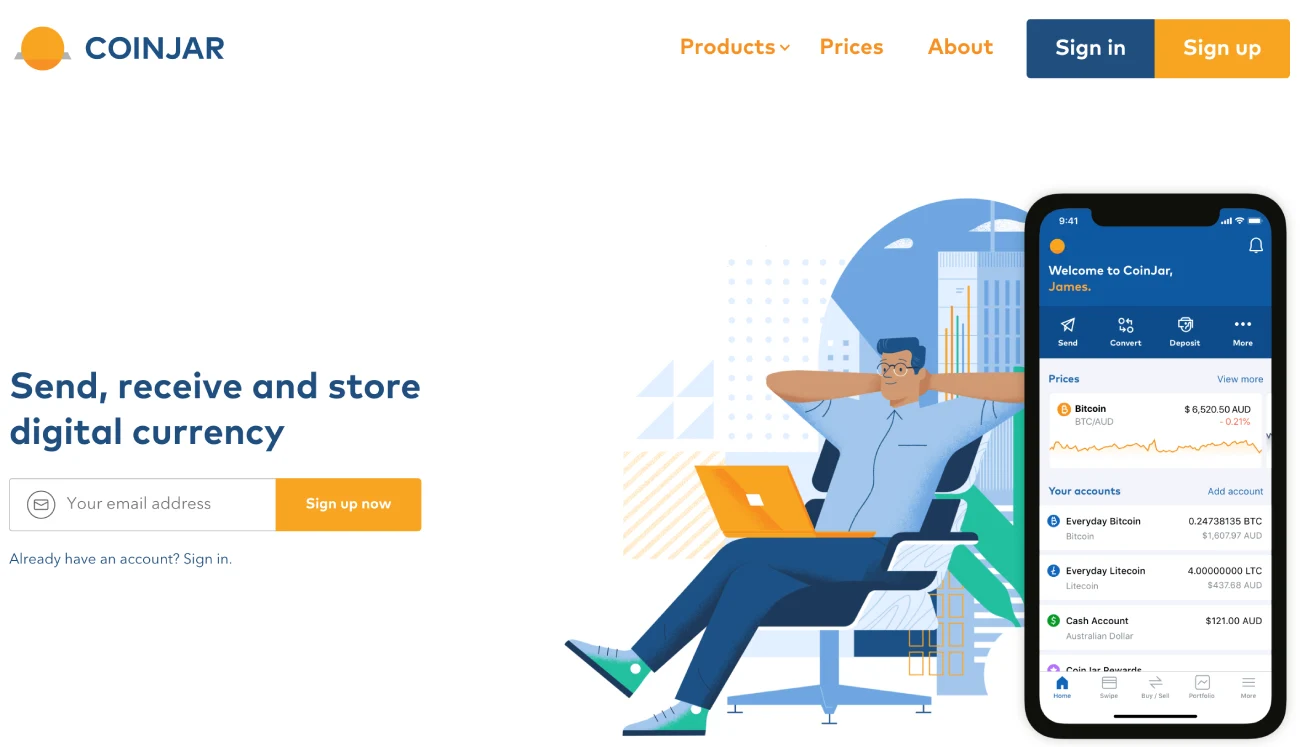 CoinJar is one of the known Australian exchanges owned and run by CoinJar Australia Pty Ltd that mainly focuses on the Australian local crypto market and investors. Launched in 2013 by Asher Tan and Ryan Zhou with backing from reputable VC firms, CoinJar is one of the oldest cryptocurrency exchanges in the world. The cryptocurrency exchange is backed by Blackbird Ventures, Digital Currency Group, and Blackbird Ventures.
Since its launch, CoinJar has garnered over 400,000 registered CoinJar users, with more than $1.5 billion traded in digital currencies.
The exchange offers an easy-to-use interface to buy, sell, store, and spend digital currency and innovative products like the crypto debit card, crypto EFTPOS card, CoinJar Bundles, a secure CoinJar wallet application, etc.
CoinJar Features
Now, let's look into CoinJar's core features to help you get started!
Signing Up
To get started with CoinJar, follow these easy steps:
Go to the CoinJar website and click on the 'Sign Up' button.
Input your name, email address, etc., and select a strong password.
Read the terms and conditions, click on 'Accept,' then 'Sign Up.'
Complete the sign-up process by clicking the verification link sent to your email.
After completing the seamless sign-up process, you'll have to select a CoinJar username and a profile picture and insert your mobile number. However, to enjoy the full offering, users are expected to be ID-verified through an automated process that takes less than 10 minutes. Here's how to get verified to access the wide range of features on the CoinJar platform:
Log in to your digital currency account and click the 'Get Verified Now' button.
Choose between an individual or corporate entity.
Select 'Verify With Digital ID' and upload a state-issued ID document.
Fill in the required details as contained in the ID, confirm the details, and hit the submit button.
Finally, CoinJar requires your selfie to complete your identity verification.
Congratulations! With your account verified, you can now deposit fiat currency, make Visa and Mastercard deposits, buy and sell cryptocurrencies, etc.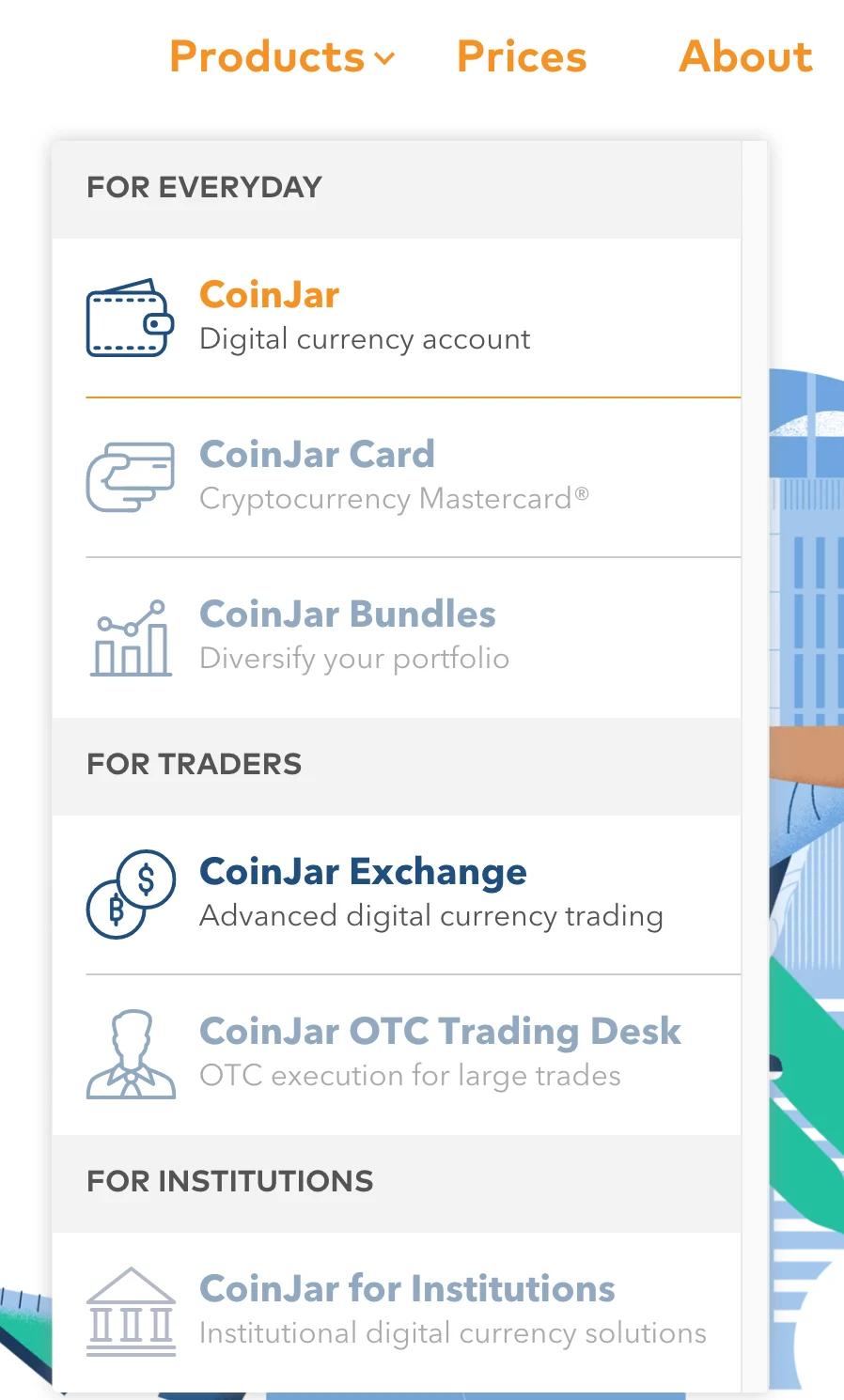 CoinJar Debit Card
The CoinJar card works just like other debit cards, with the only exception that it's a crypto debit card. It's powered by Mastercard, and card owners can pay for goods and services while earning rewards on every spend. For every AUD 1 spent via the CoinJar swipe card, users receive 100 CoinJar reward points that are instantly redeemable and can be used to pay for other expenses.
There are no transaction fees, monthly fees, or activation charges with the CoinJar card. Also, there are no loading fees charged for AUD transactions, EFTPOS purchases, or withdrawals with the CoinJar debit card. The loading fee for crypto coins is levied like regular CoinJar exchange fees.
The CoinJar card can be controlled digitally from your device or operated physically by using it at any outlets where Mastercard is accepted. In-store, online purchases and ATM withdrawals attract a fee of 1%.
OTC Trades
CoinJar allows individuals and business entities to make over-the-counter, off-exchange trades for transactions that exceed AUD 50,000.
CoinJar says its services offer "ultra-competitive rates and liquidity" across cryptocurrencies, including Bitcoin, Ethereum, Ripple, and Litecoin.
Concerned about privacy? CoinJar's OTC offering allows users to fill transactions via private communication channels without compromising security discreetly.
CoinJar Bundles
CoinJar Bundles is a feature that includes a collection of popular digital currencies that you may purchase as a whole in one transaction. It's a unique feature beneficial to crypto traders interested in passive portfolio diversification.
CoinJar offers a collection of bundles, including the largest cryptocurrencies by market cap, stablecoins, ERC-20 tokens, etc. As part of the CoinJar Bundle offering, users have the option to choose between a proportional or a cap-adjusted allocation.
Bundles can be emptied at zero cost at any time, with funds moving back to CoinJar. The Bundles feature allows you to set up a direct debit to automatically send money from your linked bank account at regular intervals into any CoinJar Bundles using the Dollar Cost Averaging method.
CoinJar Exchange
CoinJar offers an advanced cryptocurrency trading platform that provides "high-frequency, low-latency execution for experienced traders." It provides a high degree of control for trading assets, letting users set order prices and take advantage of lower trading fees. A trading API is also provided to allow for accounts management as part of the offering.
Security
CoinJar is one of the most secure cryptocurrency exchanges and implements a range of security measures to keep user funds and personal information safe. Some of the many strategies employed include high-level data encryption, Transport Layer Security, periodic security audits, and best practice organization security. It also uses various advanced machine learning techniques (MLTs) to recognize suspicious logins, financial fraud, and account takeovers. At least 90% of customers' digital currencies are stored offline in geographically-redundant, secure locations.
CoinJar leverages Amazon Web Services as its infrastructure base and uses firewalls to protect internal networks. It's also registered with AUSTRAC (Australian Transaction Reports and Analysis Centre) to combat money laundering and financing of terrorism.
Two-factor authentication works by receiving SMS on your mobile app when CoinJar requires authentication.
Taking this up a notch, all potential staff are scrutinized for any links to criminal activity. All CoinJar employees are required to use cryptographically-secure Multi-Factor Authentication such as hardware U2F keys to access internal services.
CoinJar hasn't suffered any major exploits since its launch in 2013.
Customer Support
CoinJar provides 24/7 customer support to users to resolve issues or any queries they might have in using the platform. The support takes the form of LiveChat, email, and even phone calls. A drawback to the phone call feature is that it's only available to registered users in Australia from Mondays through Fridays between the hours of 9:am till 5:00 pm (Melbourne time).
You can also browse CoinJar's FAQ information covering the basics of using the platform. Additionally, you can search for a keyword on CoinJar's Knowledge Base or submit a Support request.
Deposits
Registered users can use the following payment methods to deposit Australian dollars to their CoinJar wallet:
PayId/NPP: This instant payment method allows users to send funds for free using the PayID payment system from any supported Australian bank account. PayID systems are supported by NPP and Osko® 24/7.
Blueshyft: This is another free payment gateway that allows registered users to buy crypto on the CoinJar platform with cash deposits.
BPAY: Similar to regular bank transfers, BPAY allows you to send funds to your CoinJar from your online banking. It usually takes between 1-3 business days.
Before making deposits, it's essential to ensure that your identity verification has been completed and that the bank account with the funds is in your legal name. The absence of these prerequisites might lead to the return of deposits.
Users can also fund their accounts using cryptocurrencies at zero cost or credit/debit cards. This deposit process time will depend on the crypto coin you are sending but should appear in your account after approximately 15-20 minutes.
Supported Cryptocurrencies
CoinJar supports up to 40 cryptocurrencies, including the top assets by market capitalization, i.e., BTC, ETH, LTC, XRP, XLM, ALGO, and EOS, and a range of ERC-20 tokens.
It also supports stablecoins such as USD Coin, Dai, Tether USD, and TerraUSD. Other supported tokens include Aave, GraphToken, Polygon, Basic Attention Token, and Axie Infinity, amongst others.
Despite the expansive offering, Wrapped BTC is unavailable in CoinJar Bundles, and the platform warns that sending unsupported cryptocurrency to CoinJar risks being permanently lost.
All supported cryptocurrencies can be traded against Bitcoin (BTC), Australian dollars, and British pounds.
CoinJar Fees
CoinJar doesn't charge deposit fees for BPAY, NPP, direct debit deposits, or cryptocurrency deposits. However, deposits made through Instant Buy (Visa and Mastercard) and Blueshyft cash deposits attract deposit fees of 2% and 1.5%, respectively.
In terms of CoinJar withdrawal fees, a digital currency account to BPAY Biller has a 0.5% fee. CoinJar charges zero fees to withdraw AUD from your account to your Australian bank account. There is a dynamic fee structure for sending Bitcoin (BTC), Ethereum (ETH), and other cryptocurrencies. The dynamic fee is automatically calculated when the transaction is initiated and takes into account the blockchain congestion level.
There is a 1% conversion fee between digital currency accounts or between digital currency accounts and cash accounts. Cryptocurrencies like LTC, XRP, XLM, ALGO, and EOS don't incur any transaction fees.
Sending cryptocurrencies between CoinJar accounts doesn't require any fees if sent using CoinJar usernames. It's important to note that if you have accumulated CoinJar Points, you can use them to pay the associated fees.
Linking CoinJar Account to CoinStats
Here's how to link your CoinJar account to CoinStats to manage all your cryptocurrency and DeFi portfolios from one place:
Log into your CoinJar account.
Select the API keys from the dropdown menu at the top right.
Click 'Create New Key' and select Read-only as permission.
After creating the key, copy and paste it into the token section to complete the process.
Now you can track all your assets in one dashboard. CoinStats is a well-rounded crypto portfolio tracker platform with military-grade encryption that allows you to manage your digital assets in one place easily. You only need to enable an API to show all the coins and exchanges on the app's interface.
Currently, you can access CoinStats through desktop, tablets, mobile – android, and iOS, and there is also a version for the Apple watch.
Closing Thoughts
The Coinjar wallet, with all the offered features, seems to be well suited to Australian beginner traders. The fees for crypto-to-crypto trading are below the global industry average and provide Coinjar with a significant competitive edge. Fiat-crypto trading is allowed on the platform, making CoinJar an entry-level exchange.
Another advantage is that you can be rewarded with CoinJar Reward Points, which can be redeemed for exclusive discounts, gift cards, a fee-free currency exchange, etc., in the CoinJar Rewards Store.
Nevertheless, for a trader outside Australia, some features are still missing. According to the information on the exchange, CoinJar has traded over $1.5 billion in volume, but this figure pales in comparison to the metrics of other cryptocurrency exchanges. The figure suggests that the exchange's liquidity is not as robust as its rivals', with billions of dollars in daily trading volumes. The absence of liquidity might result from the exchange's regional outlook, being heavily focused on the Australian markets.
Also, with only a limited number of supported cryptocurrencies on the platform, users don't have access to popular cryptocurrencies like Dogecoin and Shiba Inu.
If you are researching other crypto exchanges and looking for CoinJar alternatives, you should consider several Australian exchanges with similar features.