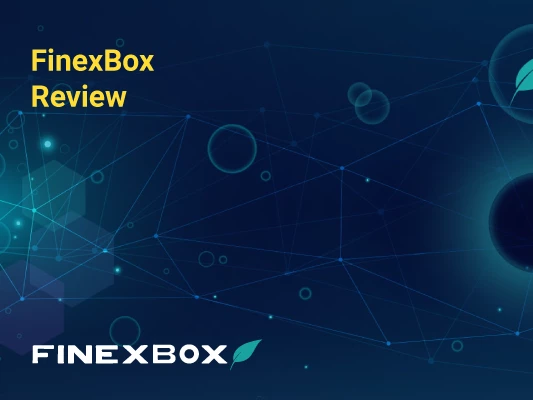 FinexBox Review [The Ultimate Guide 2023]
<! -- End of the Reviewed by section -->
FinexBox Pros
A large number of cryptocurrencies and trading pairs

Global reach in several jurisdictions

A thriving peer-to-peer platform
FinexBox Cons
Credit card deposits are not allowed

Poor user interface

Low transaction volumes.
Decentralized Finance (DeFi) is one of the biggest trends in the blockchain industry, and the global crypto market cap soared to an all-time high, reaching a market cap of $3 trillion. Choosing the exchange to suit your investment needs among a staggering number of cryptocurrency exchanges out there might not seem easy.
This CoinStats FinexBox review will reveal everything you need to know about the FinexBox exchange, its features, services, trading fees, etc., to help you decide if it's a suitable exchange for you.
Curious to know how FinexBox stands out from the crowd? Let's jump right into the review.
What Is FinexBox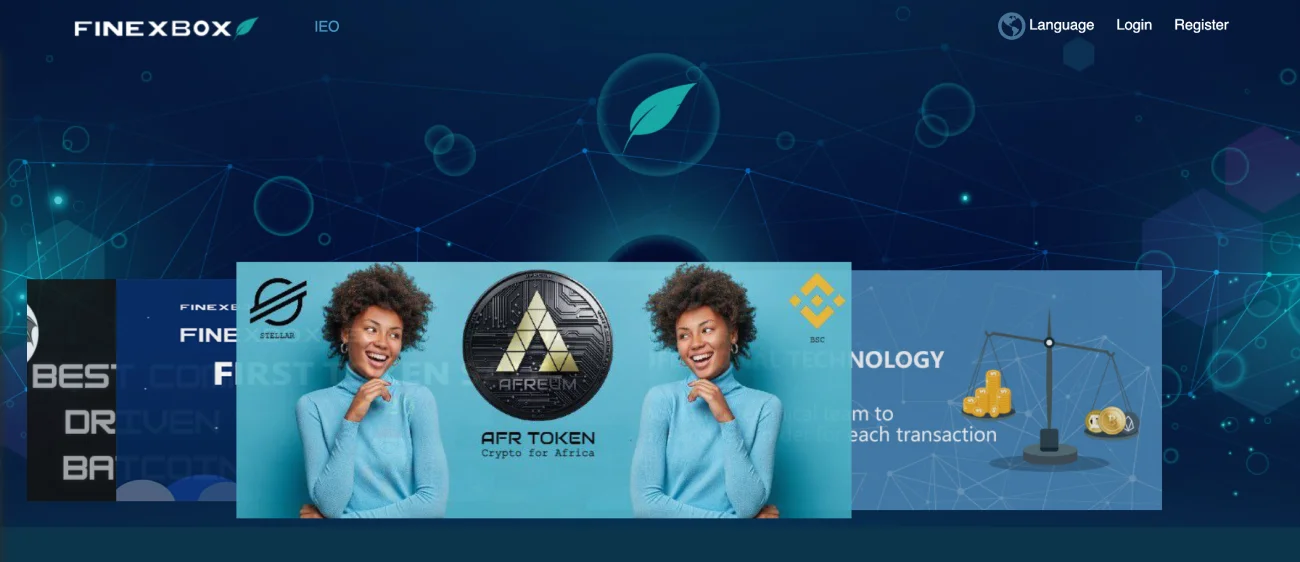 FinebBox describes itself as a full-featured spot trading platform for major digital assets and cryptocurrencies like Bitcoin (BTC), Ethereum (ETH), Litecoin (LTC), Ripple (XRP), EOS, Monero, and many more. The platform offers leveraged margin trading, letting users securely trade with up to 3.3x leverage.
FinexBox was founded in 2018 and registered in the Republic of Seychelles, with its global headquarters situated in Hong Kong. The company owning the exchange is Genesis Blockchain Global Ltd. The exchange was co-founded by Dennis Smith and Lun Bao, with a track record in finance and high-frequency algorithmic trading. Dennis Smith, a graduate of the Wharton Business School, is the exchange's Chief Executive Officer, while Lun Bao, a software engineer with over 20 years of experience in the field, is the Chief Technology Officer.
In 2017, the team received an angel investment funding of $8 million, and the initial 32-man team grew FinexBox into an exchange with an international reach. FinexBox has over 500,000 active users and a 7-day trading volume exceeding $700 million.
FinexBox Features
Let's look into the features of the FinexBox trading platform below.
Easy Signing up Process
Signing up on FinexBox is fast and seamless. Users are only required to input their email addresses and create a password. FinexBox doesn't require users to input their names or other personal information like addresses, phone numbers, or government-issued passports. This makes it an ideal platform for users concerned about their privacy. After creating the account, users are directed to verify their accounts on the platform by clicking on a link sent to their email. The entire process takes less than a minute to complete. Once signed up, users can access the platform's full features without restrictions.
Wide Pool of Cryptocurrencies
FinexBox supports over 200 cryptocurrencies, including major digital assets such as Bitcoin Cash (BCH), Bitcoin (BTC), Ethereum (ETH), Polygon (MATIC), TRON (TRX), Ethereum Classic (ETC), Monero (XRM), etc.
Altcoins available on FinexBox include Dash (DASH), Fetch.ai (FET), Skycoin (SKY), Ravencoin (RVN), etc. The trading platform also supports rare and exotic cryptocurrencies that are not available on other platforms like Smile (SMILE), Nexalt (XLT), Zclassic (ZCL), etc. The exchange's Twitter account suggests that new cryptocurrencies are being added to the platform regularly.
The platform offers over 241 trading pairs, including ETH/BTC, LTC/BTC, NEO/BTC, DASH/BTC, FNB/BTC, ZEH, and BTC, BCH/BTC, etc. USDT pairings include, OMC/USDT, ARV/USDT, ECO/USDT, PUML/USDT. Other pairings include REW/ETH, DXF/ETH, ZUR/ETH, FREE/DOGE, USDU/EURU, USDU/GPB, etc.
The ETH/BTC pair is the largest on the platform, with 42.0% of the trading volume, while ZEC/BTC comes at a close second, with 21.3%, according to information from Coinlore. BTC is the undisputed leader with 48.3% trading volume, while ETH comes second with 21.0%. ZEC|and LTC take third and fourth with a share of 10.5% and 8.6%, respectively.
Vote List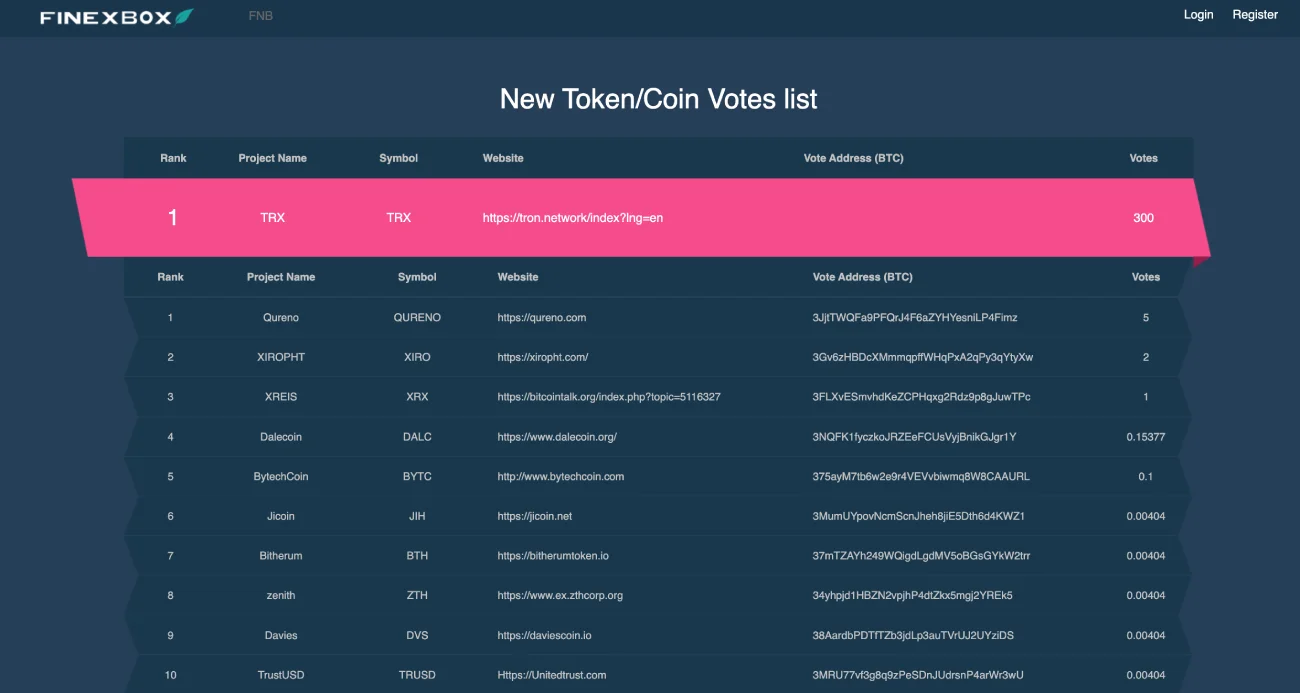 A vote list is one of the ingenious features of FinexBox. It allows the community to vote on new coins that users want to be listed. FinexBox notes that the coin with the highest votes will be listed through an automatic listing every Friday.
The manner of voting is done by sending Bitcoin to the voting address. According to information on the website, 1 vote = 0.001 BTC, and a minimum of 300 votes are required before a token can be put up for consideration.
Furthermore, FinexBox exchange makes provision for users to list immediately by contacting customer service rather than listing by vote.
Security
FinexBox uses a combination of cold and hard wallets to store users' assets. The cold wallets are stored in a secure, undisclosed location with round-the-clock security and routine checks as an added layer of protection. No major security breaches have been registered on the trading platform.
Users can activate two-factor authentication (2FA) to add an extra layer of security to their account and get notified of any scam alert. Moreover, users cannot withdraw funds unless 2FA is enabled on the platform. The steps for activating 2FA are listed below:
Download the Google Authenticator app from the Apple Store or the PlayStore.
Scan a QR code on your devices to generate a new code.
Here's a step-by-step guide to manually activating 2FA on the FinexBox trading platform:
Access your private key under your profile and keep it in a secure, private place.
Enter the key to confirm your identity with a mailbox verification.
Enter the six-digit code sent to your email onto the platform.
User Interface
The FinexBox user interface (UI) may seem complicated to new users who might need more time to get the hang of it; however, experienced users won't have any difficulties navigating through the platform.
The symbols of digital assets are on the right, and the total value and available balance are displayed on the left for easy access. There is a drop-down menu for traders to access information on their balances and a button for order management that reveals information on the order ID, currency pair, order amount, and price.
Users can see their trading history from the dropdown menu and invite friends to use the platform in exchange for bonuses. You can also customize the interface.
Charting Features
FinexBox offers advanced charting features, letting users visualize orders, positions, price alerts, and set up data preferences. The charts are intuitive and can be customized according to users' preferences. FinexBox has integrations from TradingView charts, the industry leaders that allow traders to draw and download their charts and other features.
Margin Trading
FinexBox offers leverage trading with up to 3.3x leverage by providing traders access to the P2P funding market. FinexBox also offers Margin Funding to investors and traders who would like to trade with leverage; however, Margin Funding is exchanged on a different order book with various periods and rates. Users can easily exchange Bitcoin, Ethereum, and EOS with minimal slippage.
FinexBox Fees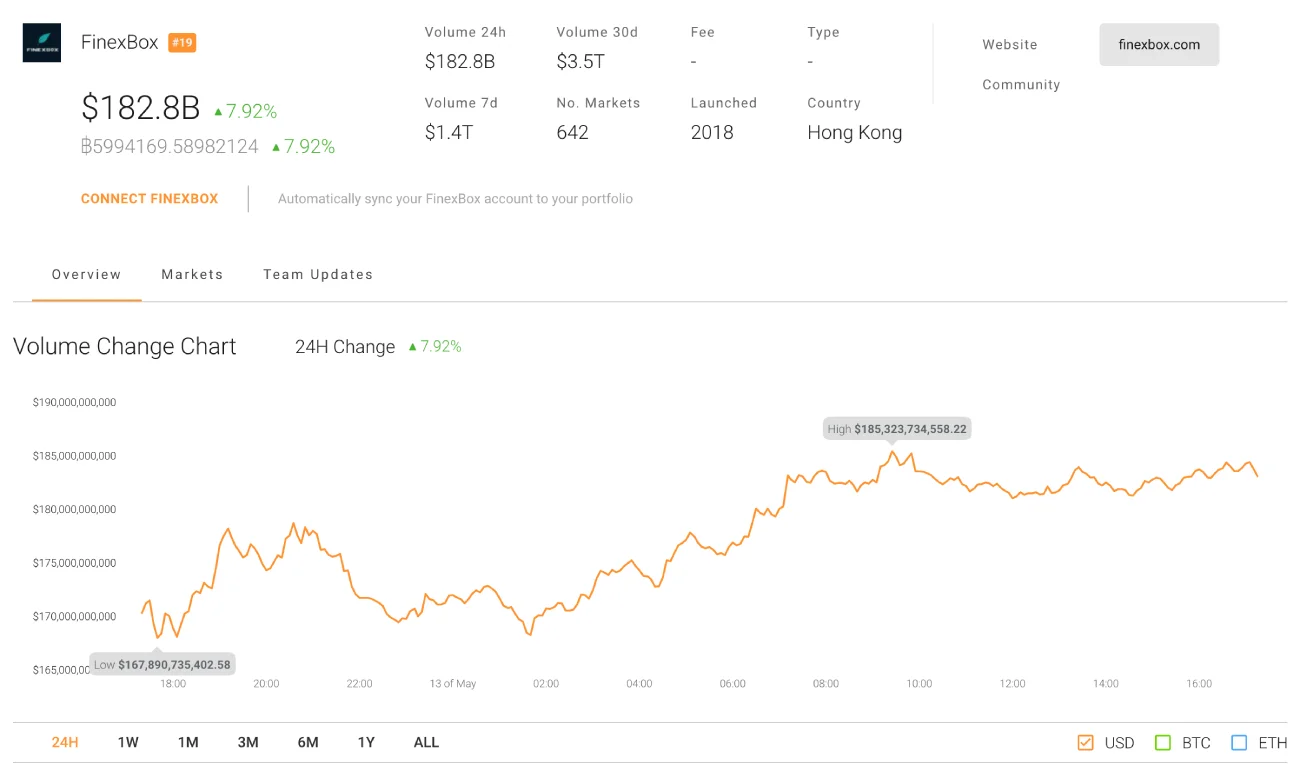 Fees are a major deal-breaker for traders when it comes to selecting exchanges. FinexBox uses a flat fee model with no distinction between makers and takers. The flat fee is pegged at 0.10%, which is below the industry standard of 0.25%.
FinexBox deposits are free, but it has a high withdrawal fee. A withdrawal fee of 0.002 BTC is charged on every BTC withdrawal, which is way above the industry's average of 0.0006 BTC charged on every BTC withdrawal.
Deposits
Depositing funds on FinexBox is a straightforward process described below:
Create an account and verify the account via email.
Select one of the available cryptocurrencies and copy the wallet deposit address on FinexBox.
Alternatively, you can scan the QR code to obtain the wallet deposit address on the platform.
Remember not to use the deposit address as a mining address.
According to FinexBox, the deposit will be updated after 100 confirmations and about 200 minutes. The exchange assures traders that all deposits will be reflected within a maximum window of 24 hours.
For some cryptocurrencies like ETH, there is a minimum deposit requirement of 0.02 ETH. Any deposit of less than 0.02 ETH will automatically be forfeited and lost with no hopes of recovery.
Customer Support
FineBox's website states that it offers 24/7 customer support. A closer look into the crypto exchange reveals that the platform doesn't offer call support, and most queries are resolved via email. There is also a Telegram support center.
Users with deposit problems are advised to email support[@]finexbox.com. However, FinexBox reviews rate its customer support as below-average.
Grow your crypto with CoinStats Premium
Explore CoinStats without limitations and you'll never want to go back.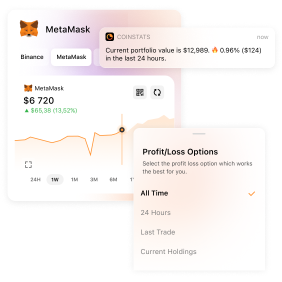 Integration With CoinStats
Finexbox's API makes it easy to integrate the exchange with CoinStats, a platform that allows traders to monitor all of their cryptocurrency tradings from one dashboard. Linking FinexBox with CoinStats is a straightforward process described below:
Log into your FinexBox account and scroll the exchange's API documentation.
Copy the API key.
Go to the CoinStats Portfolio tab and select "Connect Exchange."
Choose FinexBox and paste the API key in the provided section.
You can now monitor and securely trade all your cryptocurrencies and DeFi holdings from one platform. Additionally, users can trade from multiple accounts/wallets on the most popular exchanges and earn up to 20% APY on their crypto investments from one convenient dashboard.
The CoinStats secure portfolio tracker app has over 1.5 million active users worldwide. The platform is used for managing $500+ billion worth of crypto and has handled over 500 million transactions and trades so far. Users can keep track of 20,000+ coins and get 24/7 live reports on the crypto market via the CoinStats app.
FinexBox Downsides
Despite the innovations implemented by FinexBox, there are still some issues to be addressed. Among FinexBox downsides are the deposit methods accepted on the platform. The platform doesn't accept deposits through credit cards, PayPal, or Stripe. The primary deposit method on the exchange is cryptocurrencies, and the minimum deposit requirements appear to be a problem.
Another downside of the crypto exchange is the absence of comprehensive customer support on the platform. Many users complained about not being able to withdraw. Some users stated that withdrawals arrive, but they take more than 1-2 days, not 24 hours, as mentioned on the FinexBox website. Some users say the cost to withdraw BTC is very high. Despite the high withdrawal fee, FinexBox has a high trading rate, which may be due to the leverage trading that attracts customers.
Conclusion
Finexbox offers a wide range of trading pairs, high liquidity, leverage trading with up to 3.3x leverage, a suite of order types, advanced charting features, a customizable user interface, and a straightforward registration process.
So there you have it! The ultimate FinexBox review for 2023 to help users decide whether or not to trade on the exchange.
You should do your independent research, consider your circumstances, and obtain your advice before making any investment. You should also verify the nature of any product or service (including its legal status and relevant regulatory requirements) and consult the relevant regulators' websites before making any decision.