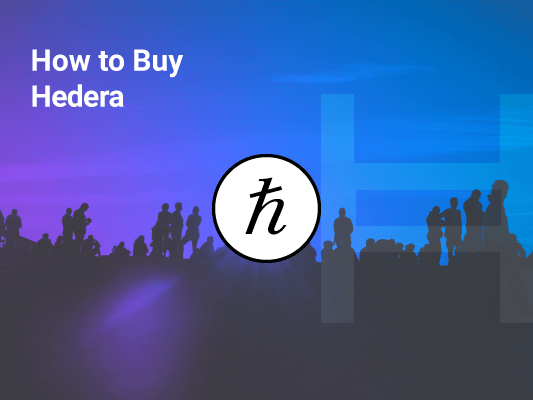 How to Buy Hedera (HBAR) | Where, How, and Why
<! -- End of the Reviewed by section -->
Hedera Hashgraph is a decentralized distributed network designed to support new and existing applications. Hedera is the only public ledger that utilizes hashgraph consensus, a faster, secure alternative to proof-of-work consensus mechanisms used by Bitcoin or Ethereum.
HBAR is the native cryptocurrency of the Hedera network.
Read on to learn everything you need to know about the Hedera network and learn how, why, and where to purchase Hedera Hashgraph in a few simple steps.
Let's jump right in!
Hedera Hashgraph
Hedera Hashgraph is a decentralized public network designed for fast, fair, and secure applications. Hedera is the only public ledger that utilizes hashgraph consensus, a more secure and faster alternative to Proof-of-Work consensus mechanisms. It efficiently and securely verifies transactions on the Hedera network preventing malicious attacks.Thanks to these distinctive utilities and features, many believe that the Hedera coin has a bright future ahead of itself. Various sites such as CryptoPredictions.com provide Hedera predictions and expect HBAR to increase by roughly 40% before the end of this year.
The Hedera network seeks to serve as a platform on which anyone can transact or deploy applications, but where a group of businesses supervises the software. Hedera Hashgraph differentiates itself from other platforms by making significant design trade-offs. For example, the Hedera network ensures high transaction speed for its cryptocurrency, Hedera Hashgraph HBAR, but it only allows approved nodes to participate in determining transaction history. Hedera Hashgraph can quickly achieve finality and reduce the likely changes to the state of transactions by limiting the number of nodes involved in essential functions, like transaction ordering and time-stamping.
Hedera Hashgraph is based on Distributed Ledger technology similar to blockchain. It functions on a graph-like structure, where nodes communicate their information to each other. This communication is disclosed by building a graph of connections.
All the data or information is stored in events. Hedera Hashgraph relies on the 'Virtual Voting' and 'Gossip about Gossip' mechanism to achieve consensus on the network.
Gossip About Gossip
Gossip is a sync or transfer of information from one node to another random node to ensure that data is communicated effectively and evenly throughout a group. All transactions across the Hedera network are immutable, transparent, and can be viewable on the public ledger. The Gossip protocol provides a history of the information that is broadcast across a network and displays how the network reaches consensus.
Virtual Voting
The Gossip about Gossip mechanism makes each node aware of what another node knows and lets each node predict what another node would vote. This results in virtual or electronic voting. The virtual Voting Algorithm doesn't permit voting messages to be sent across the network. Even without voting, each node has information about what another node would have voted for.
How Hedera Hashgraph Works
Hedera Hashgraph's unique feature is its data structure for grouping transactions called a hashgraph. The hashgraph claims to process more transactions cheaper than most blockchains. The hashgraph was initially designed for private use and is a patented algorithm where every node constantly communicates its information with others. The Hedera Hashgraph is the first reiteration of the algorithm used in a public network.
Hedera Consensus Service
Hedera Hashgraph uses the Hashgraph Consensus Service (HCS) to guarantee that all computers in its distributed network agree on its transaction history. Two types of nodes power this mechanism. Consensus nodes determine transaction ordering and history, while mirror nodes relay this information to other stakeholders throughout the network.
Hedera ensures that the transactions won't be undone later by using a limited number of nodes to determine its history. This method differs from how most conventional blockchains achieve consensus, in which the blockchain's state is determined by users who suggest blocks to be added to the chain in a market competition open to anybody. As a result, Hedera Hashgraph claims to offer features that combine the advantages of both private and public blockchain networks.
HCS allows clients to send messages to the Hedera network for consensus ordering and time-stamping, but the consensus nodes don't store the state related to those messages. Instead, application data or state is maintained off-chain, and users of HCS can define the level of access control and confidentiality that aligns with their use cases.
The Hedera Consensus Service allows developers to create verifiable time-stamps and order events for any application. HCS is useful for applications that need transaction ordering without intermediaries, high output with conclusiveness in ordering, real-time auditability, and privacy controls specific to the application.
Hedera Token Service (HTS)
In addition to the Hedera Consensus Service, Hedera Hashgraph also offers Hedera Hashgraph's Token Service. HTS enables the issuance of native, multi-signature tokens with scalable performance, native compliance features, native token swap capabilities, and predictable costs.
Hedera Token Service-issued tokens operate in the same manner as HBAR in terms of performance, security, and efficiency. Compliance requirements like KYC verification and freezing, token supply management, along with native atomic swaps, and multi-sig capabilities are met.
While the Hedera consensus algorithm is not open source, it is "open review," meaning anyone can verify there are no backdoors in the code. Furthermore, the Hedera Hashgraph application development layer is open, meaning no license is required to run an application on the Hedera public ledger.
Hedera History
Hedera Hashgraph is a new consensus protocol that aims at processing transactions faster than existing networks. Hedera features the two core HTS and HCS services on top of its consensus algorithm hashgraph, Proof-of-Stake for consensus weighting, a cryptocurrency, and a rewards and fee model.
Hedera Hashgraph intends to be a platform that can support tokenization, data integrity, and micropayments. The network also supports a virtual machine that compiles smart contracts written in Solidity, similar to the Ethereum Virtual Machine. Hedera intends to comply across jurisdictions by offering native support for optional AML and KYC checks through its "Verified Identity" mechanism.
Hedera Hashgraph Vision
Hedera Hashgraph launched in a permissioned model with the nodes being run by only the governing members. Eventually, as the distribution of HBAR the network's native token improves, the node membership will evolve from permissioned to fully permissionless, where any network participant can be an operator of a Hedera consensus node.
Hedera Hashgraph Developers
Mance Harmon, a technology executive, and Leemon Baird, a computer scientist, created Hedera Hashgraph. In 2015, Harmon and Baird formed a company called Swirlds together. Swirlds spun out an entity called Hedera, which was later renamed Hedera Hashgraph to develop and govern a live network, Hedera, using its technology. Swirlds owned the intellectual property rights of the consensus algorithm and was an equivalent weight governing member. However, the Hedera Governing Council has recently voted to purchase the intellectual property rights to the hashgraph consensus algorithm from Swirlds, Inc.
Through a simple agreement for future tokens offering (SAFT), Hedera Hashgraph has raised $124 million from sales of its HBAR cryptocurrency since 2018.
Although it was launched as a private network, Hedera Hashgraph plans to slowly allow more entities to join the network until it's eventually made public. Investors can buy Hedera Hashgraph with a credit or debit card or bank transfer on a crypto exchange.
Hedera Hashgraph's Governance
The Hedera Governing Council governs Hedera Hashgraph and is in charge of running and managing the consensus nodes that determine transaction ordering. The Council comprises a total of 39 term-limited global enterprises across multiple industries, including Boeing, IBM, and Google. The Council's role is to vote on changes, manage the software, protect the network's legal status in different jurisdictions, and ensure that funds are distributed correctly. Note that Council membership terms are limited. A member can only have up to two consecutive three-year maximum terms. During this time, all members have equal voting power on decisions about the platform and network. The Governing Council also elects subcommittees with traditional corporate functions to manage the marketing, finance, and legal departments.
Council members are rewarded for their governance and security contributions. While today, Governing Council members run the mainnet nodes, the Hedera team intends to open up to anyone who wishes to operate nodes in the future.
Hedera Hashgraph HBAR
The Hedera Hashgraph platform uses a utility token called HBAR to power the network and grant token holders access to the distributed applications running on Hedera. Users need to buy Hedera Hashgraph HBAR to develop applications and perform transactions. HBAR enables low network fees and micropayments. Additionally, Hedera Hashgraph users earn rewards in the form of HBAR for their contributions to the network.
Investors should note that the fixed supply of HBAR tokens is 59 billion, all of which was issued during the network launch in 2018. The HBAR token has an extensive range of use cases, including Influencer Activity Monetization and Digital Content Monetization. Tokens can be allocated through "proxy staking," a process in which an HBAR holder can lock their crypto in smart contracts and allocate the funds to one of the network's approved nodes. Users who stake their HBAR tokens can earn a portion of the fees and rewards received from processing transactions on the Hedera Hashgraph network. The HBAR token is used to pay transaction fees on the network. Crypto exchanges make it easy to buy HBAR and other cryptocurrencies in a few simple steps.
Cryptocurrency Exchange
A cryptocurrency exchange is a virtual marketplace where you can sell, buy and trade HBAR and other cryptocurrencies. A crypto account lets you place different order types to sell, buy, or speculate in the crypto world. Some exchanges support advanced trading features and services like margin or futures trading, crypto loans, and crypto staking that let you earn interest on your crypto holdings. Cryptocurrency exchanges can be centralized and decentralized, and each has several advantages and disadvantages.
How to Buy Hedera Hashgraph
You can buy Hedera hashgraph HBAR using the same method as any other cryptocurrency. Follow our step-by-step guide below to buy HBAR:
Step #1: Choose an Exchange and Open an Account
Several cryptocurrency exchanges support HBAR. You'll have to compare them to choose the one that has the features you want, such as low transaction fees, an easy-to-use platform, and 24-hour customer support. Also, consider if the cryptocurrency exchange allows buying HBAR with your preferred payment methods, such as a credit or debit card, another cryptocurrency, or a bank transfer. Personal information such as your name, contact number, email address, home address, social security number, and a copy of your driver's license, passport, or government-issued ID will be required by most exchanges.
For example, you can buy HBAR on Binance, one of the largest cryptocurrency exchanges in trading volume globally, and secure users' funds through its Secure Asset Fund. Binance supports various trading options and cryptocurrencies, including trading CFDs. You have to register a Binance account to buy HBAR. Account creation on Binance is straightforward; you can set up an account by clicking the register button on its web page, inputting your email address, and choosing a password.
Binance automatically checks your IP address, so you may have to use an alternative like Binance.us if you're in the US. It's worth noting that the Security and Exchange Commission is reportedly investigating Binance US, Binance's subsidiary.
Increased liquidity and lower gas fees compared to other exchanges are some of the benefits of purchasing Hedera Hashgraph on Binance.
Step #2: Fund Your Account
Once your account has been verified, you can proceed to deposit funds for buying Hedera Hashgraph. You can use several deposit methods, i.e., a bank transfer or a credit or debit card. If you already have supported crypto in another crypto wallet, you can instantly send it to your new Binance wallet to buy HBAR. The payment method you use to buy HBAR coins will be determined by the platform, location, and preferences.
Step #3: Purchase a Wallet (Optional)
We highly recommend creating a private wallet with your own set of keys for securely storing your cryptocurrency. Depending on your investing preferences, you might choose between the two types of cryptocurrency wallets – software and hardware wallets.
A hardware wallet is a device that stores the private keys you need to receive or send crypto. Hardware wallets are usually considered the safest way to store your cryptocurrencies as they offer offline storage, thereby significantly reducing the risks of a hack. They are secured by a pin and will erase all information after many failed attempts, preventing physical theft. Hardware wallets also let you sign and confirm transactions on the blockchain, giving you an extra layer of protection against cyber attacks.
Ledger wallet is arguably the most secure hardware wallet letting you securely manage your HBAR tokens.
On the other hand, a software wallet is the most easy-to-set-up crypto wallet that lets you interact with several decentralized finance (DeFi) applications quite easily. However, these wallets are vulnerable to security leaks because they're hosted online.
Step #4: Buy Hedera Hashgraph
After you fund your Binance account, you can convert your fiat currency into HBAR in the trading drop-down menu's convert section. On the convert page, select the currency you want to convert from the list of supported fiat currencies and set HBAR as the cryptocurrency you are converting into. Input the conversion amount and make your cryptocurrency purchase; it will appear in your wallet within seconds.
You can also trade bitcoin (BTC), Binance coin (BNB), or Tether (USDT) for HBAR. An exchange platform like Binance allows you to discover the best Hedera trading pairs.
Conclusion
Hedera Hashgraph offers many of the benefits of blockchain technology without its inherent scaling issues. Hedera Hashgraph network doesn't have scaling issues, and there is no mining to consume large amounts of electricity. Hashgraph transactions are more secure, fast, and inexpensive than their equivalents on blockchains. Big companies like Boeing, Google, and IBM serve on the governing Council of Hedera, which is a great sign for investors.
You can check the current Hedera price and other metrics on CoinStats, one of the best crypto platforms around. Also, make sure to visit our CoinStats blog to learn more about wallets, cryptocurrency exchanges, portfolio trackers, tokens, etc., and explore our in-depth buying guides on how to buy various cryptocurrencies, such as How to Buy Osmosis, What Is DeFi, How to Buy Cryptocurrency, etc.
Investment Advice Disclaimer: The information contained on this website is provided to you solely for informational purposes and does not constitute a recommendation by CoinStats to buy, sell, or hold any securities, financial product, or instrument mentioned in the content, nor does it constitute investment advice, financial advice, trading advice, or any other type of advice.
Cryptocurrency is a highly volatile market and sensitive to secondary activity, do your independent research, obtain your own advice, and only invest what you can afford to lose. There are significant risks involved in trading CFDs, stocks, and cryptocurrencies. Between 74-89% of retail investor accounts lose money when trading CFDs. You should consider your circumstances and obtain your advice before making any investment. You should also verify the nature of any product or service (including its legal status and relevant regulatory requirements) and consult the relevant regulators' websites before making any decision.