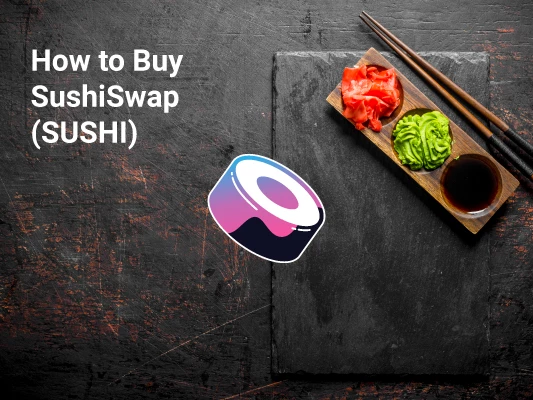 How to Buy SushiSwap [The Ultimate Guide 2023]
<! -- End of the Reviewed by section -->
Cryptocurrency trading, blockchain technology, and related ventures and projects have the potential to overtake the traditional finance world and question the very existence of traditional financial infrastructure. While cryptocurrencies are a relatively recent invention, they have plenty to offer – from prospects of hefty returns to permissionless, decentralized, and borderless around-the-clock trading on a secure, transparent infrastructure and more.
While the current financial system works on a centralized platform, controlled by government agencies and other intermediaries, decentralized finance (DeFi) operates according to a protocol that runs on a decentralized network powered by blockchain. The power of DeFi to transform the financial world is immense, and to learn more about it, visit our article on What is DeFi.
Decentralized exchanges (DEXs) are a key component of the existing DeFi environment, and it won't even be exaggerating to say that there won't be DeFi without the existence of decentralized crypto exchanges such as Uniswap, SushiSwap, etc.
In this article, you will learn everything there is to know about the famous Ethereum-based DEX and automated market maker (AMM) SushiSwap, its native SUSHI token, and where, why, and how to buy SUSHI.
Let's get started!
What Is SushiSwap
Before purchasing SushiSwap tokens, let's take a closer look at the SushiSwap trading platform.
SushiSwap is a popular Ethereum-based decentralized exchange (DEX) and an automated market maker (AMM) that allows users to swap tokens, lend, borrow, earn rewards via yield farming, etc. It's a fork of Uniswap, with variations and additional features, the most notable of which is the SUSHI token.
Trades on SushiSwap aren't controlled or managed by any central authority. Instead, the system automatically sets the real-time prices of crypto pairs using mathematical formulas, and smart contracts settle the trades.
SushiSwap uses liquidity pools, where users lend or stake their crypto to gain interest, to solve the liquidity problem faced by many centralized exchanges.
The SushiSwap exchange supports over a hundred altcoins, 480+ crypto swapping pairs, enjoys over $100 million daily trading volume, and has a whopping $5.1 billion in TVL (Total Value Locked).
Sushiswap History
SushiSwap is a fork of Uniswap, based on AMM, ensuring that assets are priced using a trading algorithm.
Both founders of SushiSwap — Chef Nomi and 0xMaki, continue to stay anonymous to this day. Chef Nomi was the core developer who created SushiSwap by performing a hard fork on Uniswap's open-source code in August 2020.
SushiSwap faced several problems at its launch. The team applied a "vampire mining" scheme using the Uniswap liquidity provider tokens (LP tokens) issued to users who provide liquidity to the Uniswap pools. SushiSwap rewarded their native SUSHI tokens to the liquidity providers on Uniswap for staking their LP tokens on the SushiSwap protocol instead. After a couple of weeks, the staked tokens were migrated to the SushiSwap native pools, and the LP tokens were then exchanged for the original assets put into the Uniswap liquidity pools, thereby creating liquidity for SushiSwap. Soon, SushiSwap had attracted almost 90% of all the liquidity on Uniswap.
Moreover, Chef Nomi withdrew USD 14 million worth of ETH from SushiSwap's developers' funds. Many users compared it to a rug pull and increased pressure on Chef Nomi. Soon, Chef Nomi announced that they had returned the entire USD 14 million and resigned from SushiSwap.
The control was handed over to Sam Bankman-Fried, the CEO of Alameda Research and crypto derivatives exchange FTX. He oversaw that the vampire mining procedure was completed and transferred the control of the exchange to several trusted SushiSwap community members.
Since then, the exchange has remained mostly controversy-free and has gained a considerable market space in the decentralized finance world.
SushiSwap has more advanced DeFi functions than UniSwap; most importantly, its SUSHI tokens are listed on many prominent centralized exchanges like Binance, Coinbase, etc.
How Does SushiSwap Work
Like Uniswap, SushiSwap uses an Automated Market Maker (AMM) system, a self-executing computer program to define the price of digital assets and provide liquidity.
SushiSwap is equipped with many liquidity pools for different altcoins they support. Each pool consists of two crypto assets, and users can stake one or both assets in the pool to receive rewards in the form of interests and trading fees generated. Anyone can add liquidity to SushiSwap's pools by connecting their Ethereum wallet to their SushiSwap account. Users then lock both the pool's assets into a smart contract in a 1:1 ratio.
SushiSwap users can also stake SUSHI coins on the SushiSwap network to earn rewards in return. They can also participate in lending, borrowing, and buying new tokens on SushiSwap. The SUSHI token is integral to the popularity of SushiSwap and is also what makes it different from Uniswap.
You don't need to create an account on SushiSwap to start using their services. All you need to do is connect a web 3.0 wallet compatible with the Ethereum Network. To get started with SushiSwap, you must acquire Ether (ETH) on any reliable centralized crypto exchange, as SushiSwap doesn't support fiat. Once you have ETH in your crypto wallet, you can get the Sushi App and connect any of your web 3.0 wallets to get started.
What Makes SushiSwap Unique
SushiSwap's main innovation was the introduction of the SUSHI token. Liquidity Providers earn rewards in SUSHI, but unlike Uniswap, SUSHI token holders continue earning a portion of fees even after they've stopped actively providing liquidity.
SUSHI tokens also provide governance rights to token holders. In the case of SUSHI, anyone may apply a SushiSwap Improvement Proposal (SIP), which is then voted on by SUSHI token holders.
In addition to this, SushiSwap adopted the "fair launch" approach to distribution, meaning there was no token allocation for venture capitalists.
SUSHI Tokenomics
Now that you know everything about SushiSwap history, uses and features, let's look into its native token, SUSHI.
The SUSHI token reached an all-time high of USD 22.52 on 13th March 2021. New Sushi is created at 100 Sushi per block for tokens staked in the farms on sushiswapclassic.org/farms. As the community voted for a hard cap of 250M tokens, $SUSHI no longer has infinite inflation.
Get started by checking the SUSHI current price, 24-hour trading volume, market capitalization, market cap rank, circulating supply, max. supply, historical statistics, etc., and get updates on SUSHI price in real-time on CoinStats, one of the best crypto platforms around.
Where to Buy SUSHI
While SushiSwap is the best place to buy SUSHI tokens, users can also purchase SushiSwap (SUSHI) on most major cryptocurrency exchanges such as Binance, Huobi Global, Sam Bankman-Fried's FTX, Kucoin, Kraken, Uniswap, etc. Simply choose an exchange and buy SushiSwap (SUSHI) right away!
How to Buy SUSHI on Binance
Binance is among the world's most popular crypto exchanges, with a 24-hour trading volume of more than USD 15 billion. What makes Binance so popular amongst cryptocurrency enthusiasts, investors, and traders is the ease with which anyone can buy or sell SUSHI. Follow our step-by-step guide below on buying SUSHI instantly on Binance:
Create a Binance Account
If you don't have a Binance account, you'll have to create one to buy Sushi and other cryptocurrencies. The process is pretty straightforward, and you'll only need a valid email ID and phone number. Once you've created an account, you'll need to complete your KYC verification which usually takes a few minutes. After verification, you are all set to buy SUSHI or any other token.
Deposit Funds to Your Binance Account
The next step in buying SUSHI on Binance involves depositing funds to your Binance account. You can choose from many fiat currencies, including USD, EUR, INR, GBP, AUD, etc. What's more, Binance supports different deposit methods, including simple bank transfers, credit/debit cards, third-party payments, peer-to-peer transactions, etc.
Buy the Asset Against Which You Want to Buy SUSHI
Multiple trading pairs for SUSHI are available on Binance, i.e., SUSHI/USDT, SUSHI/BTC, SUSHI/BUSD, and SUSHI/BNB. You'll need to buy one of these tokens first to buy SUSHI. Suppose you want to buy SUSHI against USDT. You'll have first to buy USDT worth the amount you wish to buy SUSHI for. Then, you need to go to SUSHI/USDT trading pair and place an order for your desired amount of SUSHI. The order is filled within seconds, and the purchased SUSHI will reflect in your SPOT wallet immediately.
As you can see, buying SUSHI is pretty simple on Binance, and it's similar to other exchanges such as Huobi Global, Kucoin, etc.
How to Buy SUSHI on SushiSwap
Another way to buy SushiSwap (SUSHI) tokens is on the SushiSwap exchange. While the process is pretty simple, it can get daunting for an everyday retail buyer or investor. To buy SushiSwap tokens on the exchange, you'll need a crypto wallet like MetaMask or the Trust Wallet. MetaMask is one of the go-to wallets for people who trade on SushiSwap. It comes both as a browser extension and a mobile app. You don't need to provide your email address or proof of identification to create a new MetaMask account. Simply add the extension to your browser and create a password. The wallet will then give you a seed phrase which is the only way to recover your MetaMask Wallet.
Once you've created a MetaMask account, the next step is to add some ETH to it. You can either buy ETH directly on MetaMask using SEPA bank transfer, VISA, Apple Pay, etc., depending upon the currency you're using and your location, or transfer it from some exchange wallet, e.g., Binance.
You'll need to login into the SushiSwap application and connect your MetaMask wallet. Once the wallet is connected, simply enter the amount of ETH you wish to swap for SUSHI and click on "SWAP." Once the swap is complete, the number of SUSHI tokens will reflect in your MetaMask wallet.
Store SUSHI
The next big question is where to store SUSHI. While cryptocurrency exchanges provide their own wallets to users to store their crypto assets, they have undergone several cyber-attacks, hacks, and thefts in the past, during which users lost their funds stored in the exchange wallets. The most prominent example was the Binance hack in 2019, when BTC worth USD 40 million was stolen from the exchange.
So, if you own SUSHI or any other crypto, including NFTs, it's a good idea to store them in your private wallet to retain complete control over your assets.
You can choose to store your SUSHI tokens in a Software Waller or a Hardware Wallet.
CoinStats Wallet is one of the best software wallets letting you manage all your DeFi and crypto from one place – a single crypto wallet to buy, sell, swap, track, and earn on your crypto! Hardware wallets or cold wallets, like Trezor or Ledger, are the most reliable options, as they come with safe offline storage and backup features. These are more suitable for experienced users who own large amounts of tokens.
Conclusion
SushiSwap aims to revolutionize finances with the power of DeFi. Despite shortcomings from the start, it has outpaced other popular DeFi ventures in terms of total value locked, daily trading volume, and market cap, indicating the high future potential of the SushiSwap exchange and the SUSHI token.