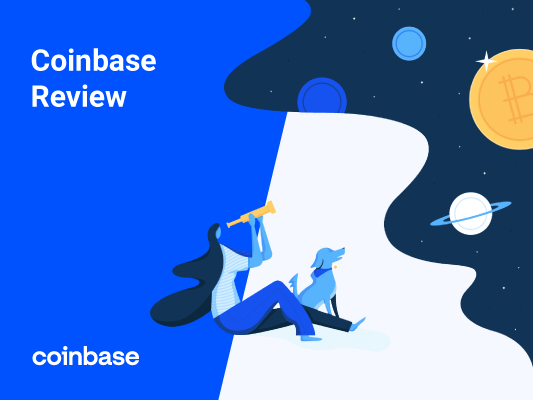 Coinbase Review
<! -- End of the Reviewed by section -->
Coinbase Pros
Allows crypto purchase with fiat

Extends access to more than 50+ cryptocurrencies

High liquidity

Cryptocurrency is insured in the event of website hacking

Excellent user experience; fast KYC, simple user interface

Digital wallet storage, educational tools/library, mobile access

Easy funding options; credit/debit card accepted

Fiat currencies accepted

Available in 100 countries

Low account minimums

Staking rewards for holding certain assets
Coinbase Cons
High fees when not using Coinbase Pro

Coinbase users are not in control of wallet keys

Does not have a wide variety of trading options: no futures or margin trading

Pay more for lower balances

Not available in all countries

Some altcoins aren't accepted

Privacy issues: Overly intrusive KYC; owns and utilizes a chainalysis company linked to spyware rackets; tries to sell its analytics to the IRS and the DEA.
Coinbase is the most popular fully regulated and licensed centralized cryptocurrency exchange platform in the U.S. It's also one of the largest and most well-known digital currency exchanges in the world.
Coinbase offers investors access to crypto trades with the major cryptocurrencies and different alternative crypto coins on the market. It's famous for its easy-to-use interface, educational tools, and robust security measures but also has restrictions based on your location.
Coinbase allows cryptocurrency investors to trade coins with fiat currency and earn staking rewards; offers iOS or Android mobile app, 24/7 customer service, and much more.
Coinbase's CEO Brian Armstrong said that the company's core mission is "to increase economic freedom in the world." Coinbase will execute a strategy that promotes crypto assets as an investment vehicle, a new financial system, and an app platform to achieve that mission.
Read on for our ultimate Coinbase review to learn everything you need to know about the Coinbase trading platform, Coinbase features, Coinbase fees, insurance policy, supported currencies, trading pairs, and regulatory information.
Coinbase: Overview
Coinbase is one of the largest cryptocurrency exchanges in the world, and the number one exchange platform in the U.S. Coinbase Global, Inc. is regulated by the U.S. Security and Exchange Commission and incorporated in Delaware as a holding company for Coinbase and its subsidiaries. It has become a remote-first company with no physical headquarters.
The company made history in April 2021 by being the first crypto company in the world to go public. Coinbase went public on the Nasdaq exchange through a public listing (instead of a traditional IPO) under the stock ticker (NASDAQ: COIN).
Coinbase started legal operations in 2012. Since then, it has expanded its reach to users in more than 100 countries, and customers trade approximately $327 billion per quarter. It supports 9,000 financial institutions.
Coinbase was founded by Fred Ehrsam and Armstrong. The name Coinbase originated from the term coinbase in the Bitcoin blockchain. Initially, Coinbase supported only trading in Bitcoin. On the 21st of July, 2016, Coinbase added Ethereum to its array of supported tokens and since then has expanded significantly, adding a vast number of supported cryptocurrencies. Today, it supports Ethereum, Bitcoin Cash, XRP, Litecoin, etc., and more coins are being added to the Coinbase platform regularly.
In addition to the standard Coinbase platform, there is a professional trading platform called Coinbase Pro (formerly known as GDAX) for investors who wish to actively trade or invest with lower fees and more features. Coinbase Pro has cheaper fees with more features and is free to use for anyone with a Coinbase account.
Coinbase is fully licensed and regulated in the U.S., except for Hawaii. In March 2017, it obtained BitLicense to legalize its operations in the U.S. further and operate in New York fully.
Today, Coinbase's capital is more than $1 billion. Firms that invested early in Coinbase include Union Square Venture, Ribbit Capital, the New York Stock Exchange, Draper Fisher Jurvetson, and more.
Coinbase is widely considered one of the most accessible platforms, allowing users to purchase crypto using fiat currencies. Another reason that makes it an excellent choice for novices is its clean and easy-to-use interface. The dashboard shows you all the key information you need at a glance – your portfolio holdings, price charts, and recent activity. It also offers easy access to trading features, tools, and account settings.
In May 2021, the company's mobile app again reached the top spot on Apple App Store after slipping from that position in 2017.
Coinbase offers an advanced trading platform, custodial accounts for corporations and institutions, a wallet for retail investors, crypto investing, and its own U.S. dollar stable-coin.
Features
Payment Methods
Coinbase allows its users to make payments via debit card, bank account, and wire transfer. You can select your bank account as a payment method for trading coins – this will initiate an ACH transfer for the value of your purchase.
Using the bank account (ACH) option, users can withdraw, deposit, and trade crypto.
All business requests are processed within 4 to 5 working days. Small transactions and investments are best initiated with debit cards, with instant processing guaranteed. The disadvantage here is that you can only purchase crypto but not trade or deposit.
Wire transfers are recommended for transactions involving larger amounts. They are much faster than bank transfers but are only available for deposits and withdrawals, not for trading.
There is more flexibility with payment methods for U.K. users. They can make withdrawals to their Coinbase Visa cards or even PayPal, make fiat bank transfers with SEPA, and Faster Payments. U.K. users can also purchase with a credit or debit card if the card supports "3D Secure." With this payment method, they will not have to pre-fund their account but can make instant purchases without waiting for a bank transfer to complete.
In mainland Europe, only three payment methods are available to Coinbase users. SEPA provides relatively quick transactions for withdrawals and deposits, completing them within three working days.
European Coinbase users can also use 3D Secure cards to buy tokens.
Additionally, they can use Sofort and Ideal to make Coinbase deposits. However, these platforms have limited functions. Users should also note that only 41 nations in Europe have access to Coinbase and its services.
Available features vary from country to country. Users in Europe are advised to check the Coinbase list for major service updates applicable to their region. There are also different policies for different countries, which can be viewed on Coinbase's official website.
Coinbase Fees
Fee Structure
While Coinbase is the most well-funded blockchain company in the United States, it's still a centralized company, not a decentralized ledger. It makes money by charging fees for its brokerage and exchange. It also custodians user funds, like a bank, and decides which crypto assets to list, like the NASDAQ or NYSE.
The Coinbase Fee can also vary, depending on your payment method, location, and other factors. It may be either a flat fee or a percentage of your transaction.
Coinbase comes with high transactions fees, as compared to other exchanges. There are three separate layers to Coinbase (Prime, Pro, and Exchange), and each layer has its own unique trade-off and fee structure.
Coinbase Exchange charges the highest fees, even though it's the most widespread layer. But it also offers advanced customer support and a user-friendly experience.
Compared to other exchanges like Kraken and Binance, Coinbase's fees range between 1.49% and 3.99% (less than 0.26% and 0.5%, respectively). As an investor using Coinbase for staking and custody, you will have to pay the high fees.
In general, debit card purchases usually come with the highest fees. On the other hand, using a Coinbase USD wallet or a U.S. bank account will result in low fees.
Coinbase also charges a 0.5% premium fee for every cryptocurrency token traded on the platform.
Taker fees on Coinbase Pro are a bit lower than on Coinbase Exchange, ranging between 0.5% and 0.04%.
The interface for Coinbase Pro is also less interactive and vibrant than that of Coinbase Exchange, especially for newbie crypto investors.
Coinbase Prime, the third plan, has similar fees to Coinbase Pro. Nevertheless, there is a difference in the target audience between the two layers, with the former consisting of verified corporations and institutions.
Withdrawal Fees
Withdrawals are vital to any crypto exchange, including Coinbase.
There are several external factors to consider when withdrawing funds from the Coinbase exchange.
Depending on the time factor, the cost can range from as low as one cent to as high as several dollars. If you want to have your transaction added to the subsequent block, the cost is usually higher. Waiting for a while is cheaper, but slower.
For bank withdrawals, fees are fixed, and the set time preference does not impact the transaction. This means that whether you choose an immediate or a later date withdrawal, the financial institutions are the sole determinant of the withdrawal fee.
Transaction Fees
As earlier emphasized, Coinbase is quite expensive to the average user. The UI/UX is unmatched, but the cost is quite steep.
Coinbase charges users an average flat fee of 0.50% per transaction, plus extra fees based on your payment method, meaning you might pay up to 4% per transaction. If you purchase and sell a cryptocurrency on the same day using a credit card, this can cost up to 9% of the total price.
Coinbase Pro uses tiers, with more or higher dollar transactions coming with lower costs.
When you make a cryptocurrency transaction on Coinbase, you'll be charged both a spread fee and a Coinbase fee. The spread fee is the difference (or margin) between the market price and the price you actually pay for a purchase or receive for a sale. You can compare it to the commission or trading fee you might pay when you invest using a brokerage account. Coinbase's spread is equal to about 0.50% of your crypto sales and purchases.
Compared to crypto exchanges like Coinmama, purchasing Bitcoin on Coinbase comes with high transaction fees. For instance, with Coinmama, you can purchase BTC without paying any transaction fee. On Coinbase, the threshold on debit card buys is as high as 5%.
The good thing is that fees are lower when you purchase with means other than credit and debit cards.
Compared to Kraken, Coinbase is still expensive. To buy BTC for less than $50,000, Kraken charges 0.26%. The more tokens you purchase, the less you will have to pay in taker fees. This option is quite convenient for crypto trading, as several fiat-crypto pairs are offered.
Compared to Binance, Kraken and Coinbase charge much higher fees. With Binance, you can get as much as a 25% discount when you use BNBs.
Services
Brokerage
Coinbase has launched its Prime brokerage platform designed exclusively for institutions to trade cryptocurrencies. The platform is meant to handle orders significantly larger than the ones handled on Coinbase's retail trading platform. Prime offers brokerage services by combining "advanced trading, battle-tested custody, and financing in a single solution," said Greg Tusar, vice president of institutional product at Coinbase.
Exchange
The Coinbase exchange platform has been operating since 2012. In 2015, GDAX was launched for crypto traders, and in May 2018, it was rebranded to Coinbase Pro. Coinbase has been offering exchange services to experienced crypto traders and novices. With basic Coinbase UI, you can buy and sell Bitcoin using your bank account.
Coinbase Pro offers an overall lower fee structure and more complex and advanced features designed for experienced and active traders. It also allows you to make stop and limit orders in addition to the basic market orders.
Staking Services
Unlike other exchanges, Coinbase allows its users (verified users) to stake XTZ (Tezos). If users hold more than 1 Tezos, they can earn crypto rewards when they go for delegation.
The amount of XTZ that users stake is equivalent to their rewards. It can take about a month to receive initial reward payments. Withdrawing your XTZ from Coinbase will proportionally reduce your rewards. However, you need only to have a minimum of 1 XTZ in your holdings to continue receiving rewards.
Presently, staking is only possible on Tezos. However, it might translate to Ethereum (the number one altcoin and second most valuable crypto asset) once the protocol changes to Proof-of-Stake.
Coinbase doesn't support staking on Bitcoin because its security protocol uses Proof-of-Work.
OTC Trading
Over-The-Counter trading is another form of centralized exchange. Traditionally, OTC ( Over-The-Counter) trading is done directly between two parties instead of on an exchange. Coinbase acts as what's known as an "agency' and earns commission by executing client trades.
When it comes to Bitcoin, OTC is a buffer for investment funds and institutions. They can use OTC to avoid overt market impact on their purchases. Coin prices change due to scarcity resulting from high demand.
Late in 2018, Coinbase enabled OTC trading for institutions. The Coinbase OTC desk offers coins for sale directly from cold storage. As a result, more confidentiality is provided to institutional investors. This way, it's possible to buy vast amounts of coins without a proportional reaction in the crypto market.
Presently, only Coinbase Prime allows OTC trading as a special feature for institutional accounts. To access this feature companies are required to undergo a rigorous KYC procedure.
The core difference between Coinbase OTC and traditional finance OTC is that Coinbase doesn't allow the sale of unlisted securities to avoid overt movements in market prices.
Earning Free Cryptocurrency
Coinbase launched its Earn Program in December 2018, enabling users to earn crypto by completing educational tasks.
In mid-2020, Coinbase users could earn anywhere between $6 and $50. Currently, the earning limit cap on each account is $158.
Coins supported by the Coinbase Earn scheme include Tezos (XTZ), Basic Attention Token (BAT), Dai, EOS, Orchid (OXT), Stellar Lumens (XLM), Zcash (ZEC), and Ox (ZRX).
In addition to Coinbase Earn, there is an affiliate program that allows users to earn fiat money. After that, users can decide to either withdraw the funds or purchase crypto with the winnings.
Spending Cards
In a 2019 Coinbase-Visa collaboration, Coinbase introduced its unique Visa debit card. This innovation would allow users to make payments on the platform using the balance on their crypto holdings. In addition to making payments, the card also supports cash withdrawals.
As a major provider of financial services, Visa provides Coinbase cardholders global access. The Coinbase Card can be used everywhere Visa is accepted. In addition, the Coinbase Visa card is an easy alternative to fiat withdrawals. Users can now use the balance in their crypto holdings more efficiently, instead of waiting for transactions to finish processing.
Shoppers using the card can earn up to 4% back in crypto rewards for purchases. Coinbase also lets users borrow up to $100,000 using bitcoin as collateral. Users can borrow up to 40% of the value of their bitcoin portfolio and receive cash on PayPal or bank accounts. The balance can be paid off on a schedule that works for customers
Coinbase also allows its users to choose specific coins to synchronize with the card to avoid unwanted spending. For instance, if your ETH crypto holdings are much lesser than BTCs, you can choose to withdraw and spend your profits alone.
This strategy helps to avoid making trade losses due to market fluctuations. In reality, what happens is a crypto-fiat conversion and subsequent transfer to your bank account.
However, similar to an actual ATM card, using a Coinbase card frequently can expose your account to certain risks and threats of being hacked.
Other Services
Coinbase has introduced many additional services to boost investment. For instance, Coinbase launched the Ventures program in April 2018 to help fund cryptocurrency businesses. CV has invested in over 150 companies as of August 2021, including multiple crypto startups. Such companies include Compound, Messari, BlockFi, and Etherscan. Coinbase Ventures, however, does not fund any Bitcoin development company.
Coinbase also offers additional services such as Custody and Commerce. Both services are accessible to institutions and offer access to insurance and cold storage.
Custody provides financial controls and storage solutions for institutional investors to trade crypto assets. It supports 90% of crypto assets by market capitalization.
With Commerce, retailers and merchants can synchronize and integrate crypto payments into business logistics. Customers can make payments in Ethereum, Bitcoin, Litecoin, Bitcoin Cash, DAI, and USDC using different POS stations.
Coinbase facilitates seamless integration with Woo Commerce, Magento, Opencart, Shopify, and PrestaShop.
Additional Tools and Projects
Coinbase has built APIs, products, infrastructure systems, and secure services aiming to make it easier for developers to connect to Coinbase customers, integrate cryptocurrencies, build crypto businesses, and more.
In addition to Connect API and Commerce API, Coinbase Pro's trading API is another helpful tool. Developers can use it to help professional traders place orders and access market data.
In January 2021, Coinbase acquired Bison Trails, a startup, which makes it easier for developers to connect to blockchain networks, build apps, run node clusters, and more. Bison Trails also helps companies to do staking, mining, and writing smart contracts.
Coinbase Wallet launched in April 2017 and has been installed by millions of users in the Google Play Store alone. The wallet is a mobile app that allows users to buy, store, and trade 500+ crypto coins, digital collectibles, NFTs, and more. The app can also be used to lend out crypto assets and earn interest. Coinbase Wallet also aims to give users broader access to dApps built on top of Ethereum and Bitcoin.
In addition, Circle and Coinbase run a joint stable coin project called the Centre Consortium. They launched USD Coin, an Ethereum-based stablecoin, worth $27B. It's used for programming payments, accessing DApps, and fast trading across multiple exchanges.
Coinbase Analytics is a product used to investigate fraudulent activities and link crypto transactions to real-world entities. The product helps organizations follow money across different transactions and monitor risk at scale.
Coinbase also announced in October 2021 that it plans to launch an NFT marketplace to compete with OpenSea.
Coinbase and Funds Safety
Cryptocurrency exchanges have a long history of hacks and exit scams. The most well-known hacked exchange was Mt. Gox, which lost 850,000 bitcoins to hackers in early 2014, worth $450M at the time. Those coins would be worth around $55B at the peak Bitcoin price of $65K in April 2021.
Coinbase unlike other cryptocurrency exchanges has never been hacked. Less than 2% of user funds are held on the platform, while most digital assets are stored offline in cold storage vaults, and the remainder insured by Lloyd. Funds held in USD wallets on Coinbase are covered by the FDIC and insured up to $250,000.
Coinbase wallets use biometric fingerprints and AES-256 encryption on private keys. Moreover, Coinbase pools the cash in your account and puts it in one of three places: custodial accounts at U.S. banks, U.S. money market funds or short-term U.S. Treasuries.
However, users should note that Coinbase is not liable for breaches incurred due to users' negligence. Coinbase recommends that customers turn on 2FA, two-factor authentication and place funds into cold storage to prevent attacks.
Coinbase's U2F (Universal 2nd Factor) login works with mobile authenticator apps (e.g Google Authenticator or Duo), security keys, or TOTPs (Time-based one-time password).
Who Should Use Coinbase?
Coinbase is one of the world's largest crypto exchanges. It offers a simple interface and sign-up process, educational tools, fiat to crypto trading, and fool-proof security measures. These factors combine to make Coinbase an excellent choice for novices and advanced traders alike.
However, this comes with the highest transaction fees around.
Another downside of Coinbase is the inability of its infrastructure and customer support to handle the rapidly growing Coinbase user base. Coinbase claims it's taking steps to address deficiencies in these areas.
To sum up, you should use Coinbase if you want an advanced trading platform with top-notch tools and security; a user-friendly mobile app; access to a vast array of cryptocurrencies; ease of payment; a secure wallet that supports several Dapps, coins, and NFTs, and much more.