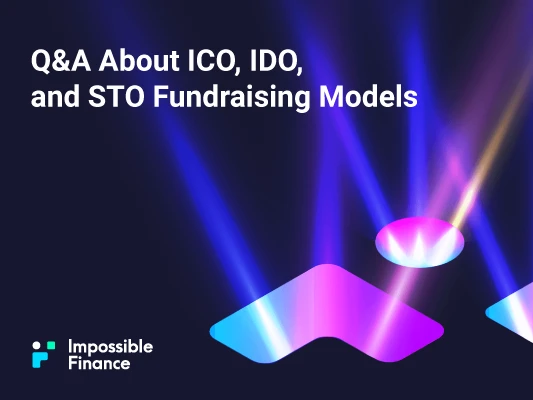 Understanding ICO, IDO, and STO Fundraising Models
<! -- End of the Reviewed by section -->
Here you'll find Calvin's answers to our questions about ICO, IDO, and STO fundraising models. Calvin is a core builder at Impossible Finance, a builder-focused multichain ecosystem featuring a decentralized venture builder, accelerator, launchpad, and swap.
Hey everyone, I'm Calvin, a core builder at Impossible Finance, a multichain decentralized incubator, launchpad, and swap. I previously worked on research and diligence for Binance Launchpad and built up the Binance Staking product to support 30 different blockchains.
Calvin (IF Core BUIDLer) used to work in Binance Launchpad and was the first to discover pretty amazing projects before people learned about them, such as Axie Infinity, Elrond, etc.
Q: What's the secret of finding great projects, BUIDLers, and teams?
A: Always sticking true to your research, your framework, spending time to always participate in hackathons, open-source, and free communities of BUIDLers. When you give your time to others and support and incubate them from square 1, it's no surprise these teams will want to launch with your platform.
Q: How Does an IDO work?
A: Users stake Impossible's IDIA token to gain access to allocation into public sales, and then can pay for these allocations using BUSD or tokens of their choice.
Q: What makes an IDO better than an IEO or ICO?
A: We stand for fairness, accessibility, and quality in our launches. we work hard to source early stage projects to launch with us, and support these projects in the long run, not just pre-launch.
Q: What are the IDO model's pros and cons?
A: Users get access into deals that are usually not available to them – we focus heavily on democratizing access for users into top quality deals.
Q: We know that crypto regulation is coming, have you ever considered turning IF into a Security Token Offering (STO) platform?
A: We do not offer securities in our platform currently, and prefer to focus in our experience in working with tokens and defi-native ecosystems.
Q: What's the main difference between IF and other IDO platforms?
A: Many IDO platforms employ lottery systems and other types of mechanisms where not everyone on their platform gets access. At impossible, every user can participate with no minimums, to allow for lower barriers to entry and to make sure that no user goes home empty handed.
Q: What are the IF and IDIA tokens' use cases?
A: IF is the token that derives governance usage around the Impossible Swap and related products.
IDIA is the access token that users stake to earn allocation into the launchpad product. Theres also a vIDIA token – a vesting IDIA token system to earn additional allocation in the launchpad for users who hodl Impossible tokens more long term.
Q: Some of the world's biggest startups were born during bear markets. Are you actively searching for new projects?
A: Yes! Impossible is still seeking more applications for our accelerator here! https://impossible.finance/apply
Q: What are the IF future plans? Any alfa drops?
A: Stay tuned for some of our upcoming launches – we've definitely not slowed down in the bear – if anything we've become even more busy during the bear market.