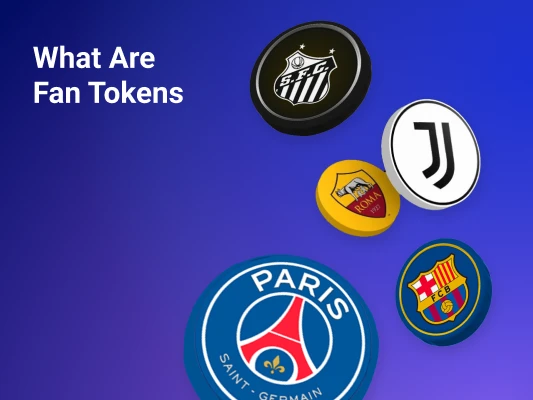 What Are Fan Tokens: Everything You Should Know
<! -- End of the Reviewed by section -->
If you're a huge sports fan, you've surely heard about Fan Tokens, a new invention that connects fans to their favorite teams by giving them a voice and making them feel like they own part of their favorite sports club. In other words, sports clubs use cryptocurrency Fan Tokens to create unique fan experiences through cryptocurrencies and increase the level of engagement with fans.
The world's most famous football teams, including Manchester City, Barcelona, Flamengo, Paris Saint-Germain, AS Roma, Atletico Madrid, Juventus, Galatasaray, Inter Milan, Arsenal, FC Porto, and Corinthians, have launched Fan Tokens through Socios.com. The Socios app is a product of Chiliz that lets fans acquire tokenized voting rights in their favorite clubs and engage with their teams and provides token holders access to unique rewards and exclusive promotions. Sevilla and River Plate are other clubs that will soon enter the world of Fan Tokens to join the other top teams.
Key Takeaways
A Fan Token is a digital asset built on the blockchain that gives its owner access to a service that sports organizations offer to their fans via the Socios.com app.
The Socios.com platform is powered by the CHZ token, which allows fans to engage in polls and surveys and receive incentives for active participation.
Users require CHZ tokens to participate in FTO, the initial sale of Fan Tokens, and access the Socios Locker Room – a space to entice new club members.
The CHZ token is highly liquid and traded globally on major exchanges such as Binance, Huobi Global, and Mercado Bitcoin in Latin America.
In this article, we'll dive deep into Fan Tokens, what they are, and how they work and offer a quick tutorial on how to buy Fan Tokens.
What Are Fan Tokens?
Fan Tokens are crypto assets designed to provide membership benefits to fandoms of sports teams, bands, and other organizations. Fan Token holders are eligible for such benefits as access to officially signed products, free tickets, and VIP experiences. Theycan vote on club decisions, engage with their favourite teams through polls, and use the tokens to earn rewards, such as VIP access to the teams and exclusive promotions. Prizes also include acting as a stadium announcer or playing a match in your favorite team's stadium.
Fan Tokens play an essential role in tightening the club community and providing benefits for everyone. Sports clubs issue and sell Fan Tokens to further integrate fans into the club, democratize and organize experiences, establish club leadership, and earn free money. Fans get voting rights, access to discounts, promotions, limited content, the opportunity to test their sports knowledge against each other, and win prizes like signed club merchandise, etc. They can determine the future of their favorite sports team or music celebrity in some (often trivial and legally non-binding) way and speculate on their success in Web 3 marketplaces.
Fan Tokens are utility tokens offered by sports clubs through the Socios.com app. While Fan Tokens use blockchain for authentication, ownership, transactions, and voting records, they are entirely "fungible" or interchangeable, unlike NFTs or non-fungible tokens. This means that, just like any other digital asset, Fan Tokens can be purchased and exchanged on various cryptocurrency exchanges.
Fan Tokens aren't necessarily backed by underlying value principles but get their worth from the fan base that shows loyalty to its team.
How Do Fan Tokens Work?
Fans can buy digital tokens and trade them like other cryptocurrencies. When trading, the seller usually sets the price of a Fan Token. It is also subject to change based on market movement and the token's popularity at the time.
When users obtain a certain number of Fan Tokens, they get the right to vote on various issues impacting their favorite team. The topics fans can vote on vary depending on the team; however, they may include the following:
MVP categories
Tour bus designs
Match locations
A club's merch design
Ticketing matters.
These perks make fans feel more involved in the club they already support and add an extra level of pride and prestige because their Fan Tokens will likely increase in value as the club grows.
Fan Tokens create an exclusive community of the most devoted fans. They provide a new opportunity for fans to participate in an engaging voting and rewards system. The more Fan Tokens you own, the more power you have over the club and the more loyalty you show to your team.
Pro-Tip
Fan Token holders are eligible for such benefits as access to officially signed products, free tickets, and VIP experiences. They can vote on club decisions, engage with their favourite teams through polls, and use the tokens to earn rewards, such as VIP access to the teams and exclusive promotions.
How to Buy Fan Tokens?
Fans must purchase CHZ through a crypto exchange to obtain Fan Tokens that exist on the Chiliz network. CHZ tokens fuel the Socios platform and can be used to purchase and trade different Fan Tokens on Socios.com. Fan Tokens can be traded on Chiliz.net – their in-house exchange and trading platform against CHZ. However, Fan Tokens are also available outside of Chiliz and its Socios.com website.
Some Fan Tokens are currently available on popular centralized exchanges, but others may not be certified or large enough to be listed. In this case, Fan Tokens can only be traded or swapped on decentralized exchanges (DEX) such as PancakeSwap. To trade Fan Tokens on DEXs, you must own a cryptocurrency.
Chiliz, the largest Fan Token, is presently available on various platforms such as:
Binance launched its own Fan Tokens platform, known as Binance Fan Tokens, in October 2021. It hosts tokens from Alpine F1 Team, S.S. Lazio, FC Porto, and Santos FC. The market capitalization for Fan Tokens is small. As of September 2022, S.S. Lazio had a market cap of $66 million; Alpine F1 Team a market capitalization of $50 million; and PSG a market cap of $29 million. By comparison, Bitcoin's market cap is over $380 billion, and Ethereum's is $200 billion.
CoinStats offers tutorials to teach you how to buy cryptocurrencies.
Follow the steps below to acquire Fan Tokens on Socios.com:
Install the app
Verify your identity
Go to "Wallet"
Purchase the required quantity of $CHZ
Go to "Market"
Find the Fan Token and press "Buy.
How to Identify a Fan Token?
Fan tokens are commonly used in fan and sports clubs. They vary from other cryptocurrencies, such as Ethereum or Chainlink, in that they don't solve the same financial or technological issues. In other words, they are more of a fun, reward-based token.
Check out some popular Fan Tokens from sports and music below:
What Is Chiliz?
Chiliz (CHZ) prides itself on being "the world's premier blockchain financial service for sports and entertainment." It's a popular cryptocurrency for sports tokenization and the most popular Fan Token platform to date. Chiliz is famous for the invention of the Fan Token and is the first sports-based crypto exchange where fans can trade customized Fan Tokens and participate in club-based surveys and pools.
Socios.com is the first consumer-facing product of Chiliz. It's a mainstream app that enables fans to get tokenized voting rights in their favorite clubs and engage with their teams. It also grants access to unique rewards, experiences, prediction games, and challenges.
Socios.com connects clubs to their fan bases, securing additional revenue streams that are digital, secure, transparent, and wholly integrated with the real fan experience. It allows interested teams to issue Fan Tokens. On the Socios.com platform, club partners organize a Fan Token Offering (FTO), during which Fan Token values are determined and made available to fans before they reach the marketplace.
The digital currency for the Chiliz and Socios.com platforms is CHZ, the native ERC20 utility token for the Chiliz network secured by the Ethereum blockchain.
Football clubs plan on using Socios.com as part of their fan engagement strategy to continue to grow their global fan bases, particularly in Asia, with a huge football fan community.
Frequently Asked Questions
What Decisions Can I Vote On?
In 2021, Socios.com's partner clubs ran over 300 surveys via the app, allowing their fans to vote on the names of new facilities, jersey designs, shirt numbers of new signings, celebration music, and more.
What Prizes and Experiences Can a Fan Token Owner Get?
In 2021, Socios.com's partner clubs gave over 5,000 fans gifts such as officially signed merchandise, free tickets, and VIP experiences. Prizes included appearing as a stadium announcer, playing a match in the stadium of your favorite team, and earning personalized football souvenirs.
How Many Fan Tokens Are Required?
A single Fan Token is required to use this new service. Fan Tokens don't expire, but the more tokens you have, the more valuable your votes will be, and you'll have a better chance to win prizes.
Should I Buy Fan Tokens?
Many people still consider purchasing cryptocurrency to be a high-risk investment. The crypto market is volatile, and meme coins are especially vulnerable to price swings. However, as some Fan Tokens may skyrocket in price if they catch on and become popular, significant risk can mean great reward.
Get Inspired
If you didn't have a chance to purchase Fan Tokens during the FTO, you can purchase them at CoinStats. Get your favorite sports team's Fan Token now by visiting CoinStats! You can buy Fan Tokens and trade them like other cryptocurrencies. With a certain number of Fan Tokens, you can vote on various issues impacting your favorite team.
Remember to thoroughly consider the value and solutions offered by the product when making any investment. Fan Tokens may be less of an investment and more of a purchase of access to the specific privileges that sports teams can offer.
Investment Advice Disclaimer: This content, including any information contained therein, is provided to you solely for informational purposes and does not constitute a recommendation by CoinStats to buy, sell, or hold any security, financial product, or instrument mentioned in the content, nor does it constitute investment advice, financial advice, trading advice, or any other type of advice.