How to Buy Helium [The Ultimate Guide 2023]
<! -- End of the Reviewed by section -->
If you have come to this article, you have done your research and are now ready to buy your first batch of Helium (HNT) coins – well, you've come to the right place!
The typical flow for buying Helium would go something like this:
Visit a cryptocurrency exchange website.
Create an account and verify your identity if required.
Follow the website's instructions to buy your HNT coins.
Your coins will appear in your exchange account.
If you'd like to take full control of your coins, send them from the exchange to your self-custody wallet.
However, this may be an oversimplification of the process, so we will get in-depth and explain how to buy Helium, as well as what different exchanges offer. Let's get into it!
Where to Buy Helium (HNT)
Helium can be bought on various crypto exchanges that list the cryptocurrency, with some of the most prominent cryptocurrency exchanges being:
Binance
KuCoin
Uphold
Gate.io
WazirX
Let's check what each one offers, and how you could use them to buy Helium.
Binance
Founded in 2017, Binance is a popular crypto exchange that supports the buying, selling, and trading of close to 400 cryptocurrencies. The crypto exchange is highly secure, simple, easy to use, and fast. It also has low, competitive fees along with other attractive features.
Users of Binance can buy Helium with a credit or debit card, bank deposit, Binance P2P service, or supported third-party payment channels. Once you've bought your HNTs, you can choose to store them on the platform or transfer them to a supported cryptocurrency wallet.
Binance is best suited for crypto investors living in Australia, Canada, Singapore, and the UK, among other countries. US citizens, however, have to use Binance US. However, it's not available in all states.
KuCoin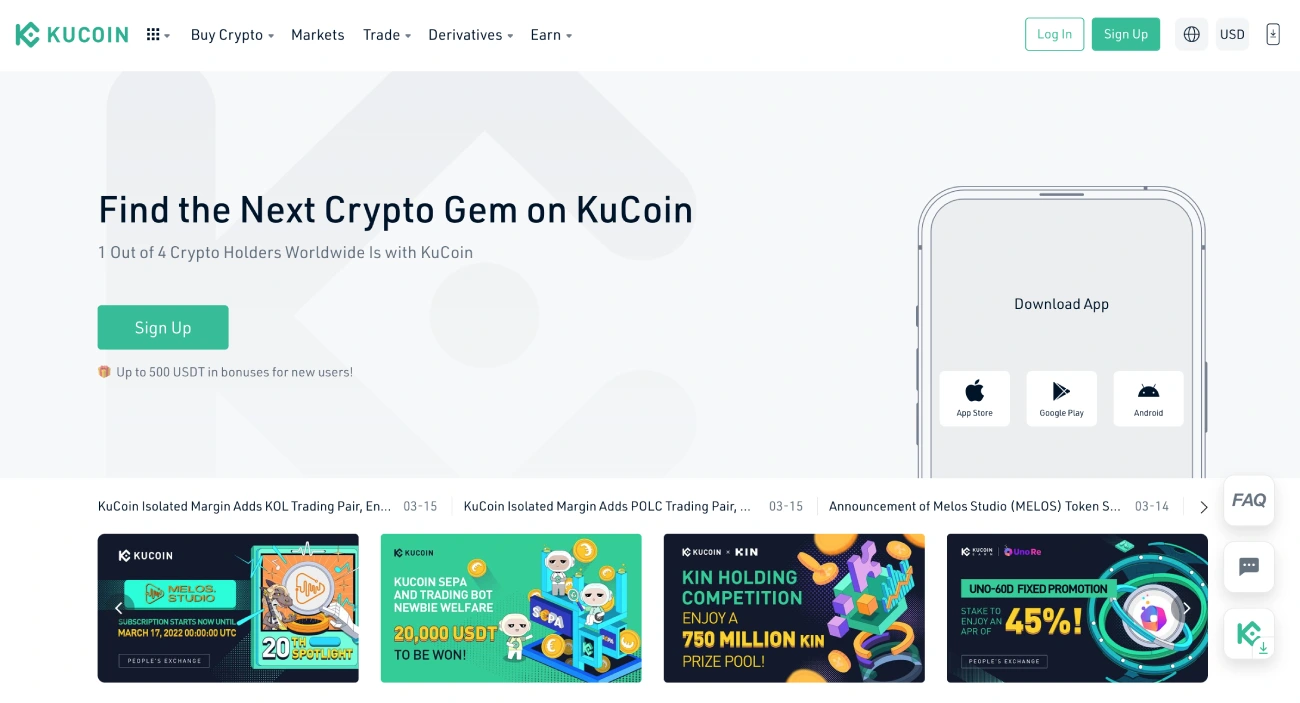 Launched in 2017, KuCoin is a leading crypto exchange available to users in more than 200 different countries. Like Binance, KuCoin supports the buying, selling, and trading of more than 700 cryptocurrencies, including Helium.
In addition to being quite easy to use, KuCoin boasts great security and low fees, making it ideal for crypto investors and traders of all levels. When it comes to how to buy Helium on KuCoin, the exchange allows you to buy the coins using a credit/debit card, using a bank account, or PayPal.
Uphold
Launched in 2015, Uphold is a web-based and mobile app crypto exchange operating in over 180 countries worldwide. The platform currently supports over 75 cryptocurrencies, including Helium.
Uphold is a fast and simple to use crypto exchange that features decent security, making it highly reliable. Also, its ease of use makes it perfect for beginner crypto investors and traders.
Unlike other cryptocurrency exchanges, Uphold supports buying and trading various assets. So apart from crypto, you can also buy and trade precious metals and stocks as a user. Uphold allows the use of a credit/debit card or bank deposit to buy Helium from the platform.
Gate.io
Founded in 2013, Gate.io is one of the oldest crypto exchanges. It is well-known for its many built-in security mechanisms.
Gate.io supports the buying, selling, and trading of over 1,400 cryptocurrencies. As for how to buy Helium on Gate, you can purchase Helium from the platform using only a bank transfer or credit card. The limited payment method, especially when compared to other exchanges, is a disadvantage of this platform.
Still, Gate.io is easy to use. It features low fees and can be accessed via a desktop or mobile app. It is also available for both Android and iOS devices. Please note that it's prohibited in USA and Canada.
WazirX
Next on our list is WazirX, an Indian crypto exchange founded in 2018. The platform became available to users around the world in 2019 when Binance acquired it.
WazirX is highly secure and quite easy to use. Its sign-up process is also straightforward. The platform allows users to buy more than 120 cryptocurrencies, including Helium. Payment is typically made through bank transfer, net banking, and UPI.
A plus for WazirX is that it is accessible via desktops and mobile devices. You can also download the WazirX app on your Android or iOS device. Note that WazirX is prohibited for US residents.
How to Buy Helium
If you are interested in investing in Helium, here are easy steps to follow:
Step #1: Choose a Cryptocurrency Exchange
The crypto space has plenty of crypto exchanges, but not all of them list Helium. You'll need to scout for one that lists the coin, and the one you personally enjoy using. Once you do find it, consider checking its ease of use, payment methods, fees, and whether it's available in your locality.
Binance is a good example of a popular crypto exchange that is accessible almost everywhere but in the US. US citizens can only use Binance US, which is quite limited when compared to the internationally available Binance.
Step #2: Create an Account
Once you've settled on a good crypto exchange, the next step is to create a user account. Different crypto exchanges require different information to open a user account. However, most exchanges will require some personal information, including your name, phone number, and email address.
Some exchanges, on the other hand, will require your social security number or some form of identification such as your driver's license, passport, or government-issued ID. Then, there are other exchanges that will even require you to identify yourself through a webcam or smartphone while creating a user account. Whatever it is, ensure you can meet the requirements or you will not be verified.
Step #3: Deposit Funds
The exchange you choose for purchasing Helium will either be a crypto-to-crypto exchange or fiat-to crypto-exchange.
A crypto-to-crypto exchange requires you to use other cryptocurrencies to exchange in order to acquire Helium. On the other hand, a fiat-to-crypto exchange allows you to purchase Helium using fiat currencies.
Most fiat-to-crypto exchanges allow you to buy crypto using bank deposits or credit/debit cards. To do this, you'll have to deposit some funds to your bank account before you can buy Helium from such exchanges. But if you are using a crypto-to-crypto exchange, you will first have to buy crypto from a fiat-to-crypto exchange and then use that crypto to purchase Helium.
Step #4: Buy Helium (HNT)
If you are using the fiat-to-crypto option, log in to your crypto exchange account.
Choose bank deposit, or credit or debit card as your preferred payment method. Then choose the amount of Helium coins you wish to buy.
You can as well consider checking the performance of your existing crypto portfolio using CoinStat's crypto portfolio tracker. This tracker helps you monitor Helium's (HNT) current price so you can know the best time to buy. 
Step #5: Transfer Your Purchased Helium (HNT) to a Crypto Wallet
After you've bought your Helium coins, you can either choose to store them on the exchange or transfer them to one of many private crypto wallets. When it comes to storing HNT, most people prefer to transfer their purchased coins to private wallets for more control over their funds. It also helps that private wallets tend to offer more security than public wallets.
You can shop around for a crypto wallet if you don't already have one. There are free software wallets on the net or you fork out cash to purchase a hardware wallet such as Ledger or Trezor devices. The difference between them? Software wallets are ideal for people who love convenience, while hardware wallets are a great option because they offer much better security. The Helium wallet app, for instance, is a good software wallet to store HNT, while the Ledger wallet is a great hardware wallet.
In any case, the best wallet is one that can store Helium coins and suits your crypto investment needs.
Why Buy Helium (HNT)
There are many reasons to consider buying Helium cryptocurrency, with some of them being:
Helium's Price Outlook
Strategic Partnerships
Exponential User Growth
Helium's Price Outlook
Firstly, Helium is a cryptocurrency that has been rising steadily ever since it first appeared in the market. The coin entered the crypto market trading at around $0.50 and rose to$2.00 within two months. It dropped to $1.25 the following month and is currently trading at around $20, after hitting a high of $40 earlier this year. While it might look like a negative run, understand that Helium's price is slowly starting to pick up. And to be frank, Helium's current price makes it a great entry point in the crypto market for bargain hunters who might be put off from other expensive top-performing cryptocurrencies.
Strategic Partnerships
Secondly, Helium's strategic partnerships are helping with tokens price appreciation. In 2021, Helium partnered with DISH network, Actility, and Senet to help with its mass adoption. The same year the city of San Jose became the first city to officially join the Helium network and use it to provide internet access to low-income residents.
Exponential User Growth
In 2022, Helium strategically partnered with Canadian LoraWan provider X-TELIA to unlock coverage across the country. With these moves, Helium is growing its user base exponentially, which can help with its cryptocurrency's price movements. Besides, many people are already using the network.
What Is Helium
For those that stumbled upon this page without knowing what Helium is, let's explain it.
Helium is a decentralized blockchain-powered network that aims to provide an ecosystem of global hotspot providers. Dubbed "The People's Network," Helium is a distributed and globally available network designed for Internet of Things (IoT) devices.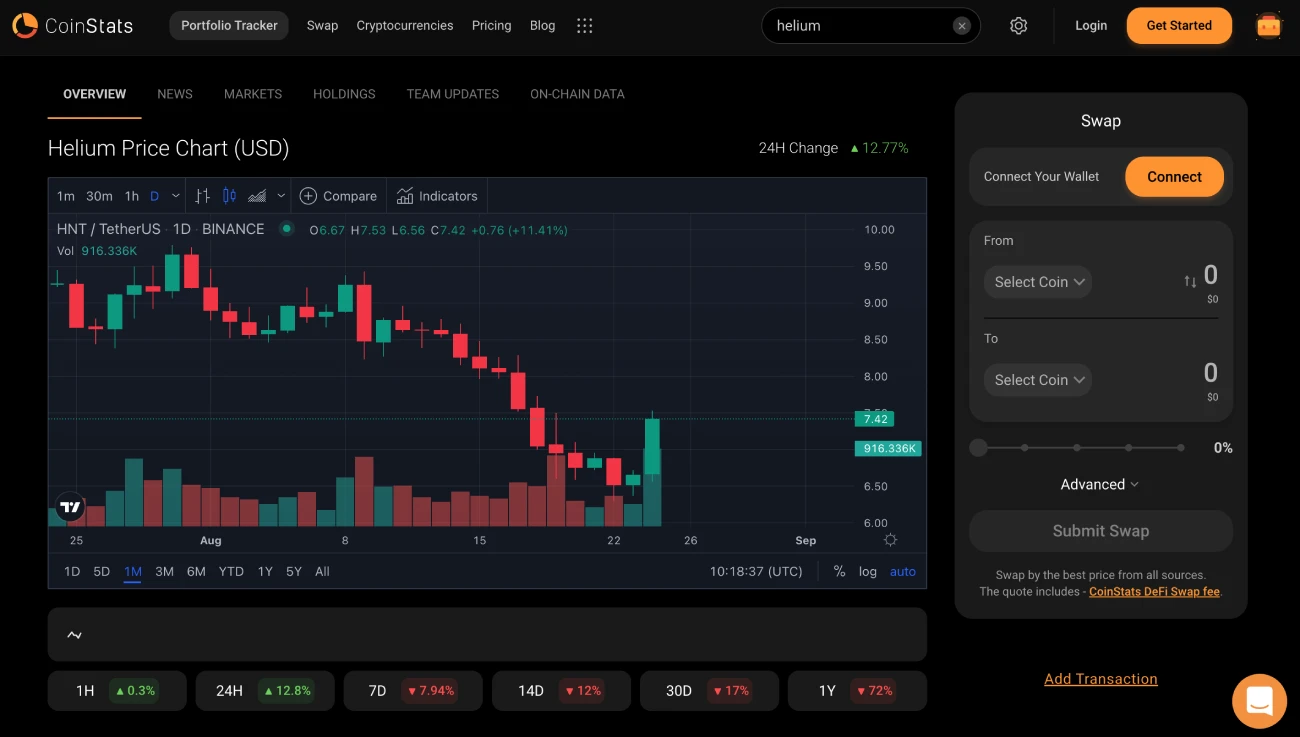 Helium Network Tokens, or HNTs, serve as utility tokens in the Helium ecosystem. The tokens are used to reward users running Helium Hotspots.
Helium tokens entered the market in 2019. Just like most other cryptocurrencies, they started slow but quickly picked up in community support, as well as price. Due to the continued mass adoption of the Helium network, HNT continues to grow in value, which clearly shows that the coin's success is heavily dependent on the growth of the network itself.
HNT has a supply cap of 223,000,000 coins, and according to CoinStats, there are currently 100,539,362 HNT coins in the circulating supply.
Helium Team
Helium is backed by an impressive team of developers and engineers headed by Amir Haleem, the CEO and co-founder of Helium. He previously worked as the CTO of the video game startup Diversion and was also among the programming team of Battlefield 1942 from DICE.
Marc Nijdam is the CTO of Helium who is a technology professional with over 25 years of experience. Before joining Helium in 2015, he worked as a senior engineer for Yahoo.
Frank Mong is the COO of Helium. Before joining Helium, he was in the cybersecurity space for 20 years, where he held several vital positions in different top companies. He was a CMO at Hortonworks, SVP of marketing at Palo Alto Networks, and VP/GM of Security at HP.
Shawn Finding is a co-founder and one of Helium's advisors. He is a computer programmer, entrepreneur, and angel investor. In addition to being the co-founder of Path and Airtime, he is best known for building the first popular P2P file-sharing platform Napster.
Helium Mining
One thing to note is that buying Helium is not the only way to acquire them. You can also earn the coins by mining them or building coverage for the network using Helium Hotspots.
Helium Hotspots are physical devices used for mining and broadcasting on the Helium network. The devices are available for purchase from third parties. Once you buy the device and it's up and running, you can participate in the Helium network as well as provide wireless connection to people around you – Helium crypto enthusiasts call this project the "wireless revolution."
Helium hotspots are low-powered wireless devices that earn Helium by submitting valid proof of coverage challenges, witnessing proof of coverage challenges, transferring device data over the network, and serving as a consensus group member.
Proof of coverage is an algorithm used by Helium to verify that hotspots in the network are physically where they claim to be. The algorithm also ensures that Hotspots are honestly representing wireless coverage created by the Hotspot for its location.
Closing Thoughts
Helium is a crypto coin backed by a decentralized and distributed network that aims to improve the communication capabilities of IoT devices.
From a barely known network in 2019, the Helium network has quickly grown to a global brand in 2022. For a network that once only had 7K Hotspots and now boasts over 470,000 Hotspots globally, this growth is quite impressive and there are no signs that it is stopping any time soon.
The phenomenal growth of Helium continues to drive the performance of the Helium coin in the market. It is therefore certain that the coin will experience some positive price movements as the network continues to be adopted across the globe.
We hope this how to buy guide has helped you make a decision regarding where to buy Helium, as well as how to do it in a way that best suits your needs.