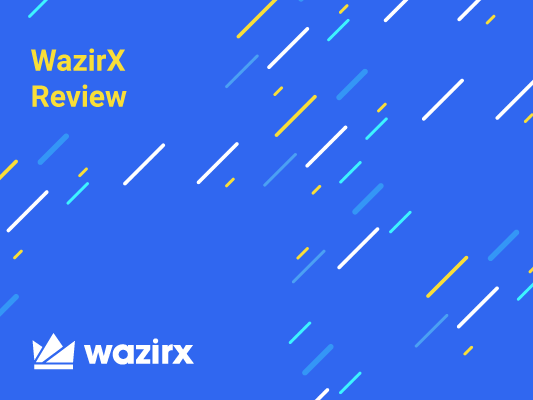 The Ultimate WazirX Review [For 2023]
<! -- End of the Reviewed by section -->
WazirX Pros
A high-liquidity auto-matching P2P platform

Simple and easy-to-use UI

No custody of fiat funds

Free fiat/crypto swaps

Wide range of crypto tokens

Smart Token Funds

Referral bonuses
WazirX Cons
Fiat deposit and P2P trading volume restrictions

Fiat deposit is only available in 8 countries

No futures trading

No crypto lending facility
Cryptocurrency, the digital currency, which is not controlled by any government, has attracted global investors hoping to make large profits in the short or long term. While the Indian government adopted harsh crypto tax laws on March 25, 2022, several Indian crypto exchanges are currently operating in the country, with the WazirX crypto exchange being among them.
Read on for our in-depth review to learn everything you need to know about the WazirX platform, including WazirX fees, WazirX deposit methods, etc.
Let's jump right in!
What Is WazirX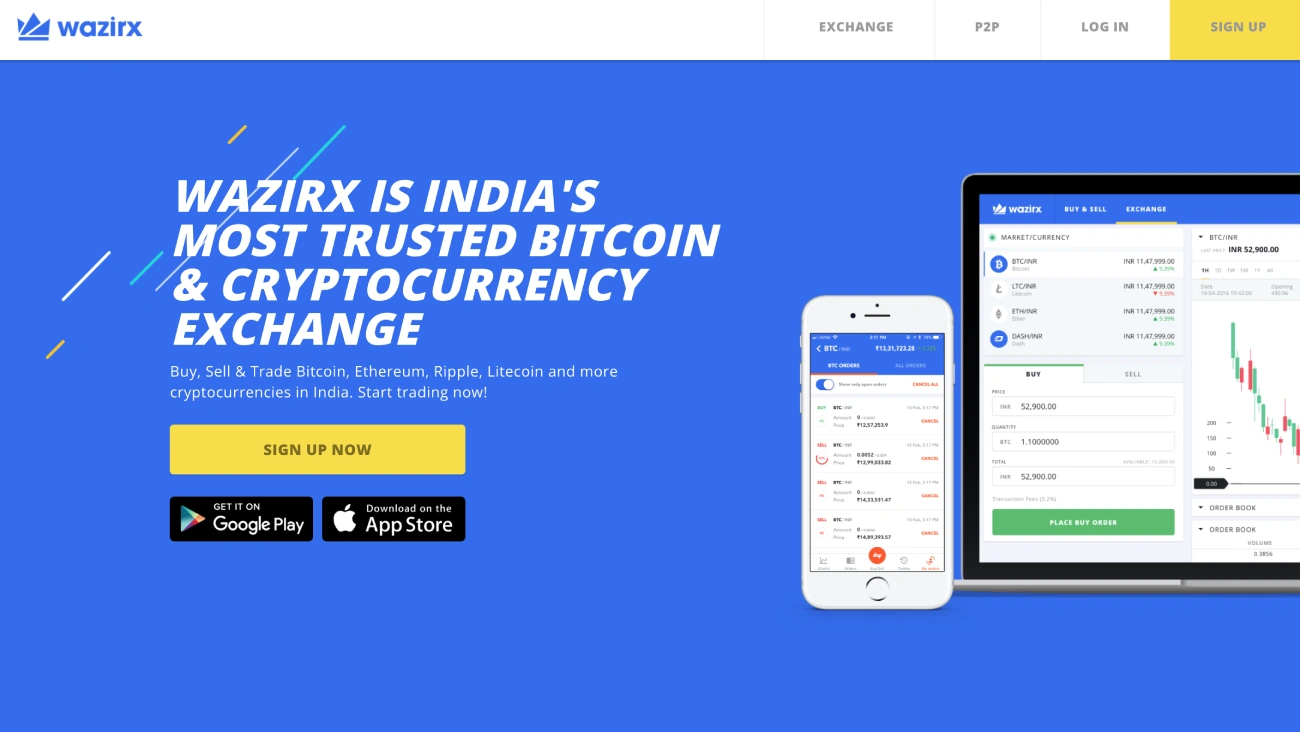 WazirX is an India-based cryptocurrency exchange launched in March 2018 by Nischal Schetty, Siddharth Menon, and Sameer Mhatre. WazirX was initially designed for Indian crypto investors, but in March 2019, the WazirX team opened the exchange's doors to the global crypto community. On November 21, 2019, WazirX announced its acquisition by the world's leading cryptocurrency exchange, Binance.
WazirX offers a user-friendly crypto trading platform with top-of-the-line security measures, low transaction fees, and a wide range of cryptocurrencies, such as bitcoin, bitcoin cash, litecoin, dash, etc. Moreover, the introduction of WRX utility tokens and the innovative auto-matching WazirX P2P trading platform have contributed significantly to its popularity. WazirX is capable of effectively handling millions of transactions.
WazirX Features
WazirX provides a smooth and powerful trading experience on 5 distinct platforms, including the Web, Android, and iOS platforms, as well as Windows and Mac OS. The mobile apps offer almost all the features that are available on the web platform. Let's look into Wazirx Features to see how it performs:
Simple and creative WazirX Trading app
Super-fast KYC
World's first high liquidity auto-matching P2P engine
Support for P2P and NFT
WRX utility tokens
Instant deposits
Fast transactions
Quick withdrawal with low processing fees
Effective trading platform
Simple user interface
WRX Token
The WRX token is a crypto token, also known as the WazirX token. It has a maximum supply of 1 billion tokens. WRX is designed for users who want to participate on the WazirX exchange long-term.
The WazirX referral commission is unique to the WazirX trading and exchange platform and allows users to earn WRX tokens. If you pay trading fees on the WazirX platform using the WRX token, you will get a 50% discount for the first year, 25% for the second, 12.50% for the third, and a 6.25% discount for the fourth year.
Users can also convert their crypto dust – dust balances of various assets in the WazirX wallet, which are lower than the minimum withdrawal or trading amount (10 USDT) and even lower than the trading fee amount — into WRX tokens. The dust conversion feature lets users convert leftover balances in their wallets to WRX and then use WRX tokens to trade, pay trading fees, participate in airdrops, and other rewards exclusive to WRX holders.
Follow these easy steps to convert dust crypto to WRX:
Log into WazirX and go to 'Funds' or Open WazirX Android or iOS app and go to 'Settings,' select 'Convert to WRX.'
Select the tokens you want to convert to WRX
Select 'Convert.'
Note: You can keep the dust crypto and use it in future transactions.
Multiple cryptocurrencies can be converted into WRX tokens. After the transaction is completed, the sum will appear in your account in a few minutes. However, you can convert balances with a total (combined) valuation below 10 USDT to WRX once every 24 hours.
WazirX Review: API
The WazirX API (Application Programming Interface) enables users to create their own cryptocurrency trading interface. The WazirX REST API for spot exchange lets users automate trades in real-time, stream live crypto rates, and build other integrations. It's organized into publicly accessible endpoints, i.e., market data, real-time trading prices, exchange status, etc., and private authenticated endpoints, i.e., transferring cash, crypto trading, and user data.
WazirX Review: Trading View
WazirX has integrated the TradingView chart and also some advanced chart trading into its platform. Another breakthrough feature is chart trading, which allows you to click on the chart where you want to place the order, and the price will be auto-filled. You can also see your open orders on the chart.
The following image depicts WazirX's trading view:
An experienced trader will be pleased to learn that, starting on May 28, 2019, WazirX has included Stop-Limit orders in its trading experience. At the time of writing, the Stop Limit functionality is only available in beta mode for the TRX/USDT trading pair, but it will be available throughout the entire platform in the near future.
WazirX Review: Fees
WazirX Trading Fees
WazirX charges 0.20% flat fees, which means that both makers and takers pay the same amount. Today, an increasing number of exchanges are reducing trading fees to 0.10%, compared to which 0.20% is slightly higher than the industry average. WazirX deposit fees are reasonable in BTC, in tune with the industry average.
Cryptocurrencies can be traded in three markets: the spot market, peer-to-peer market, and STF trading.
Trading fees for spot market trades are 0.2% for both the buyer and seller for most cryptocurrency pairings.
When you enable the option of paying transaction fees using the WRX token, you will receive a 50% discount on trading fees. Set this option in Settings-> Fee Settings-> Pay Trading Fees with WRX.
Trading fees for peer-to-peer (P2P) market transactions are 0% for buyers and sellers. Currently, only eight currencies are matched against USD Tether (USDT) in the P2P market.
Euro (EUR)
Indian Rupee (INR)
Suadi Riyal (SAR)
Ukrainian Hryvnia (UAH)
Nigerian Naira (NGN)
Turkish Lira (TRY)
Russian Rouble (RUB)
Indonesia Rupee (IDR)
Only USDT/INR trades are accepted in India. Your minimum sell or purchase order value should be 14.5 USDT, and your maximum buy order should be 2000 USDT. The maximum sell order size is not disclosed on the WazirX website.
The Smart Token Fund (STF) market transactions are subject to trading fees. WazirX charges a 25% fee on profit for STF Trading. The minimum and maximum buy orders can be 5 USDT and 100,000 USDT, respectively. WazirX offers an STF transaction option for beginner cryptocurrency traders that want assistance. New crypto investors can find smart and experienced crypto traders to help them expand their portfolios in exchange for a portion of the profits made.
WazirX Withdrawal Fees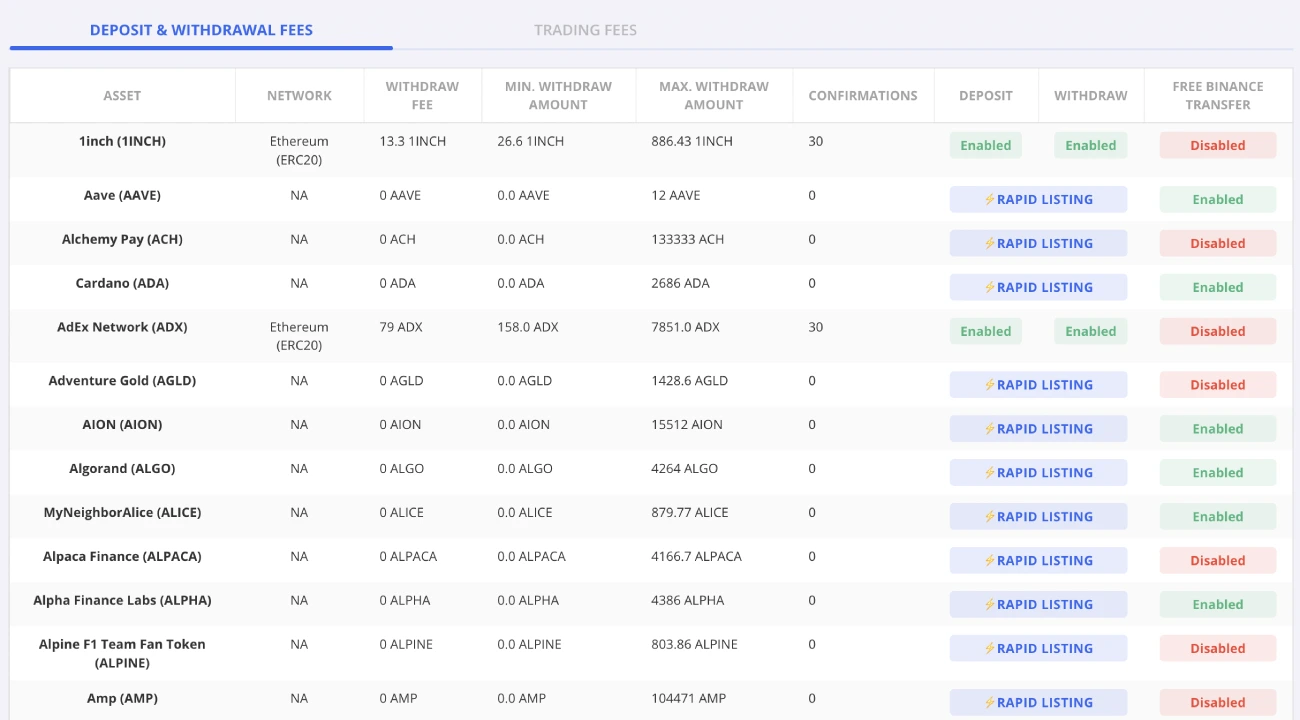 Withdrawal fees vary depending on the crypto asset you're withdrawing; however, they're usually a fixed proportion of the relevant crypto asset. The industry average BTC withdrawal fee is 0.0006 BTC. WazirX imposes a withdrawal fee of 0.0006 BTC for each BTC withdrawal, in line with the global industry average.
Deposit Methods
WazirX accepts wire transfer deposits but not credit card deposits. It accepts a vast range of payment options, such as:
Bank Transfer
Net Banking
NEFT/RTGS/IMPS
UPI
Users can either copy the destination address or scan the QR code for crypto deposits. WazirX also announced on June 6, 2019, that it has entered into an agreement with a Payment Service Provider that would allow Indonesian investors to deposit Indonesian Rupiah directly into the trading platform.
WazirX Review: Exchange
WazirX makes crypto trading simple by supporting 250+ cryptocurrencies and over 1000 trading pairs.
OTC Desk
Over the Counter or OTC is a decentralized market in which participants trade directly between two parties and without a central exchange or broker. Institutional investors find it appealing to conduct OTC trades as they can transact large transactions privately with minimal price slippage. On the WazirX OTC desk, buy/sell orders execute directly outside the order book through your WazirX wallet.
Smart Token Fund
The Smart Token Fund (STF) function is ideal for traders who lack the time or skill to make a passive income. WazirX has built a platform for investors to engage with expert traders, who disclose information on their trading strategy, asset allocation for each token, and performance. If a new trader wants to follow the contract owner's approach, they buy their smart token and effectively hand over their portfolio to them. When traders earn a profit using the investor's funds, they collect a 25% fee, and the value of their smart token rises. At the time of writing, the most valuable smart tokens are XMINT, XOOM, and XOLO.
The STF is simple to use, and traders cannot withdraw funds to steal from their investors; instead, they only make trades on their behalf and profit only if investors are successful.
NFT Marketplace
WazirX is the first Indian crypto exchange platform to join the Non-Fungible Token (NFT) market to promote Indian digital innovators. The WazirX NFT marketplace allows for the seamless exchange of digital assets and intellectual properties, including art pieces, videos, programs, tweets, etc. Indian creators can now place their digital assets for auction over the blockchain-based NFT marketplace.
WazirX Review: Security
The WazirX trading platform has a high-security rating and is the most trusted exchange in the Indian crypto market. It has strong KYC norms and stores 95% of user funds offline to protect them from hacking. Customers would need to upload a selfie and provide the details of the bank account number to get approved before they can deposit funds and start trading.
WazirX secures transactions with the standard encryptions. Account security is treated seriously, and security audits are performed regularly. The WazirX mobile app is likewise completely safe, and all transactions are protected by the Google authenticator verification shield.
WazirX Review: Referral Program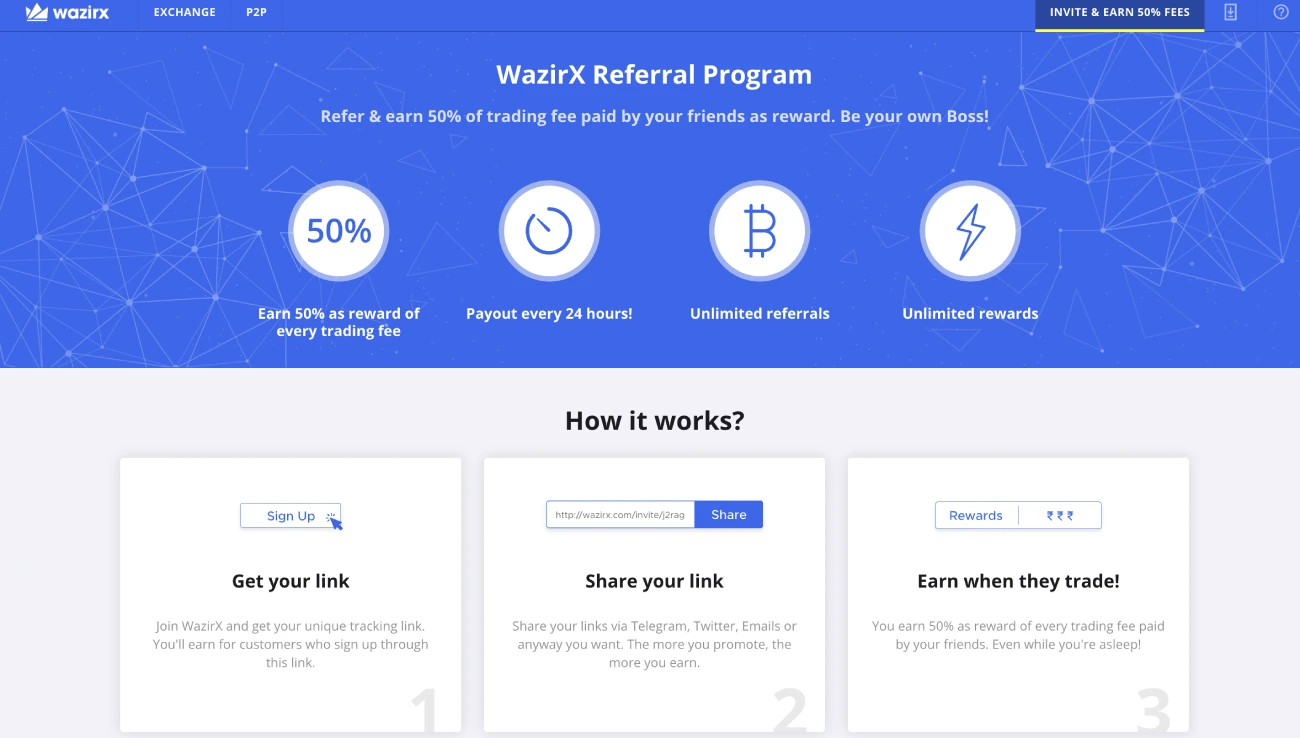 The WazirX referral program is one of the platform's key features that lets users earn 50% of the trading fee as a commission for every trade done via the user's referral code. Unlike other exchanges, it has a two-tier affiliate marketing scheme in which you can earn a hefty commission for every successful transaction you make on its trading app. You can also sign up for a free training course on the website, giving you full access to the WazirX trading platform. You can expect to receive additional benefits from the trading platform if you participate in a referral program.
WazirX Review: Customer Support
While the WazirX customer care number isn't available, you can use the traditional ticketing system, where a member of the exchange support staff will answer your issue in a timely and professional manner. Concerns can also be raised via emails. The website features an extensive list of FAQs to help you discover answers to the most frequently asked questions and get thorough information on a variety of topics. Besides, WazirX's social media pages are available on Telegram, Twitter, Facebook, Instagram, LinkedIn, YouTube, & CoinMarketCap.
How to Open an Account With WazirX
WazirX App has a simple 3 step process to create an account and complete your verification.
Step #1: Create an Account
Go to WazirX website, click on the signup button in the upper right corner, enter your email address, and create a strong password.
Step #2: Email Verification
WazirX will send you a letter with a verification link to the email address you entered for account verification. To proceed, simply click on the verification link. The next step is to secure your account. WazirX provides the 2 best security solutions for your account.
Google Authenticator App
Mobile SMS
You can select any of these alternatives; however, the authenticator app is safer than mobile SMS, which is susceptible to delayed delivery and the threat of SIM card hacking.
Step #3: Account Verification
The last step is to complete KYC to get started. While you have the option of opening your account without KYC, your trading options would be limited then.
We recommend that you complete KYC to be able to deposit money and withdraw funds. You must provide the following information to complete KYC:
Full name as it appears on the KYC document
Date of birth
Address as stated on the KYC document
Then you must provide a scanned copy of your KYC document and a headshot. The account is then confirmed by WazirX within 24-48 hours.
Frequently Asked Questions
Is WazirX Legal in India
Yes, WazirX is legal in India – you can purchase, trade, and invest in cryptocurrency, including Bitcoin, without any restrictions. However, banks in India were urged to cease all relations with cryptocurrency exchanges in 2018. Finally, on the instructions of the country's Supreme Court, this prohibition was abolished in March 2020, and you can now trade freely on WazirX, either on the website or the app.
Can You Open a WazirX Account Without KYC
Without KYC, you can only deposit your existing cryptos into your account and trade with the cryptos. However, you can deposit INR, withdraw money, and conduct P2P transactions with full KYC.
How Many Coins Are on WazirX
WazirX currently supports over 225 cryptocurrencies.
Is It Possible to Short Sell in WazirX
WazirX currently does not permit short-selling of any cryptocurrencies on its trading platform.
Closing Thoughts
WazirX is a fast-growing trading and exchange platform from India with a decent order book of transactions, trading fees, and an increasing trade volume in cryptocurrency. WazirX is the world's largest cryptocurrency exchange, with over 2 million clients in just three years. Its goal is to create an exchange that will allow the masses to participate in the digital currency revolution.
The WazirX peer-to-peer exchange is the world's first auto-matching system, and it's a big hit among traders. For an exchange that's just a few years old, WazirX has achieved remarkable progress in the crypto industry, particularly with the smart token fund, which is a really simple method to diversify your cryptocurrency portfolio.
Hopefully, this CoinStats WazirX exchange review was helpful and answered some of your questions concerning the platform, its features, and services. Make sure to visit our CoinStats blog to learn more about wallets, cryptocurrency exchanges, portfolio trackers, tokens, etc., and explore our in-depth buying guides on how to buy various cryptocurrencies, such as How to Buy Osmosis, What Is DeFi, How to Buy Cryptocurrency, etc.
Investment Advice Disclaimer: The information contained on this website is provided to you solely for informational purposes and does not constitute a recommendation by CoinStats to buy, sell, or hold any securities, financial product, or instrument mentioned in the content, nor does it constitute investment advice, financial advice, trading advice, or any other type of advice.
Kindly ensure that you undertake sufficient risk assessment when trading cryptocurrencies, as they are often subject to high price volatility. There are significant risks involved in trading CFDs, stocks, and cryptocurrencies. Between 74-89% of retail investor accounts lose money when trading CFDs. You should consider your circumstances and obtain your advice before making any investment. You should also verify the nature of any product or service (including its legal status).