BitMEX Review [The Ultimate Guide 2023]
<! -- End of the Reviewed by section -->
BitMEX Pros
One of the few professional derivatives trading platforms

Offers up to 100x leverage trading

Low trading fees

User-friendly features and is easy to use.
BitMEX Cons
Customer support is ticket/email-based

as been mired in controversies

Not for inexperienced or new users
Decentralized Finance (DeFi) is one of the biggest trends in the blockchain industry, and the global cryptocurrency market cap soared to an all-time high, reaching a market cap of $3 trillion. Everyone seems interested in cryptocurrency, from financial institutions to individual investors these days. To buy and sell digital currencies, you need a crypto exchange account, but choosing the exchange to suit your investment needs among a staggering number of cryptocurrency exchanges out there might not seem easy.
To help you pick the right trading platform that suits your needs, CoinStats regularly reviews the leading platforms and presents their advantages and drawbacks.
BitMex is a popular crypto exchange and derivatives exchange that enables traders to buy and sell futures and perpetuals on a range of crypto assets.
This ultimate BitMEX review will reveal everything you need to know about the BitMEX exchange, its features, services, trading fees, etc., to help you decide if it's a suitable exchange for you.
So without further ado, let's get started!
What Is BitMEX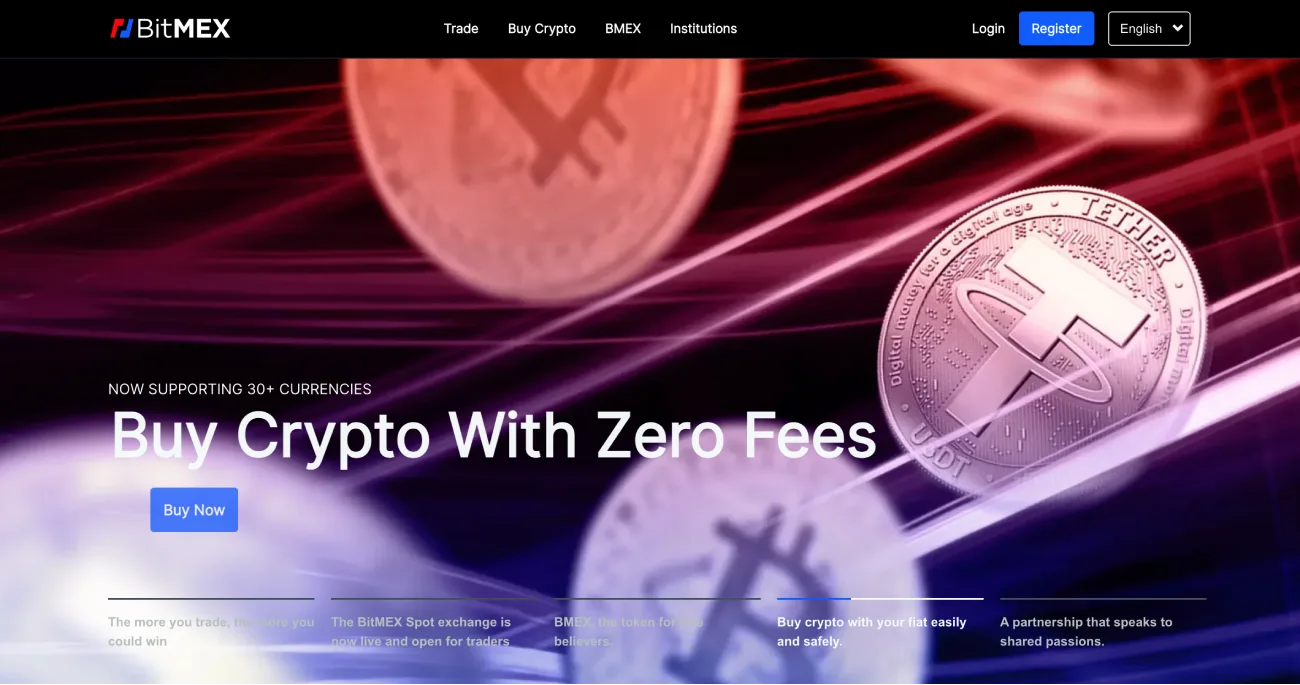 Company Overview BitMEX
Company Overview BitMEX stands for Bitcoin Mercantile Exchange. It's headquartered in Seychelles and operated by HDR Global Trading Limited. HDR Global Trading Limited (BitMEX) was incorporated under the International Business Companies Act of 1994 of the Republic of Seychelles and operates from Hong Kong.
BitMEX was launched in 2014 by Arthur Hayes, Ben Delo, and Samuel Reed to provide a professional-grade Bitcoin derivatives trading platform. In 2016, BitMEX became the first cryptocurrency trading exchange to launch perpetual futures trading. In the last 8 years, BitMEX has established itself as the go-to trading platform for leveraged trading. The Bitcoin leveraged swap contracts on the BitMEX exchange enabled trading with up to 100x leverage and had no expiry date. This allowed BitMEX to rank among Bitcoin exchanges with the highest volume worldwide.
Trading on the BitMEX exchange is complex and suitable for experienced professional traders ready to trade volatile risk assets. The exchange hasn't got any user complaints or controversies, although it has faced several lawsuits where it was alleged of market manipulation, trading against its customers, money laundering, and breaking international compliance laws. In 2020, the Commodity Futures Trading Commission charged BitMEX with violating anti-money laundering laws in operating a virtual currency exchange while doing business out of the U.S. and letting U.S. customers trade crypto on their platform, although it wasn't allowed to operate in the U.S.
Despite BitMEX's lack of regulatory compliance and its founders' criminal charges in the U.S., the exchange is on its way to becoming the world's largest regulated derivatives exchange. In doing so, BitMEX introduced identity verification for all users in 2020.
BitMEX has since established itself as the world's leading derivatives exchange with advanced trading tools, a professional user interface, and some of the deepest liquidity for Bitcoin perpetual futures contracts in the market. The BitMEX trading experience is designed for more experienced traders, offering margin and futures trading and perpetual contracts.
Although the BitMEX mobile app doesn't have all of the exchange's products and features, it allows users to manage their trading positions on the go seamlessly.
Supported Cryptocurrencies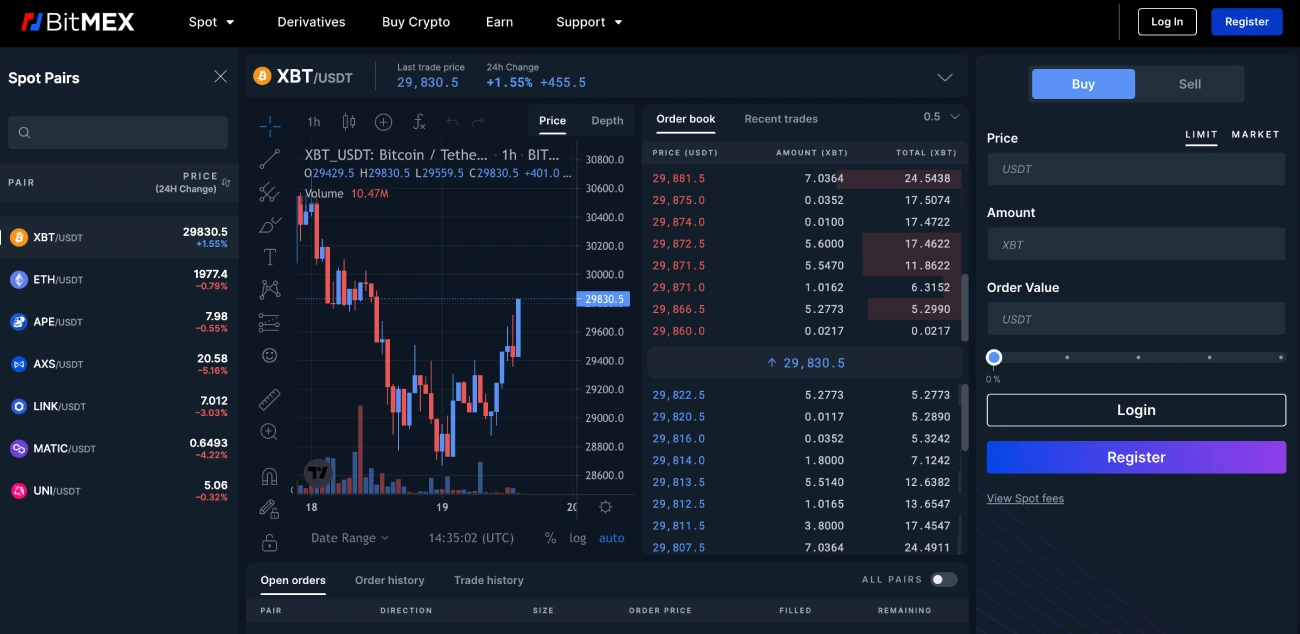 Since BitMEX is designed to cater to more experienced professional traders, the number of cryptocurrencies available on the exchange is limited. Most altcoins that have gained popularity with everyday retail users aren't listed on the exchange. At the time of writing, the exchange supports the following cryptocurrencies: BTC (Bitcoin), ETH (Ethereum), USDT (USD Tether), APE (ApeCoin), MATIC (Polygon), LINK (Chainlink), AXS (Axie Infinity), UNI (Uniswap), BCH (Bitcoin Cash), and SUSHI (Sushiswap).
The BitMEX exchange also supports tokens from decentralized exchanges such as UniSwap and Sushiswap.
Services

The BitMEX exchange is not designed for new, retail, or casual traders as they might find the exchange's interface a bit confusing. Instead, seasoned traders deploy the technical tools available on the platform for margin trading or any other derivatives trading strategies. Some of the most popular crypto trading features available on the platform are:
Leverage trading on Bitcoin with 100x leverage (However, this is not a fixed multiplier but a minimum equity requirement determined by the Initial Margin and Maintenance Margin levels)
Low latency market data and trade execution
State-of-the-art crypto trading and pricing APIs
BitMEX Earn letting users receive up to 10% APR on idle funds
BitMEX futures contract that allows users to trade Bitcoin derivatives as a commodity at a predetermined price
No expiry date on perpetual contracts and trading futures due to the margin-based spot trading on Bitcoin index prices
BitMEX Upside Profit Contracts that allows traders to participate in the bull-run of assets such as Bitcoin
Profit Market Order, an order which executes when the market reaches a trigger price
Profit Limit Order, an order which sets a limit order on a trigger price
High liquidity on the traditional futures contract
A profit and loss calculator to help users assess the risks involved with any particular trade
The BitMEX trading engine, an automated bot developed with Python to help users trade more efficiently and quickly
The BitMEX Market Maker trading bot supports several API keys to provide a good starting point for trading and implementing new plans and trading strategies.
Trading Fees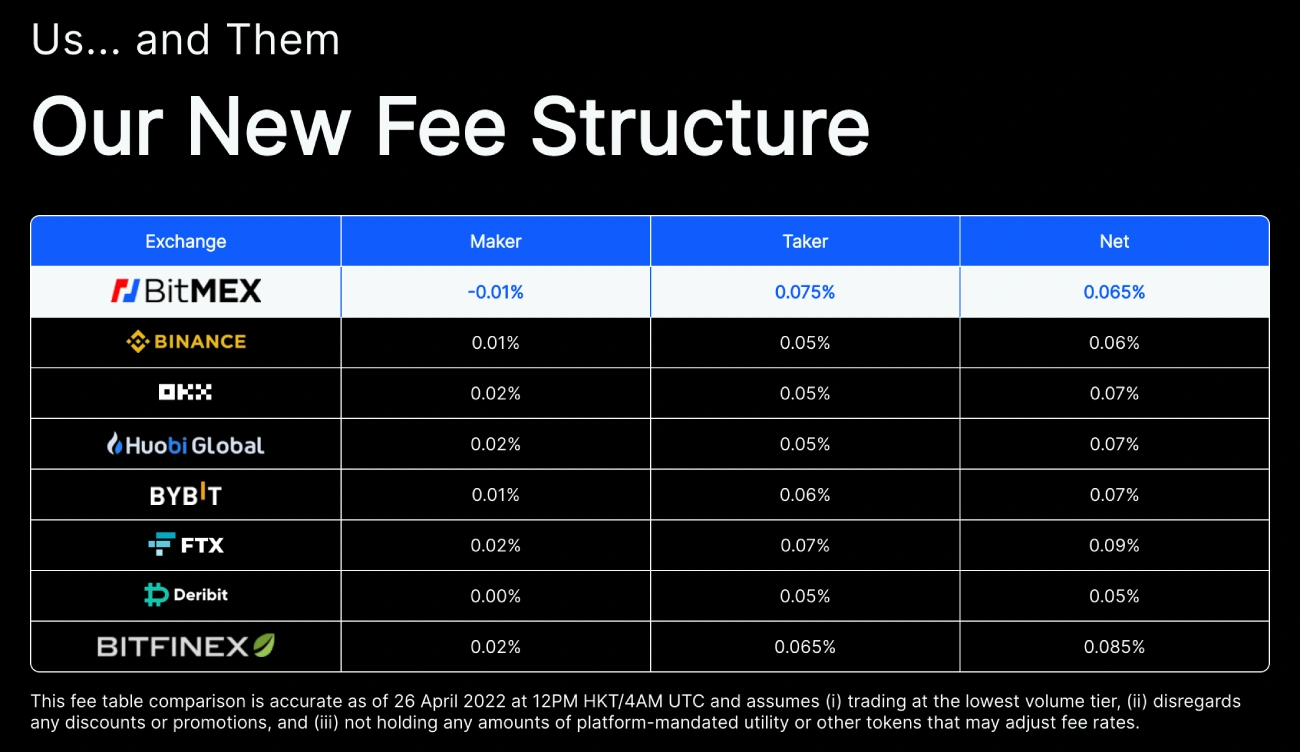 BitMEX offers some of the lowest fees in the market. Price Takers have to pay only 0.075 percent commission on their trades, while Price Makers get a 0.01 percent rebate on each trade. No fee is charged on Bitcoin deposit or withdrawal on BitMEX, and users have only to pay the Bitcoin network fee. USDT (USD Tether) deposits are also free of charge, but the Ethereum gas fee is charged for the USDT withdrawal. BitMEX also has different fee structures for its high volume traders, the detailed information on which can be found on the BitMEX Fees page. Additionally, BitMEX has different trading fees for perpetual swap contracts, futures trading, and Quanto trading.
To sum up, BitMEX lets users trade cryptocurrencies with one of the lowest trading fees in the entire crypto space.
Is BitMEX Safe
As investing in cryptocurrencies and other Initial Coin Offerings (ICOs) is highly risky and speculative, the trading platform must imply robust security measures to protect users' funds from cyber attacks, hacks, etc. The BitMEX exchange offers several security features such as two-factor authentication, cold storage, etc. It also requires KYC verification for BitMEX users to protect the exchange from criminal elements and activities. Major security features offered by BitMEX are:
Multi-Signature Cold Wallets: The BitMEX exchange securely stores most crypto assets offline in cold wallets at geographically dispersed locations.
Two-Factor Authentication: The cryptocurrency exchange requires users to set up two-factor authentication using third-party applications such as Google Authenticator.
Withdrawal Wallet Whitelist: Users can whitelist the crypto wallets they wish to transfer their crypto assets into.
These measures make BITMEX a robust and secure trading platform.
Setting Up a BitMEX Account
Setting up a BitMEX account is relatively straightforward. You need to provide a valid email address and create a password. The exchange will send a verification email to verify your email address. To get verified, you need to provide a valid photo ID, a presence capture video or selfie, your location, your citizenship, and how you'll fund your account. After the verification process, you can start trading on the exchange by depositing crypto into BitMEX addresses.
Deposit Methods
BitMEX only supports crypto-to-crypto trading, i.e., BitMEX users cannot deposit fiat currencies into their trading accounts. The only payment method available on BitMEX is bitcoin, meaning you'll have to deposit bitcoin to your Bitmex account to buy cryptocurrencies at the current market price.
BitMEX supports deposits and withdrawals from various crypto wallets. Some of the most secure wallets to make deposits and withdrawals to your BitMEX account is the CoinStats Wallet. Users can also use the BitMEX mobile wallet to make deposits using barcodes.
BitMEX has currently integrated BANXA and MERCURYO as its fiat payment gateways, providing users a secure way to purchase crypto via fiat.

If you already have assets on BitMEX, go ahead and connect your BitMEX account to CoinStats below to be able to track them.
Customer Support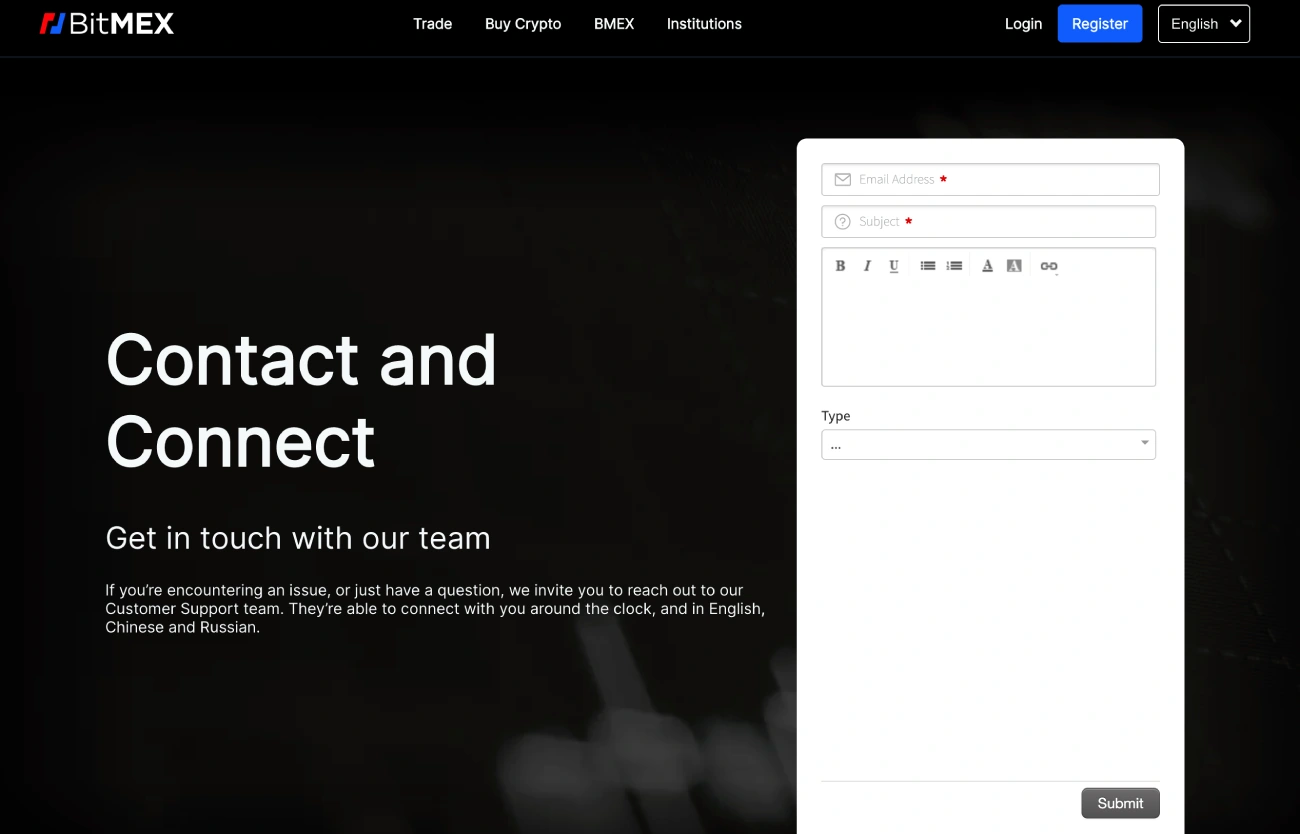 BitMEX does not provide phone-based customer support or chat support. It provides customer support via support tickets and email. This is a drawback for users engaged in margin trading, or 100x leverage trading, etc., as the long waiting period can result in huge losses for them. As the number of BitMEX users has increased, user complaints have increased accordingly. Several users complain of market manipulation, problems withdrawing assets, and a complicated user experience. Although the customer support is there to clear out any query or misunderstanding, the exchange has faced numerous charges that have been accused of market manipulation, etc.
Final Verdict
BitMEX has already established itself as the go-to exchange for seasoned traders. It's a peer-to-peer cryptocurrency derivatives trading platform that offers leveraged contracts and is one of the largest margin trading platforms worldwide. Users can buy and sell trading contracts for cryptocurrencies combined with margin trading up to 100 times.
BitMEX offers a simple user interface and provides all the features advanced traders need to execute a wide array of crypto derivatives trading strategies, i.e., traditional futures, margin trading, leverage trade, etc. The profit and loss calculator helps users make better margin trading calls. Its up to 100x leverage and low trading fees make it a popular choice for users. While the exchange offers several advantages, its drawbacks include the limited number of supported cryptocurrencies, the exchange's lack of regulatory compliance, and its founders' criminal charges in the U.S. Additionally, the customer support on the exchange is only ticket/email-based, which doesn't provide a quick resolution for urgent issues.
However, the BitMEX exchange has maintained its credibility and secured its users' interests over the years.